Mac Pro to ship with silver and black keyboard, Magic Trackpad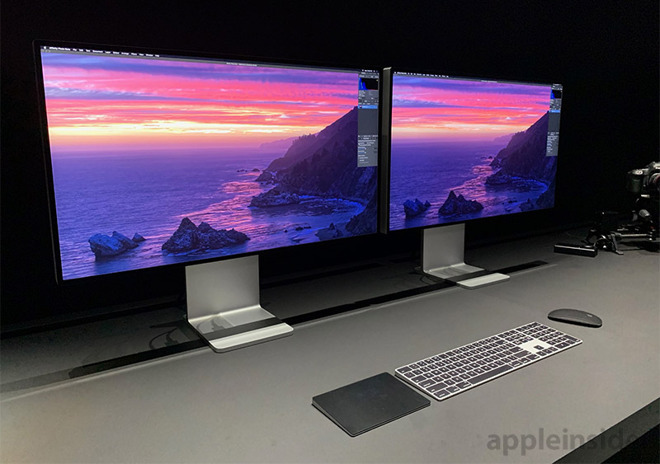 AppleInsider may earn an affiliate commission on purchases made through links on our site.
In a move reminiscent of the iMac Pro, owners of the new Mac Pro will be able to use a new color option of accessories with the workstation, with new images pulled from macOS revealing the peripherals.
An image found by developer Steve Troughton-Smith and published to Twitter reveals a total of three accessories for the new Mac Pro model. Troughton claims the accessories in the image are meant for the Mac Pro, but does not advise of whether they will be limited in availability or offered to all users.
The image depicts two keyboards, one with and one without the number pad, equipped with a light silver metal construction and black keys. As part of the same image is a Magic Trackpad 2, which again uses a light silver-colored metal enclosure, but with a black top layer.
I somehow missed the fact that the new Mac Pro has a line of silver and black accessories instead of the Space Gray of the iMac Pro pic.twitter.com/i8GkDv8Kut

— Steve Troughton-Smith (@stroughtonsmith) October 31, 2019
Given Troughton-Smith's track record of finding details in Apple's software, including images, it is quite likely that the image depicts real products Apple will be shipping.
The surfacing of Troughton-Smith's discovery raises the fact that these accessories were seen before, but underreported at the time of the Mac Pro Launch in June. The Mighty Mouse, keyboard, and Magic Trackpad were on full display near to the Mac Pro and the Pro Display XDR at Apple's event.
The production of accessories with a different color scheme to what is normally available for specific hardware is something Apple has pulled before, namely for the iMac Pro. For that model of Mac, Apple provided a Space Gray version of the Magic Keyboard, Magic Mouse 2, and Magic TrackPad that could only be bought at the time of the original purchase or as a service replacement, though four months later they were available on general sale.
It is likely that Apple will make a similar move to limit the availability of the color combination just to those buying the Mac Pro, though again the company can easily make it more widely available to other consumers without paying for the workstation down the line.