MacPaw launches Setapp for Teams software subscription service public beta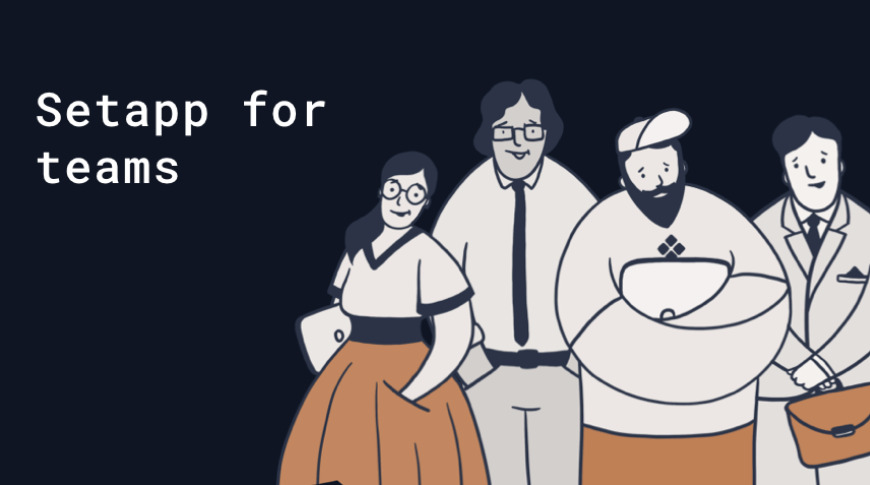 The app subscription service has unveiled a Setapp for Teams version, which aims to bring apps to team members, and account control to the managers.
A group edition of the app subscription service Setapp has been unveiled. Called Setapp for Teams, it is now available as a public beta and testers can see how to manage a group's collection of apps centrally.
The owners of Setapp, MacPaw, say that the total number of apps today is 160.
Individual subscribers pay $9.99 per month and have access to all of these apps for as long as they continue to subscribe. It's the same fee whether they use one app or 120. And as well as being cheaper than buying many apps, it's also convenient. Users can try out an app at length, or they can just download it for the odd occasion that it's needed.
Setapp for Teams brings exactly the same collection of apps, but for a lower per-person cost, and with management controls for team leaders. A team must consist of at least four people, and the cost per team member is $8.99 per month.
For any one person in the team, what they get is what they would if they were subscribing individually. For the team leader, though, they get the benefit of being able to deploy the apps to a new hire or when an individual leaves.
The crucial parts of Setapp for Teams are the apps that are available, and the system for managing users.
The apps remain the same, if growing, selection, which we've previously described as falling into three categories. There are the headline ones, the high-profile and very popular apps such as the Ulysses writing tool, and two that AppleInsider has called essential menu bar apps, the iStat Menus Mac utility, and Bartender 3.
Then there are a kind of middle tier where the apps are good, but not necessarily the very best in their field. Or perhaps which are useful, but only for occasional and very specific use.
Like any other bundle, Setapp for Teams contains other apps that are fillers. With 160, it also now has more overlapping titles such as multiple different apps for working with PDFs or two of the best mind mapping tools in Mind Node and iThoughts X.
Overall, it is a very good collection and economically Setapp is a boon. There are almost certainly enough apps that users will want that Setapp for individuals is a bargain.
If you're running a team, there is more than an advantage to having everyone using the same apps, so Setapp for Teams is a logical and promising extension of the service. It's just got to be harder to find the apps that are right for everyone.
Just as corporations might impose Office 365, so a company could impose Setapp for Teams and get similar benefits. Not only would every staff member be using the same app, they'd be using the same version, and that's a help for collaboration and cutting down on the friction of sharing documents around.
There is the question of management, though, and that's probably why MacPaw is releasing Setapp for Teams as a public beta. It's widening its testing pool to see how management works across more companies and different types of firm.
AppleInsider has been testing a private beta version for most of this year, and the management has not always been smooth. All of the management is done via the Setapp website, rather than in an app, and we've had issues with users not being able to sign in, or a manager having problems assigning users.
These were undoubtedly beta issues, and the AppleInsider testers using it now haven't found problems in a couple of months. It is the area we're most concentrating on, though, as Setapp has the apps, it just needs to really nail down the team management element.