Apple's iPad still leading global tablet market despite Amazon surge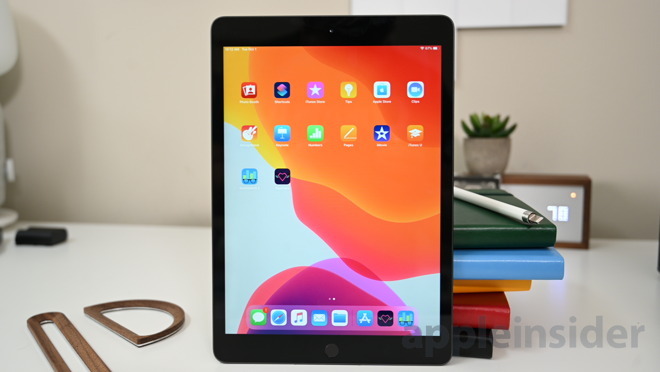 AppleInsider may earn an affiliate commission on purchases made through links on our site.
Apple has continued to maintain its dominance in the global tablet market in the last quarter, according to Strategy Analytics, but major online retailer Amazon has overtaken Samsung to become its nearest rival, in part due to its promotion of Prime Day.
The global tablet market for the last quarter shrunk by 4% year-on-year, research from Strategy Analytics claims, with 39.7 million shipments in Q3 2018 turning into 38.2 million for Q3 2019. Despite the general market contraction, Apple is still not only the lead tablet vendor in terms of share, but it also sold more iPads than the same period last year.
For Q3 2019, it is estimated Apple shipped 10.1 million iPads, up 4% from the 9.7 million observed in the third quarter of 2018. The sales increase, along with the contracting market, means Apple's market share is also up from the 24.4% for last year, rising to 26.5% of global tablet shipments for Q3 2019.
"Apple is trying to reinvent the iPad to become a productivity device by adding keyboard support to most models and eSIM to all cellular models," the analysts claim, noting Apple is also "intensely focused" on building up its services around its large install base.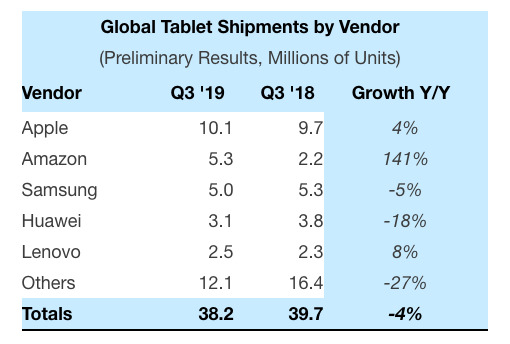 "Apple released a slightly larger seventh-generation iPad with keyboard support in Q3 2019 for the same price as the previous model, helping drive shipments 4% higher year-on-year," writes Director of Connected Computing Eric Smith. "Larger revenue gains for the company hint at a strong mix of iPad Pros compared to the previous year, as Apple wholesale ASPs rose by 9%."
In last week's fourth-quarter results, Apple revealed iPad revenue increased from $4.1 billion in the three-month period last year to $4.66 billion this year. However, Apple did not reveal unit shipments for any of its products as per its current reporting policy.
Due to a lack of official data from Apple, analysis for units stem from estimates based on revenue and assumed ASP levels, or are sourced from retailers, distributors, and other third-party entities. This means data relating to Apple's iPad shipments isn't necessarily accurate, but could still be used as an indicator of product trends.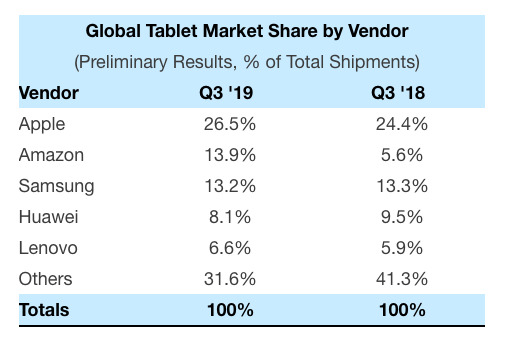 While Apple is at the top of the board, the sudden rise of Amazon is likely to be seen as an important change in the tablet market. According to the figures, Amazon went from 2.2 million shipments of the Kindle Fire tablet range in Q3 2018 to 5.3 million in Q3 2019, resulting in year-on-year growth of 141%, as well as growing its market share from 5.6% last year to 13.9%.
By contrast, Samsung saw a reduction from 5.3 million units to 5 million, down 5% year-on-year, and slipping to third place in market share with 13.2%. Strategy Analytics believes the growth of usage for Amazon's digital assistant Alexa and the retailer's promotion of the Prime Day retail event helped catapult it past Samsung, at least for this quarter.
Samsung is said to be balancing its portfolio with "high-end Windows and Android detachables and a strong offering of mid-range Android slates," but Samsung is also said to be "more interested in higher profits rather than an expanding installed base," insinuating there may not be a massive acceleration in growth for the firm's tablets in the future.