Apple earns record $64B in fourth quarter as services soar to $12.5B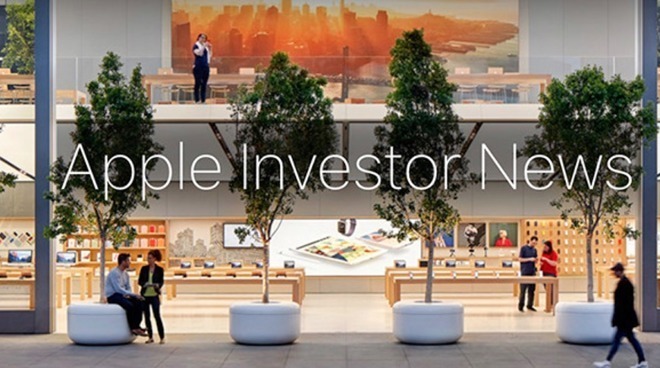 Apple's revenue for the fourth quarter of the fiscal year 2019 hit $64 billion, the company revealed on Tuesday, with earnings-per-share of $3.03, making it the biggest iPhone release quarter yet.
The iPhone earned Apple $33.36B, down 9% from the year-over-year quarter's revenue of $37.2 billion. The iPhone 11 and iPhone 11 Pro were available for about two weeks of the period.
A year ago, the Services arm of the company contributed $10 billion in revenue, with $8.5 billion the year before that. Services continues to report double-digit year-on-year growth with $12.51 billion, up 18%, keeping it a relatively predictable revenue source for the company. Apple told Reuters some 450 million users now subscribe to first- and third-party services across its various hardware platforms.
"We concluded a groundbreaking fiscal 2019 with our highest Q4 revenue ever, fueled by accelerating growth from Services, Wearables and iPad," said Apple CEO Tim Cook. "With customers and reviewers raving about the new generation of iPhones, today's debut of new, noise-cancelling AirPods Pro, the hotly-anticipated arrival of Apple TV+ just two days away, and our best lineup of products and services ever, we're very optimistic about what the holiday quarter has in store."
The new seventh generation iPad Air had similar availability. The iPad helped earned Apple $4.66 billion in revenue for the quarter, up year-on-year from last year's $4.1 billion.
Apple launched new MacBook Air and MacBook Pro lines in July, with availability through most of the quarter of both. Apple generated Mac revenue of $6.99 billion for the quarter. That's below the year-ago quarter's $7.4 billion.
Wearables also rose significantly over the quarter, with Apple reporting a 54% uptick year-over-year to end quarter four at $6.52 billion.
Overall revenue in the quarter of $64 billion billion is a year-on-year increase from $62.9 billion. Apple's forecast in the third-quarter results has the company reaching revenue of between $61 billion and $64 billion in the fourth quarter, with a gross margin between 37.5% and 38.5%. Wall Street was expecting $62.9 billion for the quarter.
Apple is forecasting revenue between $85.5 billion and $89.5 billion for the first fiscal quarter of 2020, with gross margin pegged between 37.5% and 38.5%. Operating expenses are expected to lie between $9.6 billion and $9.8 billion, while a tax rate of approximately 16.5% is anticipated.
As Apple's current policy is to provide revenue for product categories without unit figures, analysts will rely on sales figures from other sources to try and determine statistics like the product mix and average selling price for the iPhone. The conference call following this earnings report is typically the biggest opportunity for Apple to provide extra detail on its sales, and it is likely to offer some indicator for its new iPhone range's sales volumes at this early stage.