Counterfeit iPhone, iPad trafficking scheme cost Apple more than $6M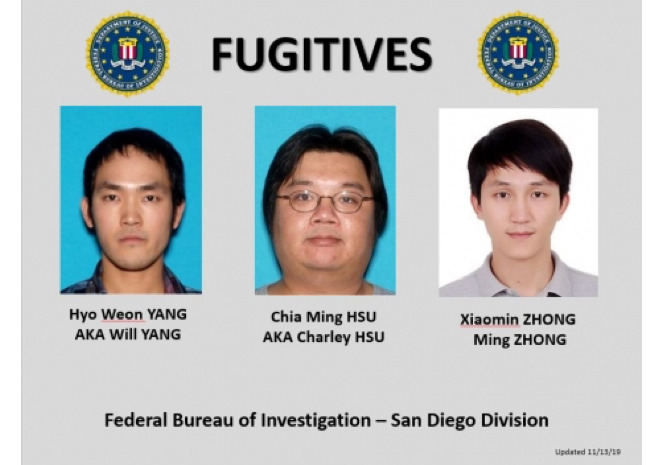 Fourteen alleged members of an international criminal organization with ties to China were indicted on Wednesday for their part in a counterfeit iPhone and iPad trafficking scheme that defrauded Apple out of millions of dollars.
Investigators executed 11 search warrants at local businesses and homes in San Diego early this morning to seize about $250,000 in cash and 90 iPhones, according to the U.S. Attorney's Office for the Southern District of California.
Eleven of the 14 defendants charged in a federal grand jury indictment for multiple counts of fraud, conspiracy, identity theft and money laundering were arrested as part of the raid. Three members of the group — Xiamon Zhong, Charley Hsu and Hyo Weon Yang — are named fugitives. Zhong is thought to be in China, the release said.
According to the indictment, the group of 14 was led by three brothers, Zhiwei, Zhimin and Zhiting Liao, and imported more than 10,000 counterfeit iPhone and iPad devices from China. The faux goods were subsequently exchanged for genuine products at Apple Store locations across the U.S. and Canada, then sent abroad to China and other countries where they fetched a premium as authentic Apple items.
Like similar schemes that successfully gamed the company's hardware warranty policies, the Liao brothers' racket saw traffickers intentionally damage counterfeit iPhone and iPad devices, which were represented to Apple as eligible for replacement. Under Apple's policy, certain damaged products are swapped out with new replacements.
How the fakes passed Apple scrutiny is unknown, but the firm estimates it exchanged goods worth more than $6.1 million.
Investigators identified counterfeit equipment in part by determining a device's International Mobile Equipment Identity (IMEI) number and serial number. Counterfeit iPhones had IMEI and serial numbers that matched those of genuine iPhone and iPad hardware purchased and used by customers in the U.S. and Canada, the indictment reads.
The Liao brothers are naturalized U.S. citizens born in China, as are a number of co-conspirators. Other defendants include naturalized U.S. citizens born in Korea, Russia and Vietnam, two U.S. citizens, two lawful permanent residents and a Chinese national.
Agencies involved include the Federal Bureau of Investigation, the San Diego Police Department, U.S. Customs and Border Protection, Homeland Security Investigations and the San Diego County Sheriff's Department.