T-Mobile COO Mike Sievert replaces John Legere as CEO in May 2020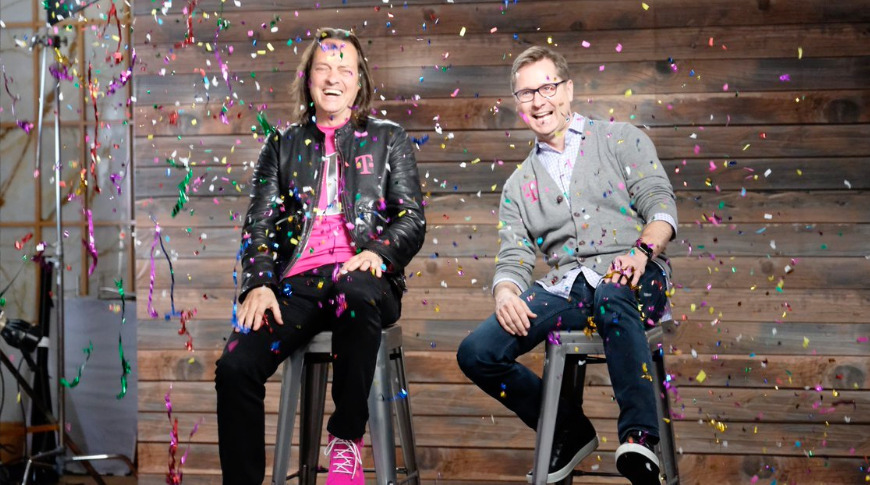 AppleInsider is supported by its audience and may earn commission as an Amazon Associate and affiliate partner on qualifying purchases. These affiliate partnerships do not influence our editorial content.
John Legere will be exiting his role as CEO of T-Mobile in April 2020, to be replaced by President and COO Mike Sievert on May 1, but despite stepping down from the top of one of the four main U.S. Carriers, Legere seemingly won't be taking early retirement.
A surprise announcement via press release, T-Mobile's board of directors has named Mike Sievert as the next chief executive officer of the carrier, starting from May 1, 2020, with the full title of President and CEO. Sievert will take the role from current CEO John Legere, who will continue until his contract concludes at the end of April.
The early announcement is part of a "well-established succession planning process" by the board, and Legere will continue to be a member of the T-Mobile board itself after ending his CEO role.
"John Legere has had an enormously successful run as CE," said Deutsche Telekom CEO and T-Mobile US board chairman Tim Hottges. "As the architect of the Un-carrier strategy and the company's complete transformation, John has put T-Mobile US in an incredibly strong position. I have the highest respect for his performance as a manager, and as a friend, I am very grateful to him for the time together."
Legere is known for having a particularly brash and bombastic style in talking at events and presentations, which has led to him being one of the more prominent CEOs around. His popularity has translated into a considerable following on social media, where he has over 6.5 million followers.
Legere claims his focus for the coming months will be "on ensuring a smooth leadership transition and continuing to work closely with the Board and Mike to complete the Sprint transaction," a $26.5 billion merger that has received regulatory approvals but is waiting on the conclusion of a bipartisan lawsuit from 13 state attorneys general and the District of Columbia before the deal completes. "This merger will create the New T-Mobile - a company that is uniquely positioned to continue disrupting the wireless category - and beyond. This marks the beginning of a dynamic new chapter for T-Mobile"
On his intended movement forward, Sievert advises "The Un-carrier culture, which all our employees live every day, will not change," with his mission being to continue building on T-Mobile's "reputation for empowering employees to deliver an outstanding customer experience and to position T-Mobile not only as the leading mobile carrier, but as one of the most admired companies in America."
Despite the upcoming end of his work as CEO of T-Mobile, there is little known about what Legere will do in the future. There has been some speculation suggesting he would become the CEO of the embattled WeWork, but sources of CNBC claim he isn't in the running for the job.
Legere himself advised in a call he is "not retiring," and has received interest from other organizations seeking his leadership. The terms of his contract with T-Mobile prevents him from working with competitors like Verizon and AT&T, but that would have been unlikely anyway given his previous comments about rival carriers.