Apple returns to concert streaming with Billie Eilish performance, reportedly inks $25M deal for artist's documentary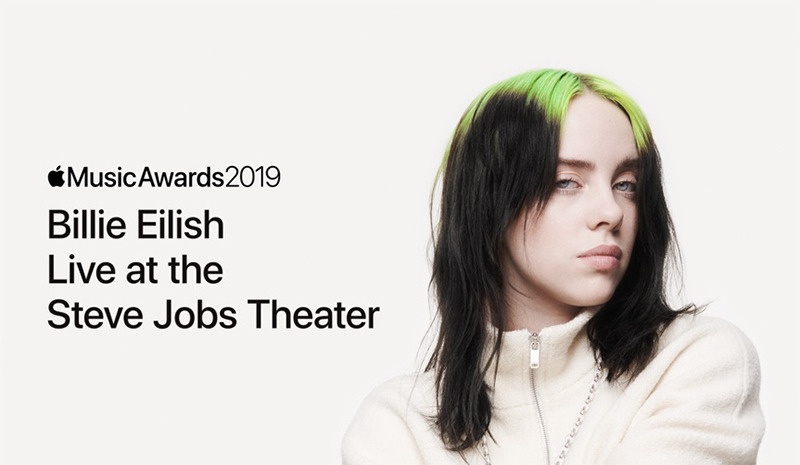 Apple hosted inaugural Apple Music Awards global artist of the year Billie Eilish for an intimate acoustic performance at Apple Park's Steve Jobs Theater on Wednesday, an event that was live-streamed on Apple Music. The company also reportedly signed a deal for exclusive rights to a documentary about the pop sensation that should debut next year.
Eilish and brother Finneas took the stage at 6:30 p.m. Pacific, following a brief but plaudit-filled introduction from Apple Music DJ Zane Lowe.
Emerging from behind the branches of one of the many trees that, along with a lone searchlight, adorned the Es Devlin-designed set — one teaser invited listeners to "head into the forest with Billie Eilish" — Lowe welcomed Eilish, Finneas and gathered fans to Apple Park. He made clear that the concert was as much for Apple Music and its community as it was for the award winners, noting Apple's commitment to artists and the wider industry.
Properly introduced, Eilish and Finneas ran through a back-to-back acoustic set that included the pair's early hits and nearly every track off the Apple Music Awards album of the year "When We All Fall Asleep, Where Do We Go?" Eilish took time between songs to interact with the crowd assembled from lucky fans invited to Apple's campus specifically for the event.
"I've never done this kind of thing before, it's kind of crazy," Eilish said.
The performance will be available for on-demand streaming through Apple Music.
For Apple, tonight's show marks a return to concert streaming, albeit on a much smaller scale than prior events. The company held its annual iTunes Festival, later rebranded as the Apple Music Festival, in London from 2007 to 2017. A week-long extravaganza featuring big-name acts from around the world, the show was discontinued in its tenth year as Apple transitioned to streaming one-off gigs and special events for Apple Music subscribers.
Eilish's act — conveniently packaged as the first ever Apple Music Awards performance — offers a glimpse at Apple's aspirations in live concert streaming.
During the mini concert, The Hollywood Reporter broke word of an exclusive deal that has Apple paying a rumored $25 million for rights to an Eilish documentary directed by R.J. Cutler. The film, which follows the singer after the release of her debut album in March, was produced in collaboration with Interscope Records and sees Cutler gain deep access to moments between Eilish and her family, as well as behind-the-scenes peeks at public appearances, the report said.
Instead of streaming the documentary on Apple Music, as it has done with other music-centric films, Apple will supposedly break with convention and make the Eilish project available on its Apple TV+ video streaming service. The Eilish documentary is expected to debut in 2020.