AirPods Pro versus Jabra Elite 75t — Which is the best wireless earbud?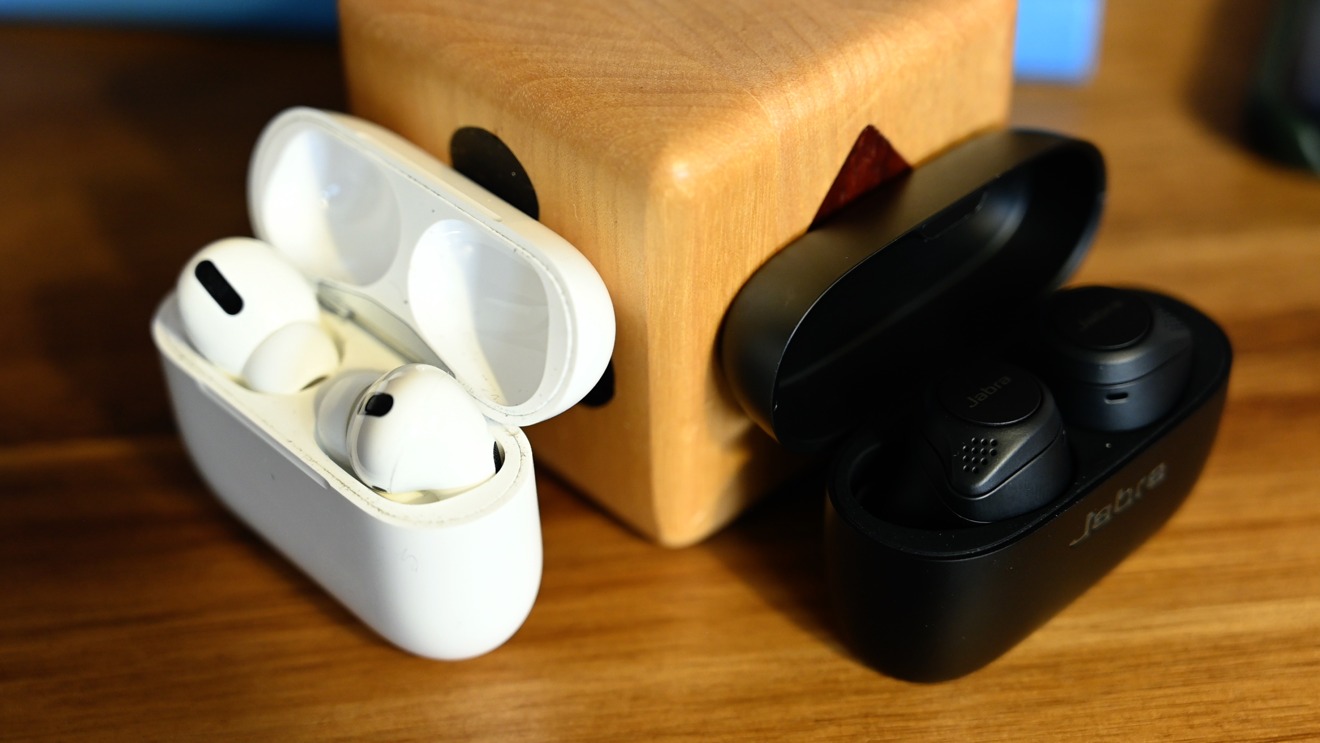 Apple's AirPods Pro is an unbridled success — but aren't without competition. Some of Apple's fiercest competition is coming from the new Jabra Elite 75t.
AirPods unarguable prowess
There are (technically) three versions of AirPods available at the moment. The second-gen AirPods retail for $159, the second-gen AirPods with the Wireless Charging Case for $199, and AirPods Pro run $249. We will primarily be focusing on AirPods Pro, though we will touch on the others — just to a lesser extent.
Where AirPods win most, is with Apple's user experience. The setup process, deep iOS integration, and the ability to seamlessly move between your devices are simply unmatched. Apple controls both the software as well as the hardware, making those integrations possible. That full-stack control is why people get iPhones, then AirPods — and stick with the pair.
Compared to the Jabra Elite 75t, AirPods Pro also features active noise cancellation, versus passive noise cancellation. Passive cancellation is implemented with a good seal inside the ear, blocking external sound. That gives AirPods Pro the best noise cancellation, Jabra Elite 75t right behind it, but both are better than standard AirPods, which don't have much of a seal at all.
Siri is built-in to AirPods Pro, which can be activated by the well-known keyphrase. The Jabra Elite 75t has support for Google Assistant and Amazon Alexa alongside Siri, but you have to invoke these manually by using the onboard controls.
Fast charge on AirPods Pro can provide users with one hour of use after only a five-minute charge, which would take 15 minutes on the Jabra Elite 75t. There is also Adaptive EQ that adjusts the sound to each user's ears and more than three times the usable range.
Jabra Elite 75t came to fight
AirPods Pro are outstanding, but Jabra Elite 75t is here to earn their share of the market.
As we mentioned, it supports not only Siri but Alexa and Google Assistant (the latter if you are using an Android phone).
Jabra also excels in battery life — giving users seven and a half hours of use time on a single charge, for a total of 28 total hours including the case. AirPods only get a total of 24 hours of usage, and 4.5 hours contained within the earbuds. That becomes five if you turn ANC off.
While Apple touts the automatic abilities of Adaptive EQ, Jabra offers customizable EQ from within the Jabra Sound+ app. Users can turn up the bass, drop the treble, or whatever their preference may be. There are even presets to make it easy.
Jabra boasts a resistance rating of IP55, which means it can withstand dust and jets of water, while AirPods Pro is only able to withstand sweat and rain. Apple did not test dust ingress into AirPods Pro, resulting in the IPX4 rating.
Importantly, we also found that Jabra Elite 75t is capable of better sound quality than AirPods Pro. The cases individual buds are slightly larger, which could yield a bit more bass and overall fuller sound. If sound quality is the predominant factor in selection, then the Jabra Elite 75t takes the crown.
Possibly most notable, is the Jabra Elite 75t come in far below AirPods Pro. AirPods Pro cost $249 at retail, versus the Jabra's $179. That makes Jabra more affordable than both AirPods Pro and the AirPods second-gen with the wireless charging case.
The closest comparison is the second-gen AirPods with the standard case. In that comparison, the Jabra Elite 75t comes off as far superior with better sound, a battery that lasts longer, USB-C, Siri/Alexa support, HearThrough, passive noise cancellation, more durable, and with a more extended warranty period.
Where to buy
| | Pixel 4 | iPhone 11 | iPhone 11 Pro |
| --- | --- | --- | --- |
| Display | 5.7" & 6.3" | 6.1" | 5.8" & 6.5" |
| Pixel density | 444 and 537 ppi | 326 ppi | 458 ppi |
| Display type | OLED | LCD | OLED |
| Brightness | 445 nits | 625 nits | 800 nits (1200 max) |
| Refresh rate | 90Hz, normal 60Hz | 60Hz | 60Hz |
| Authentication | Passcode or face unlock | Passcode or Face ID | Passcode or Face ID |
| Rear cameras | 12.2MP wide, 16MP telephoto | 12MP wide, 12MP tele, 12MP ultra-wide | 12MP wide, 12MP tele, 12MP ultra-wide |
| Front-facing camera | 8MP — 90 degree FOV | 12M — 85 degree FOV | 12M — 85 degree FOV |
| Processor | Snapdragon 855 | A13 Bionic | A13 Bionic |
| RAM | 8GB | 6GB | 6GB |
| Storage | 64, 128 GB | 64, 128, 256 GB | 64, 128, 256 GB |