Pro Display XDR works on iMac Pro at 5K, not 6K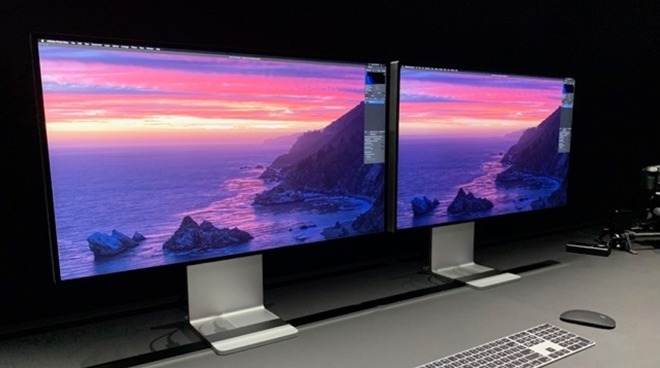 AppleInsider is supported by its audience and may earn commission as an Amazon Associate and affiliate partner on qualifying purchases. These affiliate partnerships do not influence our editorial content.
Apple's Pro Display XDR offers a high 6K resolution for the Mac Pro and select Mac and MacBook models, but users of the iMac Pro are only able to use the professional-level monitor at a lower 5K resolution.
Pre-orders of the Pro Display XDR commenced on Tuesday, with the 32-inch display marketed as an ideal monitor for professionals in creative industries, with specifications to match. Boasting a 1,000,000 to 1 contrast ratio and 1,000 nits of brightness using a 576 full array dimming zone backlight, the screen offers plentiful features for those working in visual fields.
On supported systems, the Pro Display XDR has 6K resolution, at 6,016 by 3,384 pixels, but not everyone will be able to achieve that resolution. In a posting to Twitter, Thomas Grove Carter advises the Pro Display XDR connected to an iMac Pro is only capable of running at a 5K resolution, not 6K.
According to the product specifications page, Apple advises the Pro Display XDR is compatible with a variety of Mac models, including the new Mac Pro with an MPX Module GPU, the 2018 15-inch MacBook Pro, the 16-inch MacBook Pro, the 2019 21.5-inch iMac, and the 27-inch iMac from the same year. Any Mac model is also supported if it has Thunderbolt 3 ports and is paired with either the Blackmagic eGPU or Blackmagic eGPU Pro.
The support page discussing the setup process for the display further says that the named Macs and the Blackmagic eGPU setups are able to support the 6K resolution with 10-bit color.
While the iMac Pro from 2017 without an eGPU cannot drive the full 6K experience on the Pro Display XDR, the discovery that it does so at 5K shows the monitor is still usable with other Mac configurations, albeit not at the highest resolution available.