CES 2020: The best AirPlay speakers, receivers, and accessories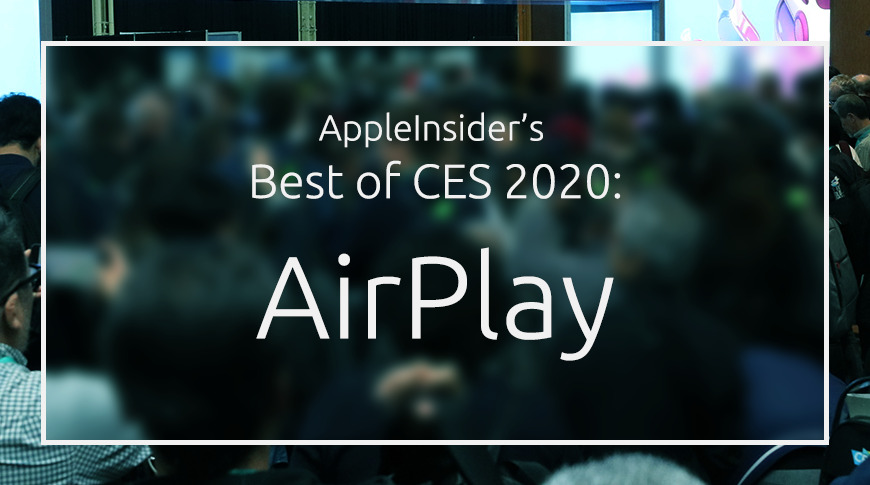 AppleInsider is supported by its audience and may earn commission as an Amazon Associate and affiliate partner on qualifying purchases. These affiliate partnerships do not influence our editorial content.
Audio accessories are continuing to adopt Apple's AirPlay protocol, and this year's wave of CES 2020 launches are no exception. Here are some of the best new products announced that include AirPlay support.
Klipsch
For CES 2020, Klipsch is introducing a trio of new soundbars spanning 44-inch to 54-inches and pack a wide range of additional features.
The most impressive of the bunch is the Klipsch Bar 54 with Dolby Atmos. It is a 54-inch soundbar that supports Dolby Atmos and DTSVirtualX technology for immersive audio. The soundbar is accompanied by a 12-inch subwoofer and two Surround 3 speakers to provide audio from all angles.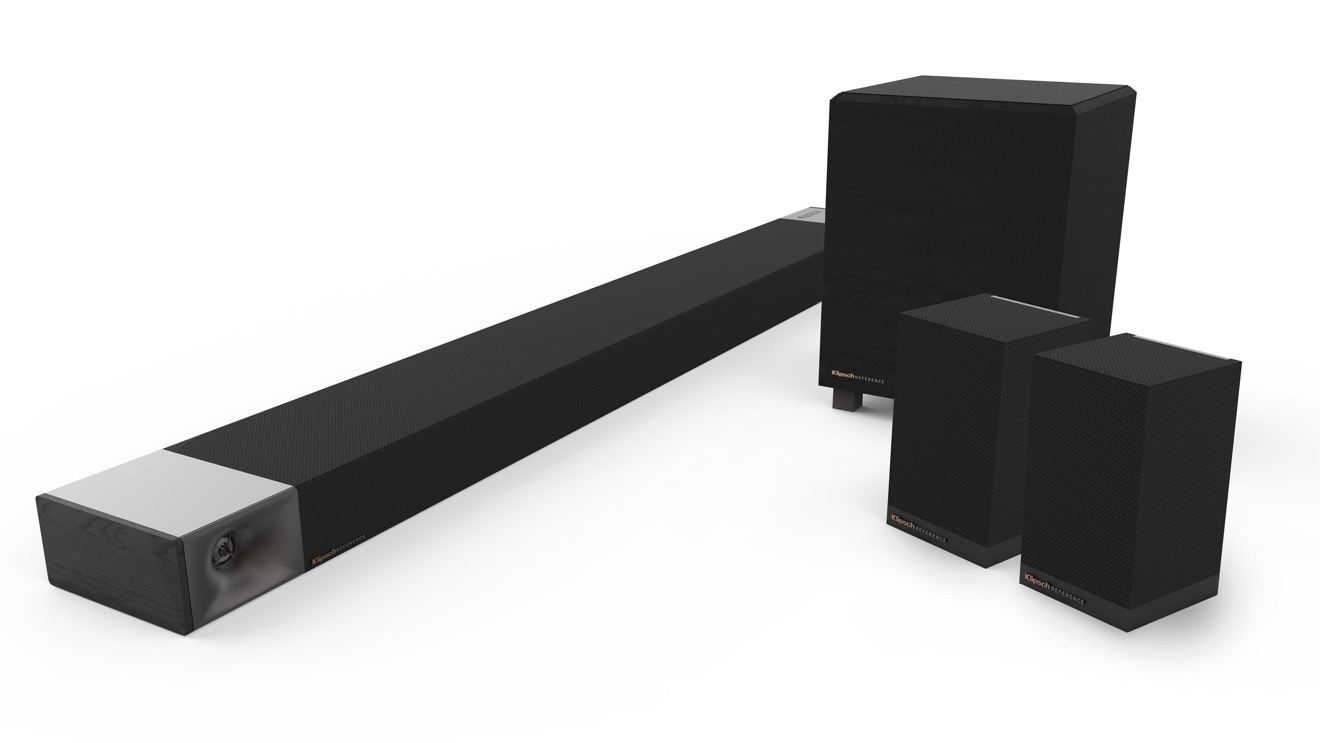 It supports HDMI-eARC, which lets compatible TVs transmit Dolby Atmos from integrated apps.
With built-in Wi-Fi, the soundbar can be controlled by Siri and AirPlay 2, Google Assistant, and Amazon Alexa. Out of the box the Klipsch Bar 54 supports 5.1.4 surround sound but if you add an additional set of Surround 3 speakers it can output discrete 7.1.4 surround sound.
The mid-range Klipsch Bar 48 with Dolby Atmos is slightly smaller and comes with a 10-inch subwoofer for 3.1 surround sound. It too supports HDMI-eARC and can be paired with Surround 3 speakers for 5.1 surround.
The lowest-end model is the 44-inch Klipsch Bar 44 that is packed with an 8-inch subwoofer.
The Klipsch Bar 54 will be released this fall for $1,499. The Klipsch Bar 48 launches at the same time for $699 and the Klipsch Bar 44 launches this summer for $499.
Harman Kardon
Harman Kardon has expanded their home audio series with new portable speakers, a soundbar, and a subwoofer.
The Citation 200 is a portable speaker that boasts 8 hours of battery life, IPX4 splash-proof protection, and a charging base. It comes with intuitive touch controls and Apple AirPlay capabilities, and allows HD audio streaming. 9It costs $299.99 and will be available in spring 2020.
The Citation Oasis is a compact speaker with a built-in alarm clock feature. Additionally, it is capable of acting as a wireless charger that can charge your phone on the go. Like the Citation 200, the Oasis also features AirPlay. Sleep mode extends the battery life by turning of Wi-Fi during sleeping hours. Available in spring 2020, the Oasis will be available in black and gray and cost $199.95
The Citation Multibeam 700 is a compact sounder that features a color LCD display. Boasting MultiBeam technology and seven speaker drivers for surround sound, the soundbar can be paired with the Citation Sub S wireless subwoofer for immersive audio. The Citation MultiBeam 700 will cost $699.95 at launch, and the Sub S wireless subwoofer will retail for $399.95.
Sony
Sony has announced several new 4K and HK TVs at CES 2020, all of which include support for AirPlay 2 and HomeKit. AirPlay 2 support allows TVs to interact with AirPlay 2 devices, such as the HomePod or any AirPlay 2 compatible soundbars or speakers.
Among the announced were the ZH8 85" and 75" 8K LED TVs. They feature 8K detail and lifelike picture quality and a Triluminos Display to reproduce the nuances of color, light, and gradation. The ZH8 line is also boasts Dolby Vision and Dolby Atmos support. New Ambient Optimization optimizes picture and sound quality dependent on the viewers environment.
The 48" Master series OLED TV was designed to meet consumer demand for a smaller, high-quality OLED TV. It includes Sony's OLED TV features, including Picture Processor X1, Ultimate, Pixel Contrast Booster, and Acoustic Surface Audio. X-Motion clarity refines action on the screen in real time, with a brighter and clearer picture over predecessors. Like the ZH8, it features a Triluminos Display and Dolby Vision and Dolby Atmos support, as well as New Ambient Optimization for immersive experiences.
Pricing and availability will be announced in spring of 2020.
SimpleHuman
A pair of vanity mirrors, the simplehuman Sensor Mirror Hi-Fi and Sensor Mirror Hi-Fi Assist both include a smart AirPlay 2 speaker, which can be used to play music. The speakers, sporting 2.5-inch drivers, work over both Bluetooth and AirPlay2.
The Assist model also gains the ability to use the Google Assistant, allowing it to be used hands-free and for users to make queries when they are in the same room.
Both are able to be controlled via the simplehuman app for alarms and light tweaking, with the latter using a tru-lux system with a 96 CRI (color rending index) to help mimic natural sunlight. The light also offer candlelight and nightlight hues.
The Sensor Mirror Hi-Fi and Assist models will ship this spring 2019, for $350 and $400 respectively.
Braun
A revisit to an earlier iconic design, the update to the iconic LE speakers retains the clean lines of the originals in the range. A minimalist design, the speakers are claimed to be the perfect combination of form and function, and are eye-catching without being intrusive.
The internals have, however, been modernized to offer exceptional sound quality, including the use of bespoke DSPs, Balanced Mode Radiators for sound reproduction, and custom-designed ultra-low-profile woofers with neodymium motors and rigid aluminum cones for bass. The company has also developed bespoke high-mass parts for its passive base radiators, which feature a dual progressive linear suspension construction for increased control and reduced distortion.
The speakers connect to the home network using AirPlay 2, but they can also be used with the Chromecast protocol as well as Bluetooth. Connecting over Wi-Fi, they can be controlled via a dedicated Braun Audio mobile app for fine tuning the sound, works with Google Assistant built-in, and has an additional privacy button to disconnect microphones.
The LE01 is the largest and most expensive at $1,199, and packs in two 5.25-inch woofers, two Quadratic passive bass radiators, three full range 2.5-inch BMR units, and three Monolithic HD class-D power amplifiers.
The $799 LE02 sports one 5.5-inch woofer, two BMR drive units, two Quadratic bass radiators, and two of the amplifiers. Lastly, the $379 LE03 includes a 3.5-inch woofer, a 1.5-inch BMR drive unit, a race-track passive bass radiator, and one amplifier.
Jan 7 12:52 ET - Braun Audio added.