Oprah backs out of sexual assault documentary bound for Apple TV+, film will not air on Apple service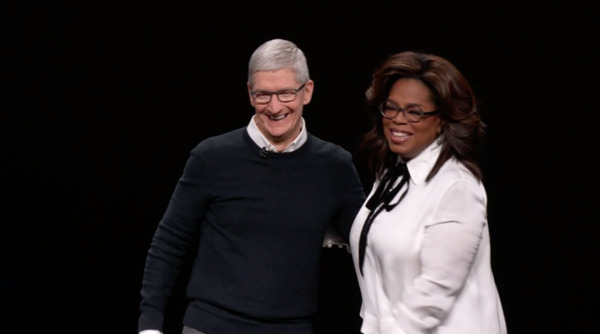 Oprah Winfrey on Friday said she is no longer attached to a high-profile documentary that explores sexual misconduct in the music industry, adding that the film will not debut on Apple TV+ as planned.
Winfrey in a statement to The Hollywood Reporter said she is stepping away from the as-yet-untitled documentary citing creative differences with filmmakers Kirby Dick and Amy Ziering. The film, which was set to debut at the Sundance Film Festival in January, follows a former music executive who accused industry titan Russell Simmons of rape.
"I have decided that I will no longer be executive producer on The Untitled Kirby Dick and Amy Ziering documentary and it will not air on Apple TV+," Winfrey said. "First and foremost, I want it to be known that I unequivocally believe and support the women. Their stories deserve to be told and heard. In my opinion, there is more work to be done on the film to illuminate the full scope of what the victims endured, and it has become clear that the filmmakers and I are not aligned in that creative vision."
She goes on to suggest that Dick and Ziering are rushing the film's completion to make a premiere at Sundance.
"Kirby Dick and Amy Ziering are talented filmmakers. I have great respect for their mission but given the filmmakers' desire to premiere the film at the Sundance Film Festival before I believe it is complete, I feel it's best to step aside," Winfrey said. "I will be working with Time's Up to support the victims and those impacted by abuse and sexual harassment."
Dick was previously nominated for an Academy Award for "Twist of Faith," which sought to expose sexual abuse in the Catholic Church. The filmmaker has worked with producer Ziering on multiple films surrounding sexual assault and rape, including the Oscar-nominated "The Invisible War" (2012) and Emmy-nominated "The Hunting Ground" (2015).
The tech giant failed to provide a detailed overview of the upcoming film, but a description published by Sundance goes deeper and confirms Simmons accuser Drew Dixon is indeed the documentary's subject. As noted by The Hollywood Reporter, Simmons was accused of raping Dixon, who served as an executive under the Def Jam Recordings co-founder, in 1995.
Winfrey is still on tap to provide content for Apple TV+ with a pair of documentaries, one covering workplace harassment and another on mental health, and the revival of her famous book club.