Apple Mac mini vs Intel NUC — the lightweights spar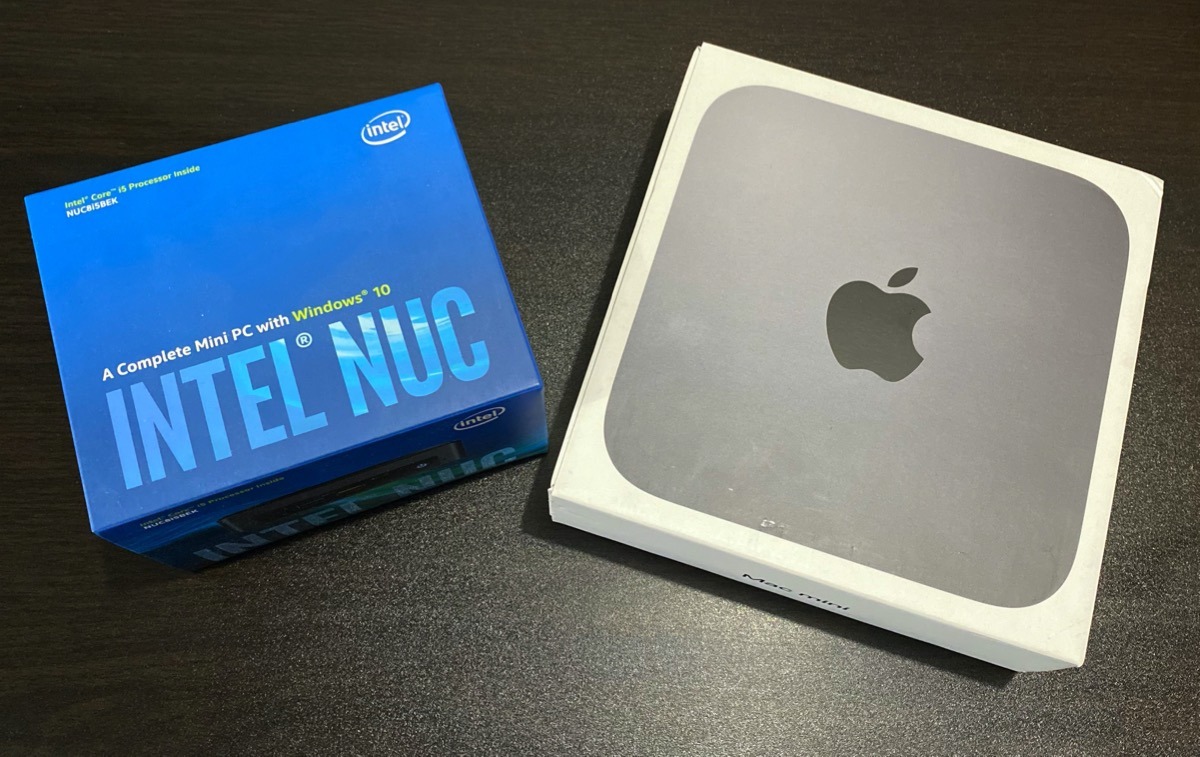 Apple's Mac mini is the ideal Mac for high performance in a slimline package, as well as for those who want to use their own monitor instead of relying on an integrated display. However, the existence of compact rivals like the Intel NUC can offer roughly equivalent processing power in a smaller size for a bit less money.
We've spoken about the Mac mini and how it lines up with Intel's Next Unit of Computing (NUC) before. At the time, the diminutive desktop from Apple hadn't been updated in a long time — and we're getting back to that point again, with it having been a year and a processor generation since release.
Even with the professional-oriented release from 2018, the Mac mini resides in a section of the market aimed at people who don't need an additional monitor, as a MacBook or iMac includes, due to already owning a display. It also fits into the category of being an entry point into macOS usage, with it being an ideal first Mac for switchers from Windows-based PCs.
We're seeing people buy it who simply don't have enough space for a full-blown mini tower PC, and just need something that occupies very little room but provides vast amounts of processing power. While the tiny Mac mini has certainly proved itself as a capable and compact Mac over the years, it isn't the only computing appliance on the market capable of providing enough processing for users while being minimal in stature.
One good example of this is the Intel NUC range, which consists of a PC built and designed by Intel themselves to directly compete against the Mac mini by offering many of the same qualities, albeit as a Windows system. Offered usually as an upgradable kit, the NUC is similar in that it takes up very little space on the desktop, but at the same time it includes more than enough processing capacity for most computing needs.
To see if the Mac mini still measures up, AppleInsider is comparing it with the Intel NUC 8 Home, model number NUC8i5BEK, provided by Intel for the purposes of this comparison. For the purposes of an even comparison, Core i5-equipped versions of each will be pitched against each other.
2018 Mac mini versus 2019 Intel NUC8i5BEK by the numbers
Apple Mac mini i5
Intel NUC
Price
$1,099
$750
Dimensions (inches)
7.7 x 7.7 x 1.4
4.4 x 4.6 x 2.0
Weight (pounds)
2.9
3.1 with adapter
Processor
Intel Core i5 6-core 3.0GHz
Intel Core i5 quad-core 2.3GHz
Memory
8GB, configurable to 64GB
8GB, Configurable to 32GB
Storage
256GB SSD, configurable to 2TB SSD
256GB, user-upgradeable
Graphics
Intel UHD Graphics 630
Intel Iris Plus Graphics 655
Networking
Wi-Fi (802.11ac), Gigabit Ethernet (10Gb Ethernet option), Bluetooth 5.0
Wi-Fi (802.11ac), Gigabit Ethernet, Bluetooth 5.0
HDMI
HDMI 2.0
HDMI 2.0a
USB
2x USB 3.1 Gen 2
4x USB 3.1 Gen 2
Thunderbolt/USB-C
4x Thunderbolt 3
1x Thunderbolt 3
Audio
3.5mm headphone jack, Built-in speaker
3.5mm headphone jack
Other Items
Micro SD card slot, IR sensor, Kensington lock slot
Small stature
Measuring 7.7 inches square and 1.4 inches thick, the Mac mini is a short but wide design, which makes it quite stackable with other hardware, or used as a plinth. In a pinch, it could easily be placed on its side and stored wedged between books on a bookshelf.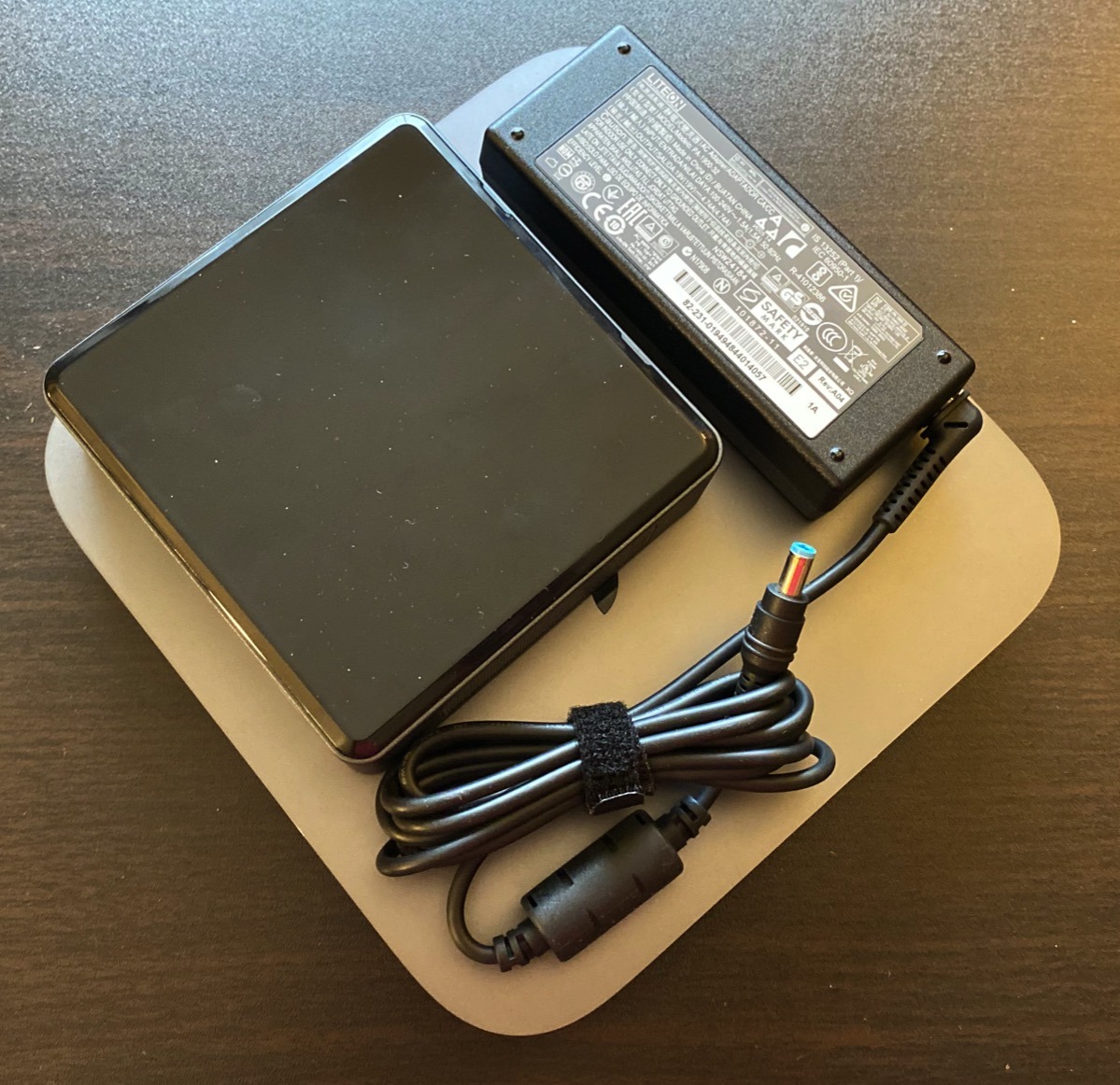 The distinctive flat shape helps make it a design classic, assisted with the neat edges and the rounded corners, making it unmistakably Apple in its appearance.
The Intel NUC itself, however, is smaller measuring a mere 4.4 inches by 4.6 inches, though it does sit taller at 2 inches high for the "tall" variant that can house a 2.5-inch SSD. Despite the height difference, this still means the NUC has not only a smaller footprint on a desk than the Mac mini, but also takes up a smaller volume for the computer itself.
Some of that volume difference is in the power supply. The Apple Mac mini has an internal power supply, and the NUC relies on an external power brick.
Intel NUC connectivity, versus Apple Mac mini
It varies from person to person as to what connections are important for a computer. Depending on their priorities, a user may prefer to have more USB-A ports readily available over other connection types, or Thunderbolt 3 may be more important.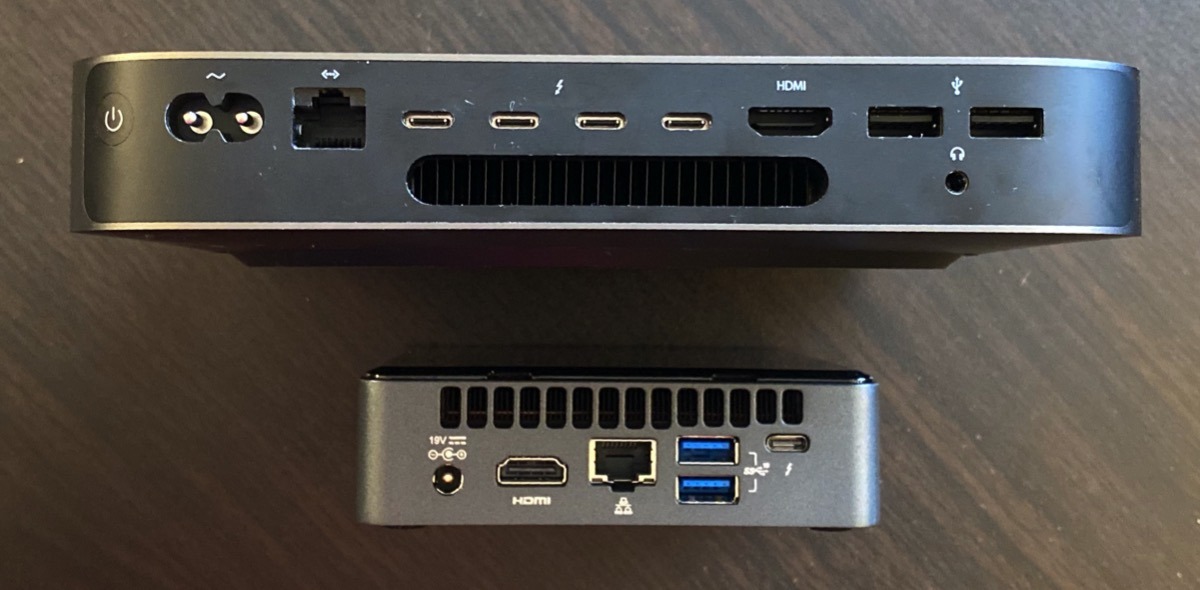 The Apple Mac mini we're looking at here includes a HDMI 2.0 port, two USB 3.1 type A ports, four Thunderbolt 3 ports, Gigabit Ethernet, and a 3.5mm headphone jack. All of the elements are also put on the back of the easily-positioned chassis, so everything is accessible from just one location.
The Intel NUC opts to split its inputs and outputs on opposite sides of the casing, with a few on the front and a few to the rear, on the basis of it being used on a desk and needing some connections to be easily accessible to the user.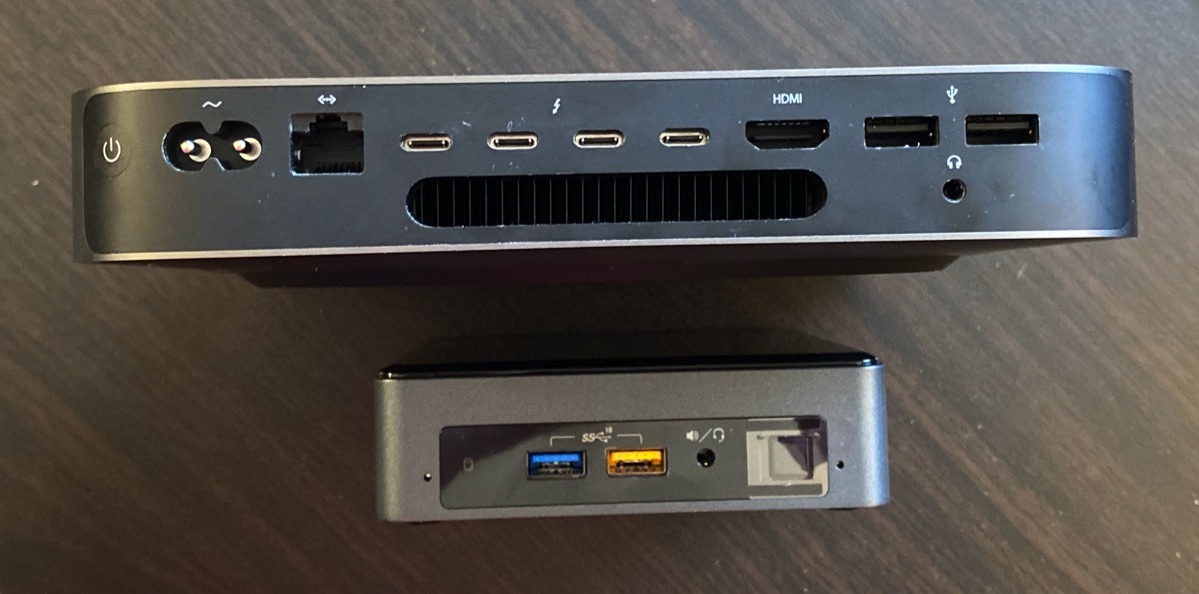 On the back is the HDMI 2.0a port, Gigabit Ethernet, two USB 3.1 type A ports, and the solitary Thunderbolt 3 port. The front has two USB 3.1 type A ports and the 3.5mm headphone jack.
One thing to the NUC's benefit is the inclusion of a side microSD card slot, which can be used for media ingesting or even to expand storage. While the Mac mini used to have an SD card reader built in, modern versions do not have the slot.
Both models include 802.11ac Wi-Fi and Bluetooth 5.0 support. However, Ethernet on the Mac mini can be upgraded to a 10-Gigabit Ethernet port at the time of purchase for $100, whereas the NUC would have to rely on adding a 10-Gigabit Ethernet adapter via the Thunderbolt 3 port for around $150 if it needs to perform the same feat.
The Power
The Core i5 Apple Mac mini is equipped with an i5-8500B Intel processor, a six-core chip clocked at 3.0GHz with a Turbo Boost of up to 4.1GHz. It ships with 8GB of RAM by default, but can be configured to have 16GB, 32GB, or 64GB of RAM.
The Intel Core i5 in the NUC is only a quad-core chip, specifically the 8259U, with a base clock speed of 2.3GHz boostable to 3.8GHz. Again, the NUC kit we're comparing here starts with 8GB of RAM at its base, but can be upgraded to have up to 32GB of memory.
Results from Geekbench 5 score the Mac mini at 1,034 for the single-core tests, with a multi-core result of 4,807. Our NUC, which Intel provided to AppleInsider for testing delivered results of 1,014 for the single-core tests and 3,701 for multi-core, indicating it's roughly at a par with the pint-sized Apple desktop for single-threaded operations, but lags quite a bit in multi-core applications.
This also extends to the graphics, as since both use onboard graphics solutions instead of a discrete GPU, the Mac mini and the NUC are at the mercy of Intel's graphical choices. Neither the Intel UHD Graphics 630 integrated within the Apple unit nor the Intel Iris Plus Graphics 655 in the NUC will set the world alight with their performance, but they will be more than adequate enough for the majority of non-intensive computing tasks.
Those who want better graphical power could easily enter the world of eGPU enclosures via Thunderbolt 3 on either machine. More on this in a bit.
Video Work
Introduced in 2011, Intel's QuickSync encoding routines are driven by on-die hardware, and is considerably faster and more power-efficient when used rather than just number-crunching by the processor. Encodes using QuickSync to its maximum extent typically takes a fraction of the usual time, and are sometimes faster than transcoding with the assistance of a graphics card.
QuickSync has evolved over the years. The 5,1 Mac Pro and cylindrical 6,1 Mac Pro don't have it at all — and neither does the iMac Pro because of Intel's architectural choices in the Xeon processor used at the time. But, the Mac mini and NUC we're looking at here both do.
Apple also has the VideoToolbox routines. VideoToolbox is Apple's low-level framework for iOS, macOS, and tvOS that provides software with access to hardware-based encoders and decoders, for the purposes of compression, decompression and transcoding. For developers, it is a way to tap into Apple's hardware directly rather than using their own software-based solution, typically saving time and simplifying the process of adding the functionality to their apps and tools. And, it can use the T2 chip in the Apple Mac machine to boost encoding.
We've discussed what the T2 chip in the Mac mini gets you in regards to encode speed before. Obviously, the T2 isn't in the NUC. But, Intel's own QuickSync routines do some heavy lifting on its own.
Running the same tests we ran before, using HandBrake, and with all the same parameters, the i5 Apple Mac mini delivered the encoded video in 3 minutes and 9 seconds. The NUC processed it in 5 minutes and 41 seconds.
Why should a Mac user buy an Intel NUC?
Even in this era of near-ubiquitous cloud services, there are still good reasons to have a local machine hosting what you want on your LAN. Some ISPs (looking at you, Comcast) have functional caps on bandwidth, where going over either throttles your download speed, or worse, costs more money.
Even if you don't want to use the NUC as a work machine, it still runs iTunes or Plex for media. It can still be used as a local file server. Properly configured, you can get your files, and bandwidth permitting, stream your media stored on it across the Internet.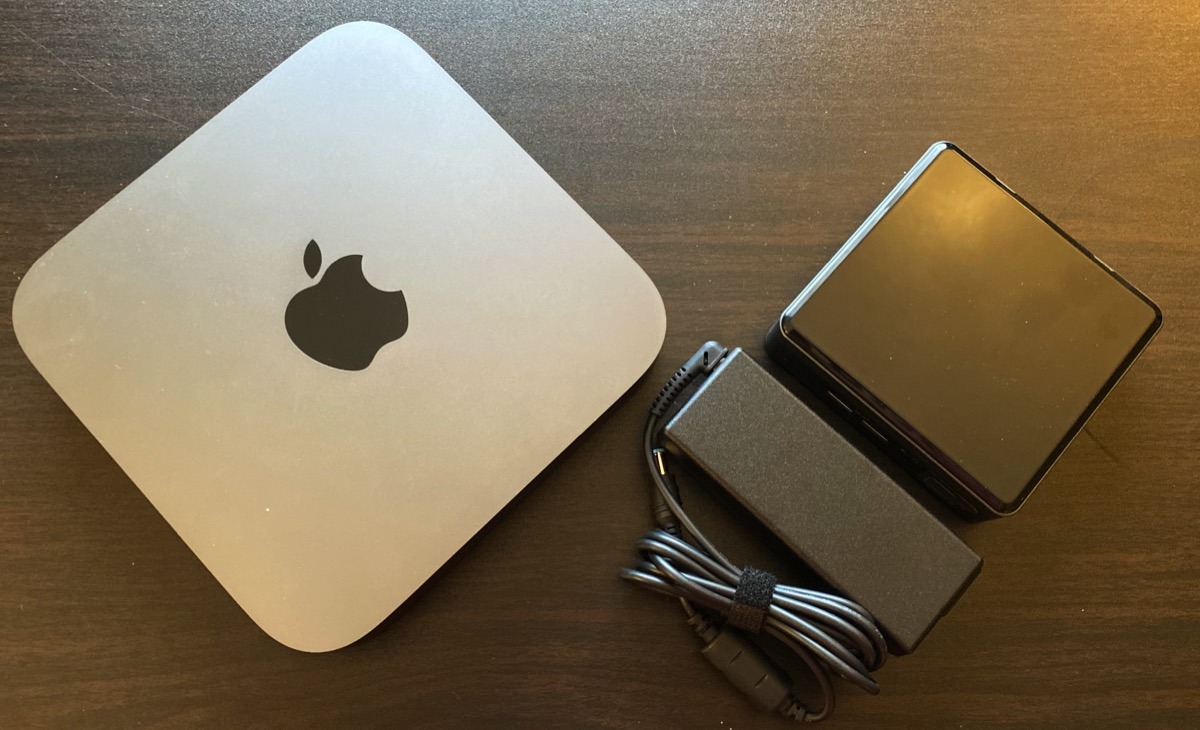 If you've embraced an eGPU, that NUC can use it too. That single Thunderbolt 3 port, connected to the eGPU you use on your Mac during the day, can be used to game at night, given the performance and thermals that we've demonstrated here.
And, if you code in any way, using it as an inexpensive and solid Windows development machine apart from your Mac is an outstanding use of the hardware.
We've selected this particular NUC because it is very close to the lower-end Mac mini in price and performance. There is a dizzying array of NUC models available, and most of them come without storage or RAM, allowing you to configure what you want, where you want it.
Higher-end Ghost Canyon NUC with PCI-E expansion
Apple and Intel diverge with this product line. At the 2020 CES, Intel released a NUC with the new "Ghost Canyon" architecture, and more expandability. The NUC9i9QNX is

">a high-end configuration

with not just an i9 processor with "Turbo" speeds up to 5GHz and support for up to 64GB of RAM — but also a PCI-E slot for a video card.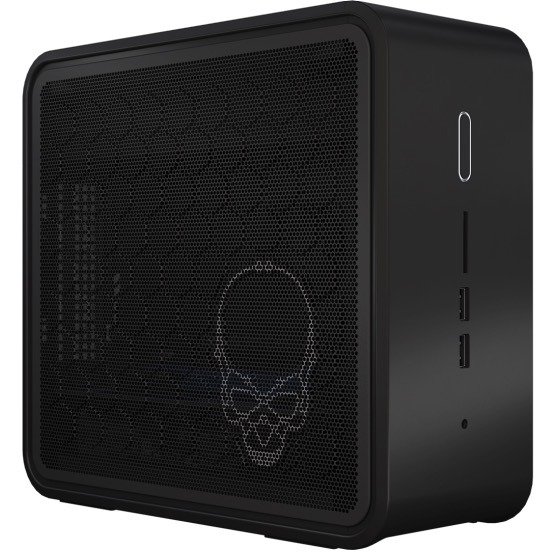 While the NUC9i9QNX bare-bones system isn't cheap at around $1535 without drives, RAM, OS, or a video card, it is an intriguing system for the "prosumer" level of user. Apple has eschewed PCI-E at the prosumer level for a long time, and other than eGPUs for a $300 premium on top of the graphics card itself, or the $5999 Mac Pro, there's no good way to boost the sometimes anemic graphic offerings on Apple's lineup.
This Ghost Canyon architecture is worth keeping an eye on going forward. It will be interesting to see if Apple responds to this market segment after very loud cost discussions surrounding the Mac Pro and release systems like the NUC9i9QNX — which is very similar to the xMac concept from days of yore.
The Bottom Line
Intel's NUC family comes in a wide array of performances, and an equally wide array of pricing. Intel being Intel, the integrations are pretty good and other than the Apple Mac mini, the Intel NUC is the absolute best small form-factor computer you can buy.
We here at AppleInsider unsurprisingly prefer macOS and iOS to alternatives. But, we know that there are benefits to Microsoft Windows platform as well — benefits that many of us here at AppleInsider partake in in parallel to our Apple gear. We've said it before, if you need or want Windows hardware and have no particular need for macOS or iOS, you generally buy Windows. If you need or prefer macOS, then that's what you buy.
Folks use Apple gear, macOS, and iOS side by side because of the OS-level integration. Apple controls the entire hardware and software stack, allowing for integrations that are second to none.
But, Windows or macOS, as long as you know what you're getting into when you buy at whatever price-point you settle on, you can get the job done, integrations or no. What tools you use for that job depends on your own toolbox, and what you like to use. We have enjoyed the form and value behind the Apple Mac Mini for 15 years and aren't expecting that to change. This is not our first NUC — and for good reason.
Where to buy
Intel NUC computers can be purchased as barebones models or as kits with memory and storage already integrated. Prices start at $423.75, with options available at both Amazon and B&H Photo.
Deals on every configuration, including exclusive coupon discounts, are available 24/7 in the AppleInsider Apple Mac mini Price Guide, so check it out if you're in the market for one of Apple's compact systems.