Mac shipments continue to slide in Q4 as PC market grows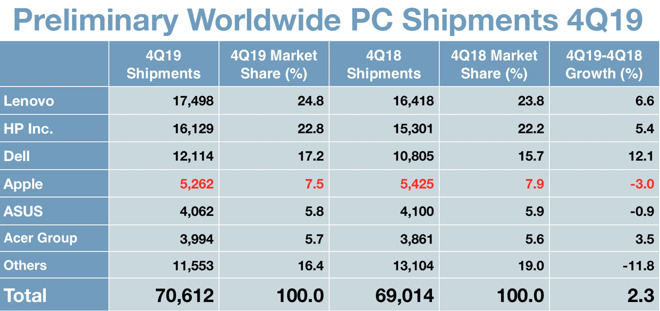 Apple's share of the worldwide PC market continued a year-long downward trend amidst a wider industry rebound, as Mac shipments shrank in the fourth quarter of 2019, according to estimates released on Monday by market research firms Gartner and IDC
Apple landed in fourth place on an estimated 5.26 million Macs shipped during the last quarter of 2019 to take 7.5% of the market, down from 5.43 million units in the same period in 2018, Gartner said in its report.
IDC disagreed on exact unit numbers, finding Mac shipments at 4.72 million in quarter four, but also put Apple down 5.3% from 4.98 million year-over-year. The performance was good for a 6.6% marketshare, IDC said.
Both Gartner and IDC found the Mac maker suffered the worst quarterly decline of any top-five vendor, exacerbating a situation that according to Gartner began in the year-ago quarter.
The research firms also disagreed on Acer, with Gartner showing the Taiwanese firm in sixth place, up 3.5% on the year with 3.99 million units shipped and a 5.7% share of the market. IDC, however, estimates Acer was nipping at Apple's heels with 4.37 million units shipped, down 4.2% from 2018. Gartner has Asus in the fifth spot with 4.06 million shipments and a 5.8% share of the market.
Lenovo was the top PC manufacturer on both lists, with the Gartner estimating shipments of 17.5 million units to IDC's 17.83 million. Both research firms have Lenovo at a 24.8% marketshare.
HP and Dell finished in second and third, respectively, with Gartner estimating 16.13 million units shipped for HP, up 5.4% year-over-year. IDC put HP's shipments at 17.17 million units, up 6.9% from the same period last year. Dell shipped 12.11 million computers, up 12.1% year-over-year, according to Gartner, while IDC put the company's shipments up 10.7% at 12.46 million units.
Overall, Gartner found the industry grew 2.3% from the same time last year, a more conservative outlook as compared to IDC's 4.8% growth rate.