Apple sees Mac sales dip, marketshare increase in Q4 PC industry estimates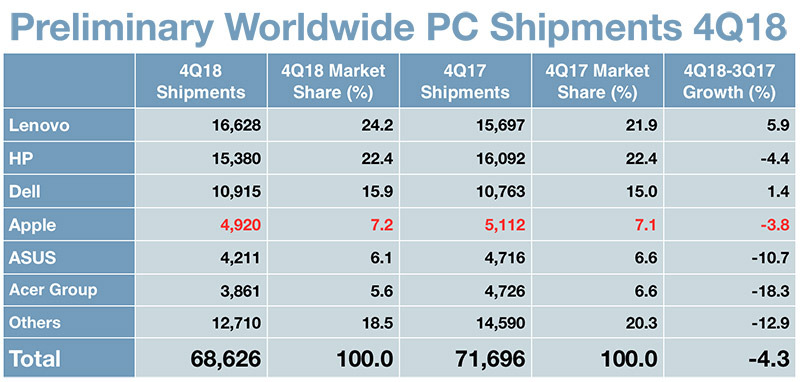 Compounding problems stemming from soft iPhone sales, Apple may have seen Mac shipments decline in the December quarter, early research estimates indicated on Thursday.
Apple's unit shipments came in at 4.9 million, down from 5.1 million in the same quarter a year ago, according to Gartner data. That's a decline of 3.8 percent.
The company's share of the market rose marginally from 7.1 to 7.2 percent, a significant uptick given that the overall PC industry saw shipments fall from 71.7 million to 68.6 million units. Some of the toughest blows were suffered by Asus and Acer, which saw their shipments drop 10.7 percent and 18.3 percent, respectively.
Lenovo, however, saw shipments rise 5.9 percent to 16.6 million, making it the dominant computer vendor with a 24.2 percent marketshare. HP ranked second despite a 4.4 percent dip, while Dell rose 1.4 percent to 10.9 million, keeping it securely in third place. Apple claimed fourth.
Gartner reported that top rankings should remain the same for 2018 as a whole, with Lenovo at 58.5 million units, HP at 56.3 million, Dell at 41.9 million, and Apple at 18 million — Apple's numbers are estimated to be down 5 percent versus 2017.
Under pressure from phones and tablets, the PC industry has been in decline for seven years, and is forecast to see a 1.3 percent dip once 2018 data is finalized. Apple has yet to announce its official December-quarter financials.
On Jan. 2, though, it shocked the tech industry and investors by saying it was expecting $84 billion in revenue instead of a previously forecast $89 billion to $93 billion. CEO Tim Cook linked the issue mostly to poor Chinese iPhone sales, but also blamed "foreign exchange headwinds," fewer carrier subsidies, "economic weakness in some emerging markets," and its discounted iPhone battery replacement program.