Review: Nomad Base Station Stand elevates wireless charging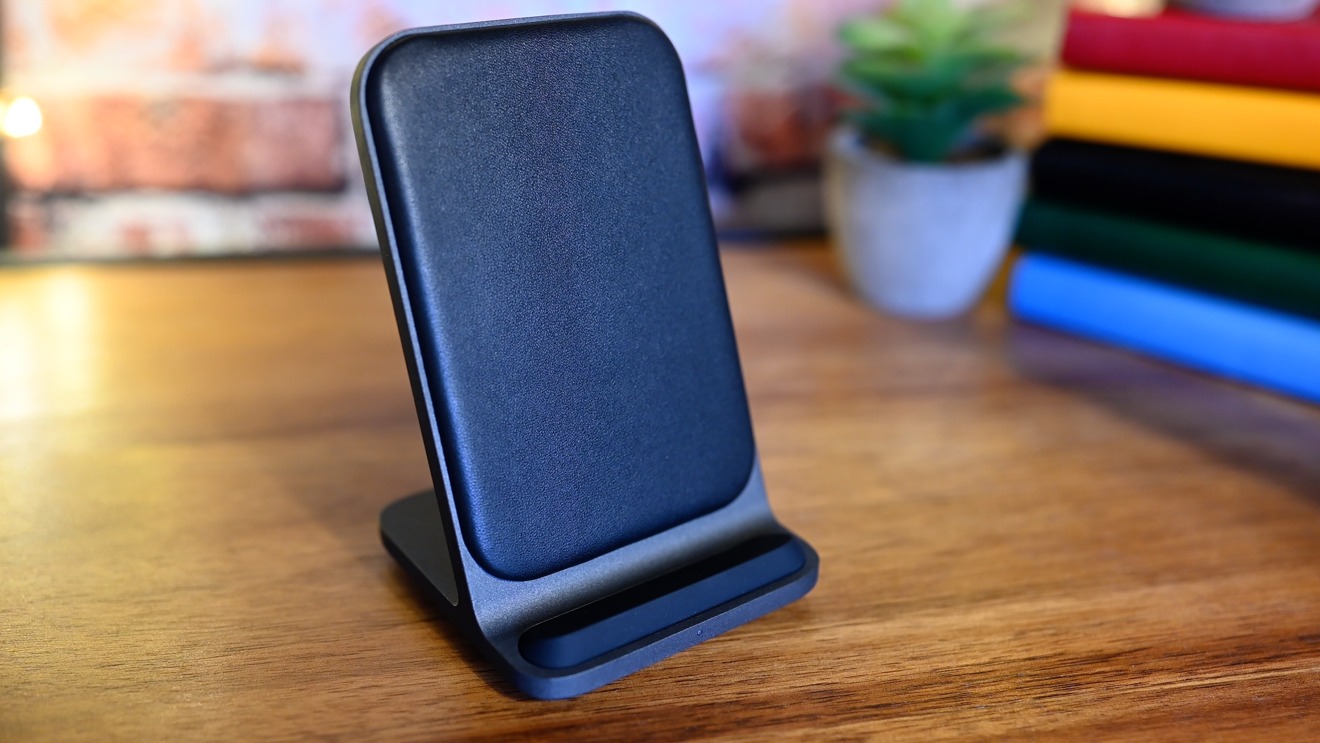 Nomad has made a name for itself by designing unique accessories for mobile users that strive to be above and beyond the generic. The new Base Station Stand lives up to that ideal in many ways.
The Base Station Stand is a new one-device wireless charger to power up your iPhone or other Qi-enabled devices. It props up the device at an angle rather than letting it lie flat on a tabletop which improves usability significantly.
In the box
Included with the Base Station Stand is everything you need to power up your device. You get the stand, an 18W power adapter, a USB cable, and a pair of world power adapters.
Nomad includes a USB-A power brick in the box, which is disappointing as it isn't USB-C. It is branded as Nomad but seems a fairly generic, off the shelf charger. The adapter comes as a US adapter but a UK or EU adapter can be outfitted as well, which are included in the box. If you purchase the Base Station Stand and live in New Zealand or Australia, an AU adapter will also be bundled.
This modular power adapter isn't just useful for global users but makes this a viable travel charger.
Nomad includes a two-meter power cable which is USB-C on one end to plug into the Base Station Stand and USB-A on the other to plug into the AC adapter. The cable is premium, but it isn't as nice as Nomad's other standalone cables. For example, it doesn't have a Kevlar core or metal overmolds. This isn't a huge deal as many people will plug it in once and be done, but for anyone who wants to travel with this, they may want a sturdier cable.
Elevated design
The design is what particularly sets the Baes Station Stand apart. The entire body of the charger is metal with a sleek dark finish. Horween leather pads the back of the charger, making a nice soft surface for your device to rest against.
While the back of the device is leather, the bottom charger is silicone which again helps cradle your device. The underside has a ring of silicone too which prevents the charger from moving about your table.
The charging pad being USB-C gives you a lot of options. You can power the pad with any USB-C cable you may have lying around — including the one powering up your Mac or iPad Pro. As long as your power source can deliver at least 18W to get the full amount of power, you're good to go.
Probably the most understated feature of the Base Station Stand is the ambient light sensor. It is located around back next to the USB-C port and monitors the brightness in the room. As the room gets dark, the front-facing LED will dim as well. This is huge. It makes it much more convenient to use in a bedroom because that light won't blind you while you try to sleep. Accessory makers, listen up — use ambient light sensors.
When using the Base Station Stand, thanks to the dual coils inside, your phone can be placed either vertically or horizontally. That means it is perfect to kick back and watch a video on your device while charging at the same time. Face ID is aided as well. By having the phone angled towards your face, it can be unlocked with Face ID right away rather than requiring you to pick up the phone first or leaning over to unnatural levels.
If you have certain Android handsets, the Base Station Stand can output 10W of power while iPhone users will get 7.5W of Fast Charge.
AirPods users can juice up their devices too. AirPods with the wireless charging case can charge immediately when placed on the Base Station Pro but the AirPods Pro do need to be rotated 90 degrees due to their short and squat nature.
Should you buy one?
The Base Station Pro does exactly what Nomad set out to do — elevates the common wireless charging stand by outfitting it with a premium build and fast performance with helpful features such as USB-C and an ambient light sensor.
There is value in quality, and based on that alone, there is a market for the Nomad Base Station Stand. For others, shelling out near a hundred bucks for a wireless charger is a non-starter.
We fall more into the former rather than the latter. We want a charger we can trust and that will charge our devices as quickly and as efficiently as possible and want an accessory that mirrors the iPhone in its design.
This charger is sturdy, stylish, and as fast as it can be. We see where the price tag comes from after getting the charger in our hands. Compared to the bulk of existing chargers, Nomad has set itself apart once again.
Metal body
Leather back cushion
Anti-slip foot
USB-C input
Premium USB-C cable
Charges AirPods and AIrPods Pro
Supports iPhone Fast Charger 7.5W
Ambient light sensor
USB-A power brick
No additional outputs
AirPods Pro have to be rotated
High-end price
Rating: 4.5 out of 5
Where to buy