Apple Watch may have a flat Digital Crown that recognizes gestures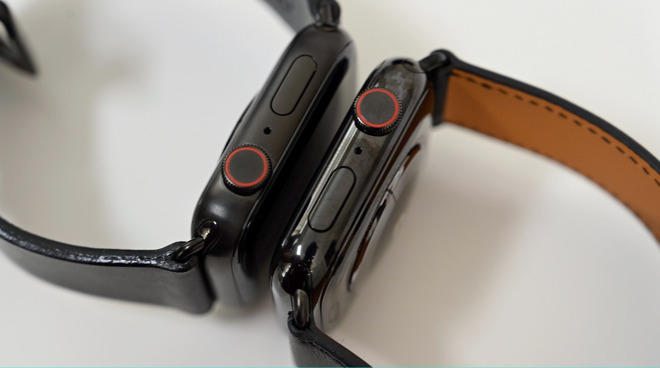 AppleInsider may earn an affiliate commission on purchases made through links on our site.
One new Apple patent details how a device like flat Digital Crown could be made to include an optical sensor to register gestures, incorporating mechanisms and sensors to guarantee a proper watch band fit.
Apple is continuing to develop ways of utilizing the Apple Watch's Digital Crown to add new features and accept new input from users. In its latest patent, the Crown could feature an optical sensor to register and respond to touch.
"Portable electronic devices, such as watches, have become increasingly popular," says Apple in "Watch with Optical Sensor for User Input", US Patent No. 20200033815," and the features and functionality provided by portable electronic devices continue to expand to meet the needs and expectations of many consumers."
"Many devices include input components, such as crowns, that receive and detect tactile input from a user during operation," it continues. "Such input components may be prominently featured on the device for ready access by a user."
It's possible that future Digital Crowns will feature this sensor specifically so that they no longer have to rotate physically. By being a flat touch panel, they could also free up internal space for other components.
"[User] input components, such as crowns, can occupy space on a watch that could otherwise be occupied by other components of the watch," says Apple. "Some user input components include moving parts, which are susceptible to wear. User input components can also be susceptible to damage resulting from impact during normal use or when the watch is inadvertently dropped."
"[A touch Digital Crown] can also include one or more sensors, such as biosensors. The one or more sensors can be configured to sense substantially any type of characteristic such as, but not limited to, images, pressure, light, touch, force, temperature, position, motion, and so on," continues Apple.
"For example, the sensor(s) can be a photodetector, a temperature sensor, a light or optical sensor, an atmospheric pressure sensor, a humidity sensor, a magnet, a gyroscope, an accelerometer, and so on," says the patent. "In other examples, the watch 10 can include one or more health sensors."
The three inventors listed are Tyler S. Bushnell, who was recently also named on "Capacitive gap sensor ring for an electronic watch," a patent about joystick-like Digital Crowns, Sameer Pandya, and Steven P Cardinali.
Pandya, is also listed on a separate new patent regarding wrist bands for the Apple Watch, alongside Yiwen Wu, Erik G. de Jong, and Colin M. Ely.
"Consistently-tight Watch Band," US Patent No 20200029660, is specifically about the issue of how Apple Watch fits on a wrist.
"Watch bands may become tight around a user's wrist as the user moves their wrist," it says. "Such tightening can be uncomfortable."
The patent's solution is to have bands that adjust themselves.
"[For example] watch bands that maintain a substantially constant tension despite changes in their lengths while worn by a user," it says. "Such changes in length may occur automatically to accommodate changes in the size and circumference of a user's wrist as they move their wrist normally (e.g., moving it from straight, with a smaller circumference, to bent, with a larger circumference)."
"By maintaining a constant tension," it continues, "the watch bands may also maintain a constant force on the user's wrist, and they may cause a watch body attached to the bands to also maintain a constant force on the user's wrist. This can increase a user's comfort, since the watch will not get tighter or constrict their wrist as they straighten and bend their wrist."
Apple notes that a good fit of a band is useful not only from a comfort point of view.
"It can also help optimize operation of any sensors in the watch band or watch body that benefit from being held against the user's wrist with a constant force, such as some physiological sensors (e.g., some heart rate sensors)," it concludes.