Google Photos has shared some users' private videos with strangers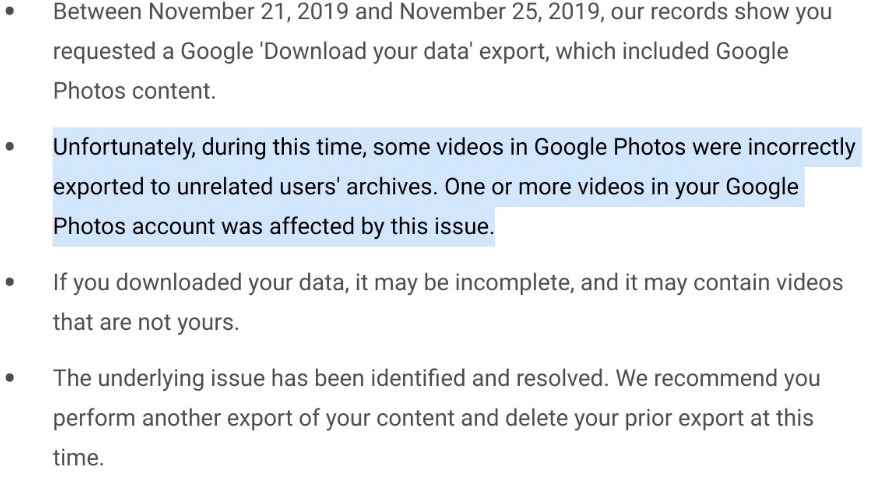 Google has sent notices to some of its Google Photos users, telling them that that some of the videos stored in the service may have been exported to random users' archives.
Those who used Google's "Download your data" service for Google Photos between November 21 and November 25 of 2019 may find that their data export is incomplete — and could contain videos from other users. Google is informing impacted users now, and it is unclear how many users are a victim of the problem.
The notice was screen capped by Twitter user Jon Oberheide, co-founder of Duo Security, on February 3. It is not known how many users were affected at this time.
Google states that for a five day period, a technical issue made it possible for users' videos to be exported to unrelated users archives. They assure users that the issue has been fixed, but notes that users should delete prior exports and perform a new export at this time.
It is possible that a user's videos have been shared with an unknown amount of other users, and it isn't being made clear which videos may have been shared. Google only mentions videos, so it can be assumed that exported photos are likely unaffected.
Google had recently been the subject of other security scandals. In late 2019, a security research organization in Germany placed eight 'smart spies' in both the Amazon Alexa and Google Home app stores to demonstrate how easily eavesdropping and phishing can be done over smart speakers.
It was also recently discovered that Avast, a popular antivirus tool for both PC and Mac, had been harvesting user data and selling it directly to Google and Microsoft.