GeForce Now lets you play new Windows games on your new or old Mac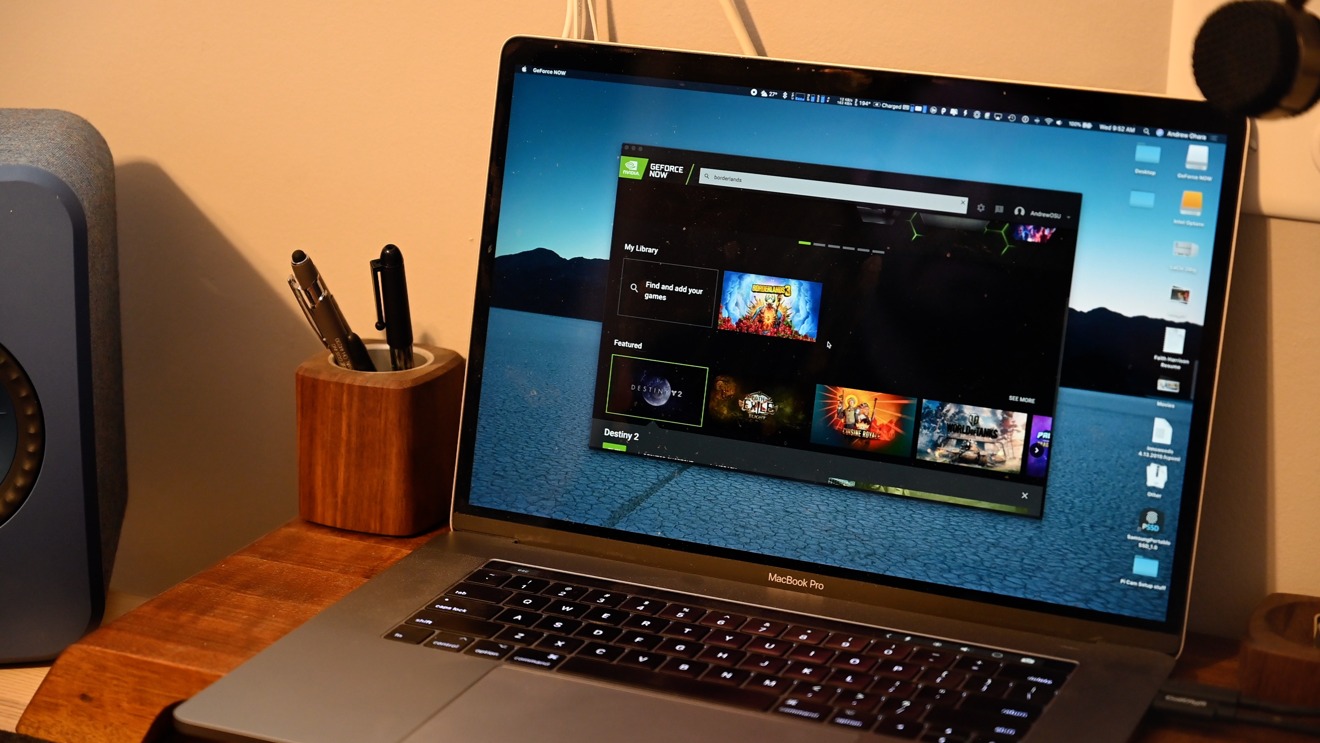 Nvidia's GeForce Now gaming service opens a huge library of previously Windows-only titles to the Mac. Here's how you can, for free, play popular games like "Destiny 2" and "Witcher III", on a recent Mac.
Mac gaming has always been held back, between Apple's decision not to support Nvidia graphics cards and publishers' decision not to port some major titles to the platform.
Users have long had the option or booting their machines up to a Windows environment via Boot Camp, but it is less than ideal and can still require decent hardware to run the game smoothly.
The GeForce Now product is very similar to Google Stadia. The service streams the video from your gameplay across the Internet to your Mac, with the Nvidia hardware in the cloud doing all the hard work. This results in gameplay on perhaps dated hardware, in high resolution at 60 FPS, lag-free.
Game away
We jumped on the GeForce Now release and quickly downloaded it to our 2016 MacBook Pro. This machine, now several years old, is not the fastest or more capable Mac around.
After a painless install and logging in, we could immediately start playing. There is no master list of games so we pursued the featured list and used the search bar to query games we already own.
We've been fans of "Destiny 2" so that was one of the first ones we tried. We added the game to our library with a click, then clicked play. It launched the title where we had to sign in to our Steam account, then the game took off. We ran the title at full screen and a resolution of 1900 by 1200.
You can use a controller but we opted to play with a mouse and keyboard. The game felt very smooth and had no lag as we moved, sprinted, and shot at the alien inhabitants. There was a lot of concern at how delayed it would be but in our tests, we couldn't tell it was streaming at all, though I'm sure this will depend on your bandwidth.
Using GeForce Now is going to be huge for playing Windows-only titles but it will also help if you have an aging Mac or underpowered Mac and want to play newer games that are on Mac by offloading the graphics and processing strain to Nvidia.
Aside from Mac, GeForce Now is also available on PC, Nvidia Shield, Android, and soon, Chromebooks. Unfortunately, there is no planned support for iOS or iPadOS as there is with Steam Link.
Multiple AppleInsider staffers had very good experiences. This may vary depending on your connection speed, latency, and distance from a Nvidia data center.
What games can I play?
Right now GeForce Now has a library of over 50 paid games and over 30 free-to-play games as well.
That includes many hugely popular titles, many of which were Windows-only. Titles such as "Witcher III," "Cuphead," "Destiny 2," "Batman Arkham Asylum," "World of Tanks," "Tropico 6," "Fortnite," "League of Legends" and more.
There is presently no way within GeForce Now to purchase games, you instead have to own it on one of the supported digital storefronts. Right now that is primarily limited to Steam and Epic, so if you want a game like "Borderlands 3", head to Epic, buy the title, and then log back into GeForce Now.
Where to download GeForce Now
GeForce Now is available as a free download from Nvidia. The free version has some limitations, notably a one-hour session limit, though you can play as many "sessions" as you want.
If you like GeForce Now you can upgrade to the paid version, currently called the Founders Edition. Founders Edition is free for three months then $4.99 a month through the remainder of 2020. It includes the ability to jump to the front of the queue line, extended play sessions up to six hours, and RTX-enabled gameplay.
To get in on the fun you need an iMac from 2009 or newer, a MacBook, MacBook Air, or MacBook Pro from 2008 or newer, or a Mac Pro from 2013 or newer and it must be running macOS 10.10 or better. While not specifically listed, we had a good experience with a 2012 Mac mini as well.
Internet connectivity requirements are at least a 10 megabit per second connection to play at all, a 20 megabit per second connection for 720p gameplay. and a 50 megabit per second connection for 1080p play.