Camera comparison: iPhone 11 Pro versus Galaxy S20 Ultra — Does zoom matter?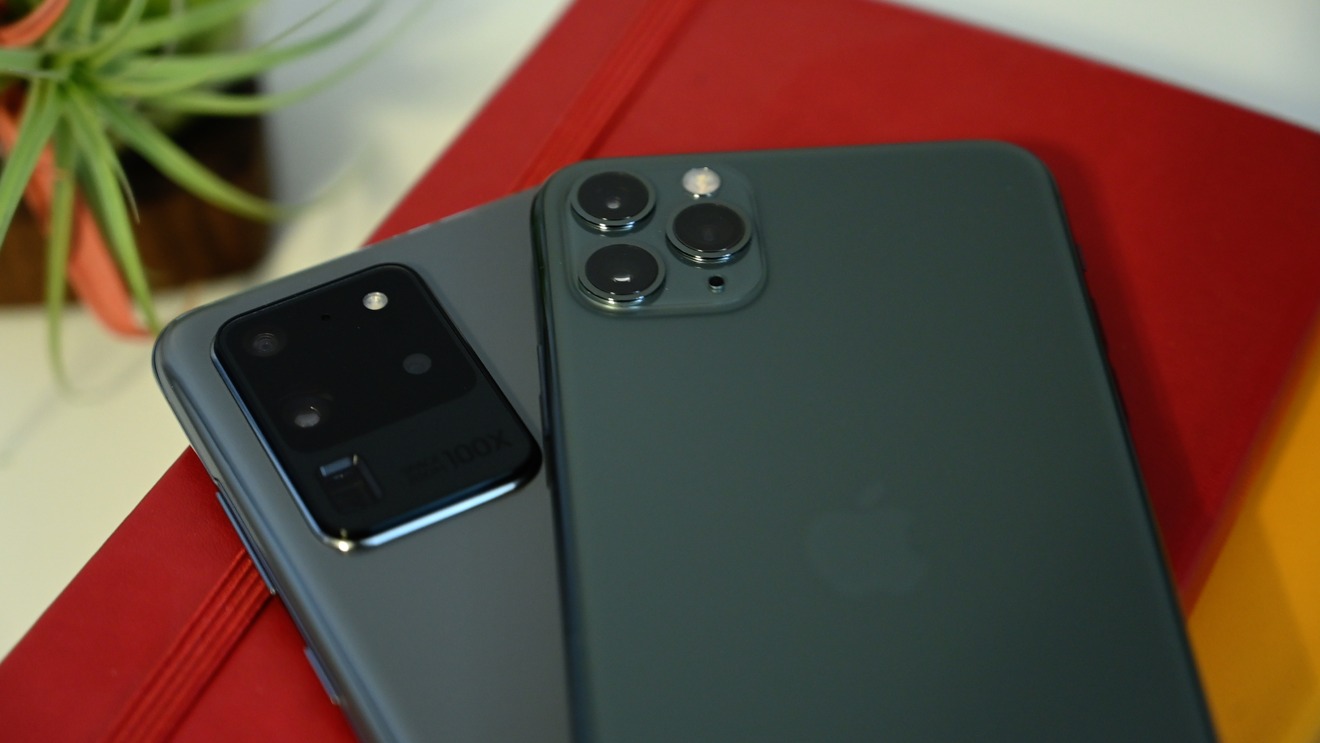 Samsung's new Galaxy S20 Ultra makes some big claims about its new impressive camera system including a mind-blowing number of megapixels and incredible zoom. So how does that play out against Apple's months-old iPhone 11 Pro and iPhone 11 Pro Max in the real world? We pitted them against one another to find out.
Many are already familiar with the trio of shooters affixed to the rear of the iPhone 11 Pro and iPhone 11 Pro Max. There is a 12MP ultra-wide lens, a 12MP wide lens, and a 12MP tele lens that allows you to take photos at 2X optical zoom and 10X using digital zoom.
We aren't going to wade through the deluge of technical details regarding the Samsung setup, but we should at least touch on the basics. There are, in total, five cameras on the rear of the S20 Ultra. A 12MP ultra-wide lens, a 108MP wide lens, a 48MP tele lens, and dual depth cameras.
A lot of benefits come from those different camera modules. For example, the 48MP tele lens helps take higher resolution zoom shots and combined with software, affords users the ability to zoom up to 100X. The 108MP wide-angle lens primarily also only shoots 12MP photos as Samsung uses pixel binning to combine multiple pixels to act as one.
Samsung has pumped the camera app full of features such as long-exposure night mode, food mode, Live Focus (Samsung's take on portrait mode), Single Shot, and a full 108MP high-resolution shot along with much more. Some of these features may be fun, but if they aren't practical or are rarely used, they shouldn't be deciding factors.
We will start the comparison with some simple images before taking a look at different effects such as portrait and night modes before looking at that tempting 100X zoom.
Capturing the moment
A good smartphone camera needs to be versatile enough to capture all different kinds of moments, at home or out and about.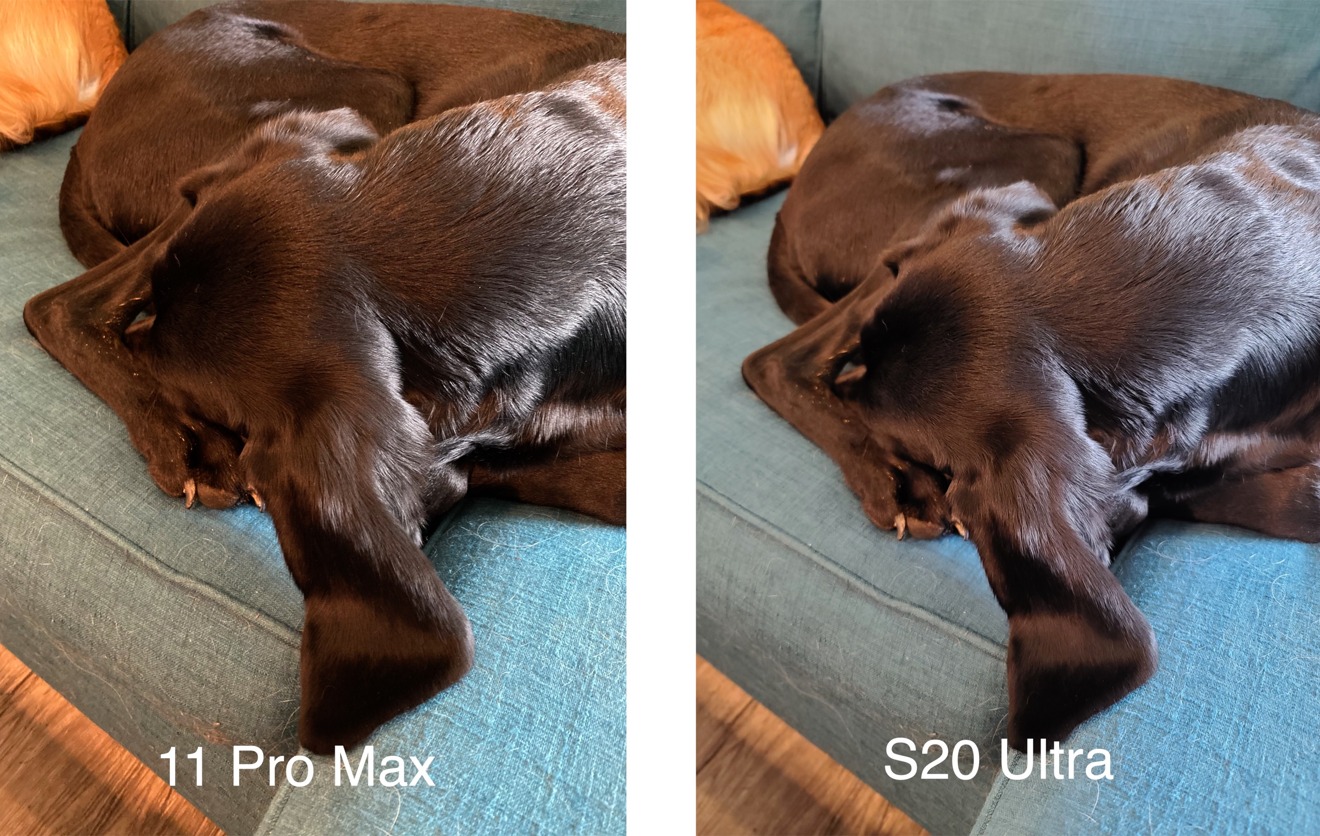 This photo of long-eared pup Dublin highlights some of those subtle differences. The iPhone is a bit sharper and has more detail on the couch and the fur, likely due to Apple's Deep Fusion tech. But, the S20 Ultra has a better balance in its tone. Samsung's auto mode detection also seems to have identified it as a pet photo and has slightly blurred the edges of the image.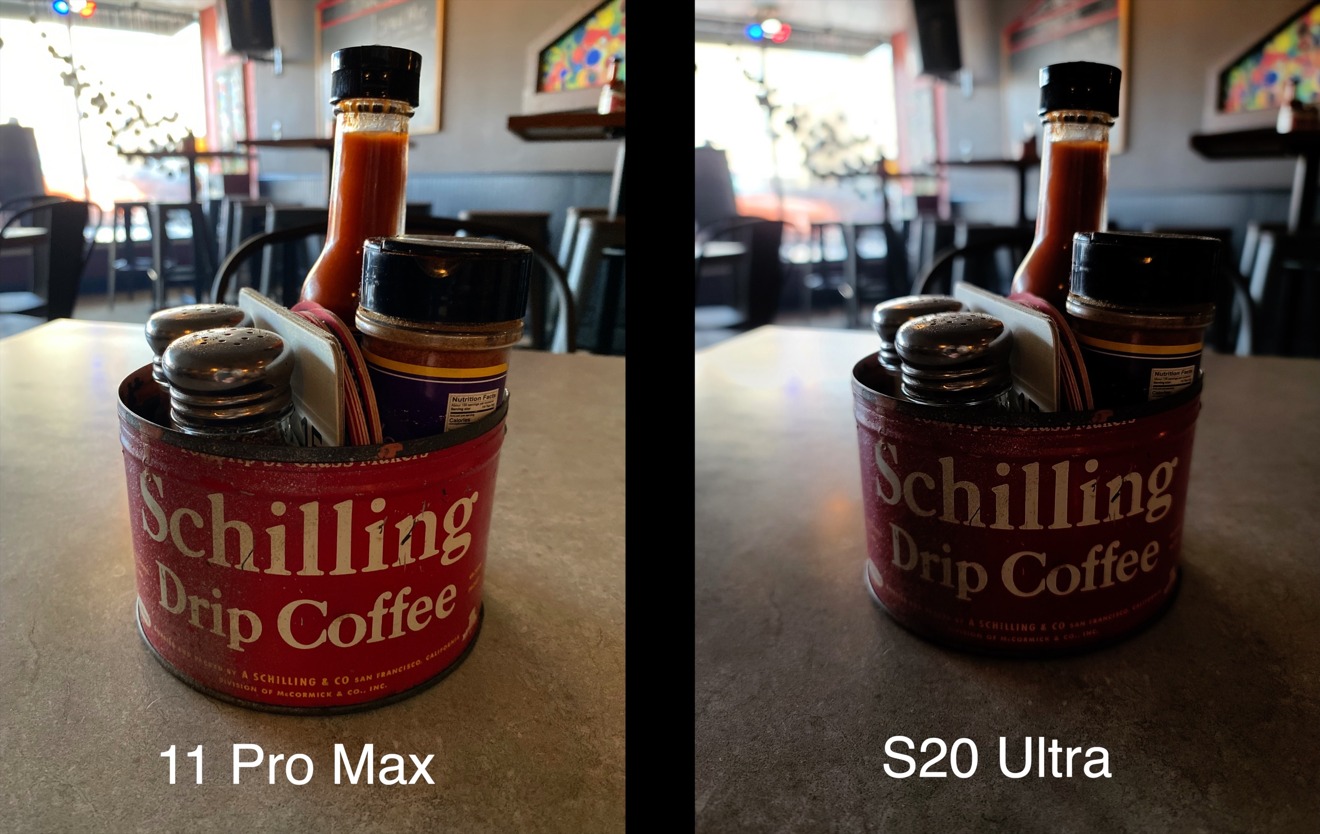 In the above coffee house condiments tray the iPhone did a much better job lighting the image and bringing out the subtle details.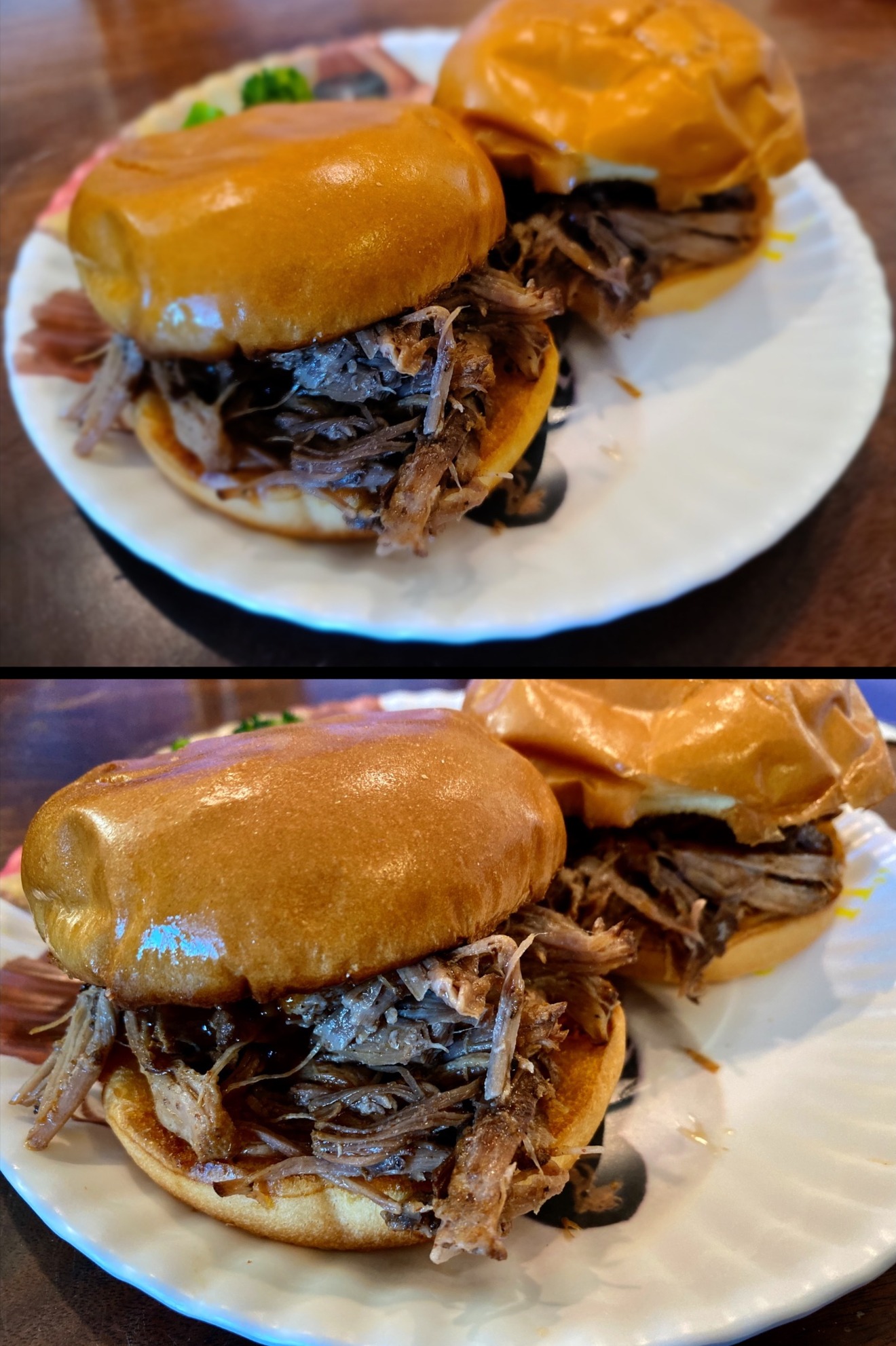 The iPhone doesn't have a "food mode" like the S20 Ultra does, so this isn't an entirely fair comparison. But you can see the sandwich shot with the food mode is quite saturated and has a blurred vignette around the edges. The iPhone image doesn't look nearly as colorful but the S20 goes so far as it almost looks fake, or at least overly edited.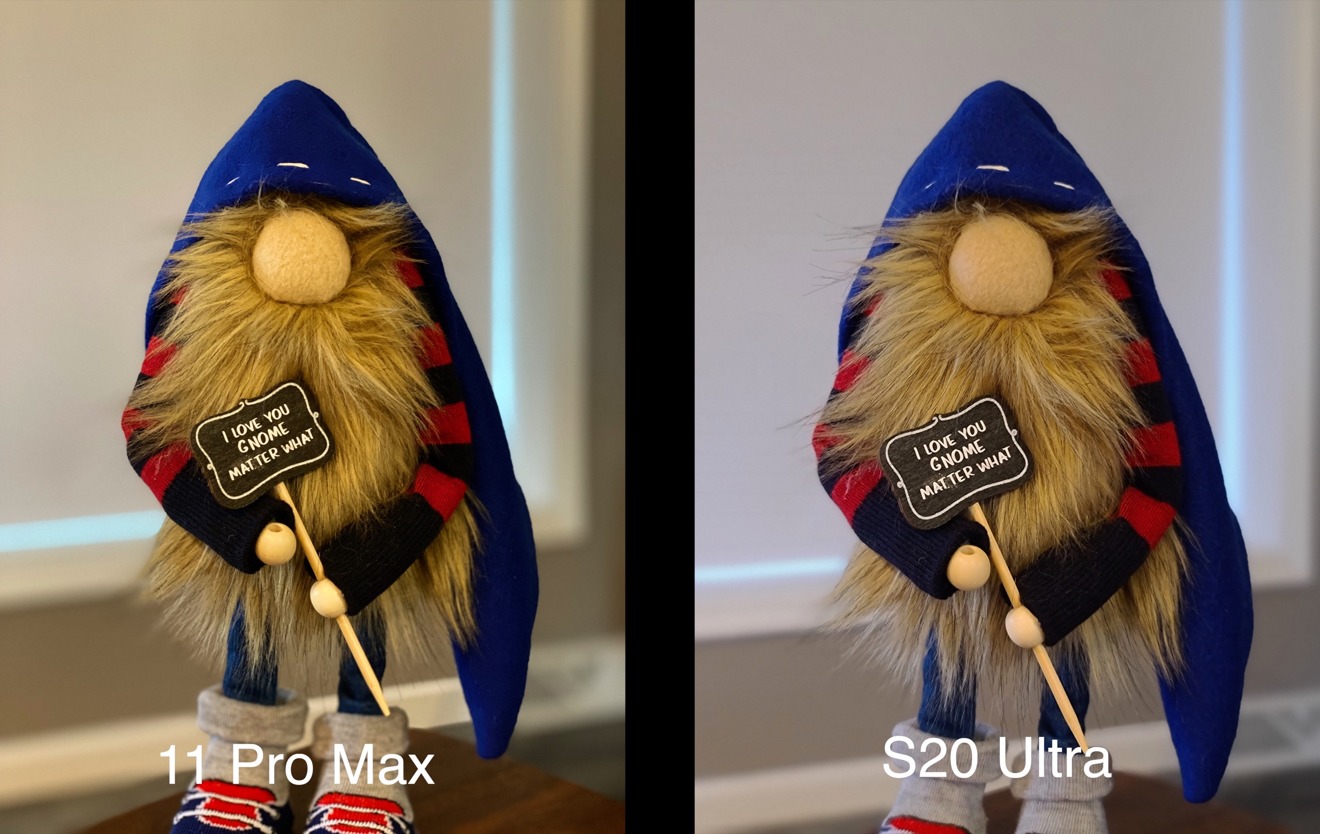 On the iPhone, portrait mode has become a favorite. In the above image of a gnome, both phones seem to do a good job with the rough edges. The iPhone did apply superfluous blur to some of the beard whereas the S20 Ultra kept it sharp — but at the same time the S20 lacks much background blur.
In our second portrait and Live Focus shot the degree of bokeh is easily apparent. The iPhone pulls off a much more natural bokeh and can be adjusted to be stronger or softer depending on preference. The S20 too is adjustable but not nearly as much the iPhone is.
Additionally, the various effects on the S20 are useless. They include a swirl and other gimmicky alterations to the background of the shot. Apple, on the other hand, focuses on artistic and subtle effects that mimic real photography studio techniques. We much prefer Apple's approach.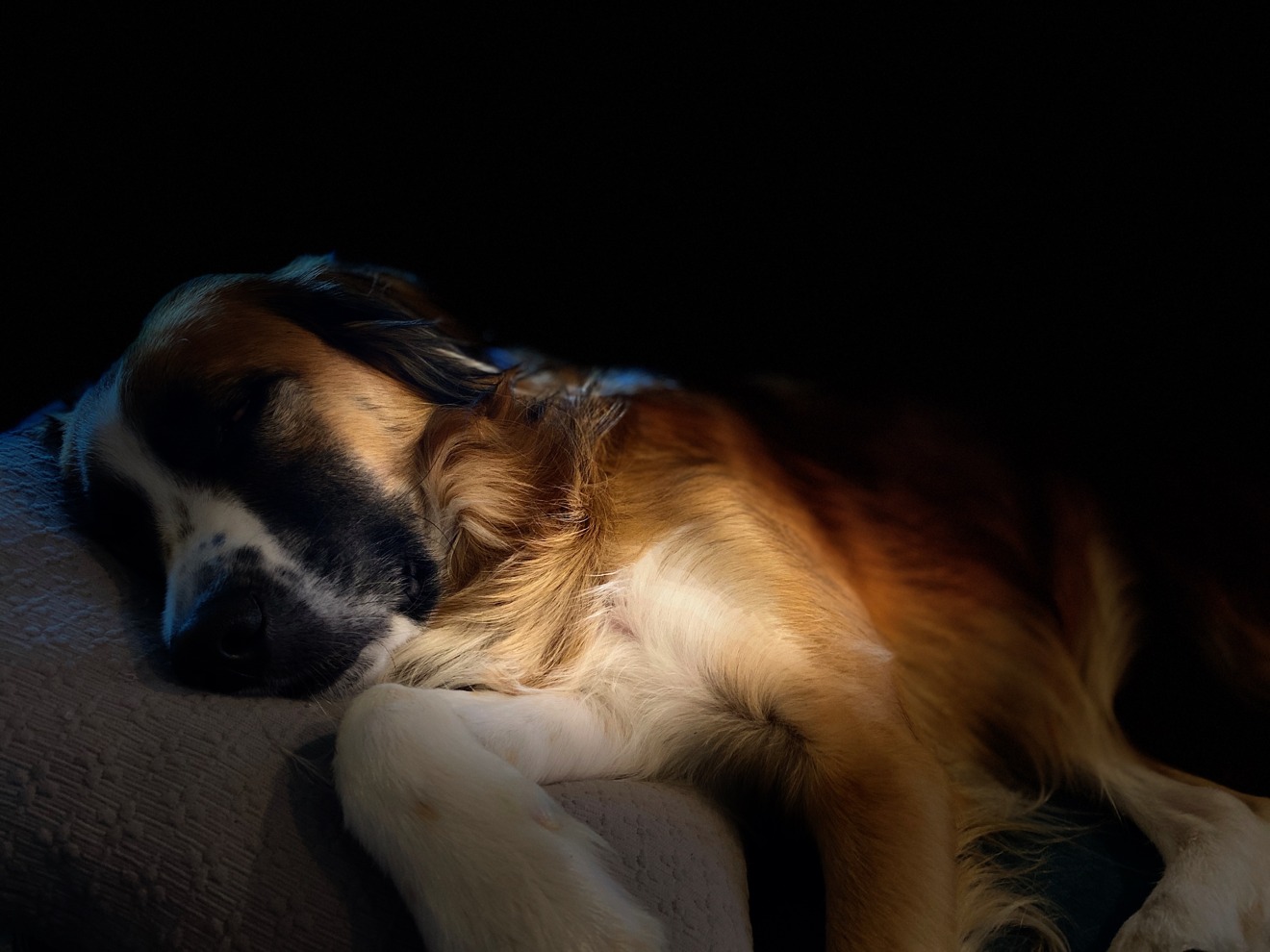 This stage light effect on Mosby creates a much more stunning image that making the background look like it is swirling in a circle.
Another common type of photo users often take is night shots, or at least low-light shots.
This can be at home, like Mosby taking an awkward-looking nap, or walking down the sidewalk under streetlamps.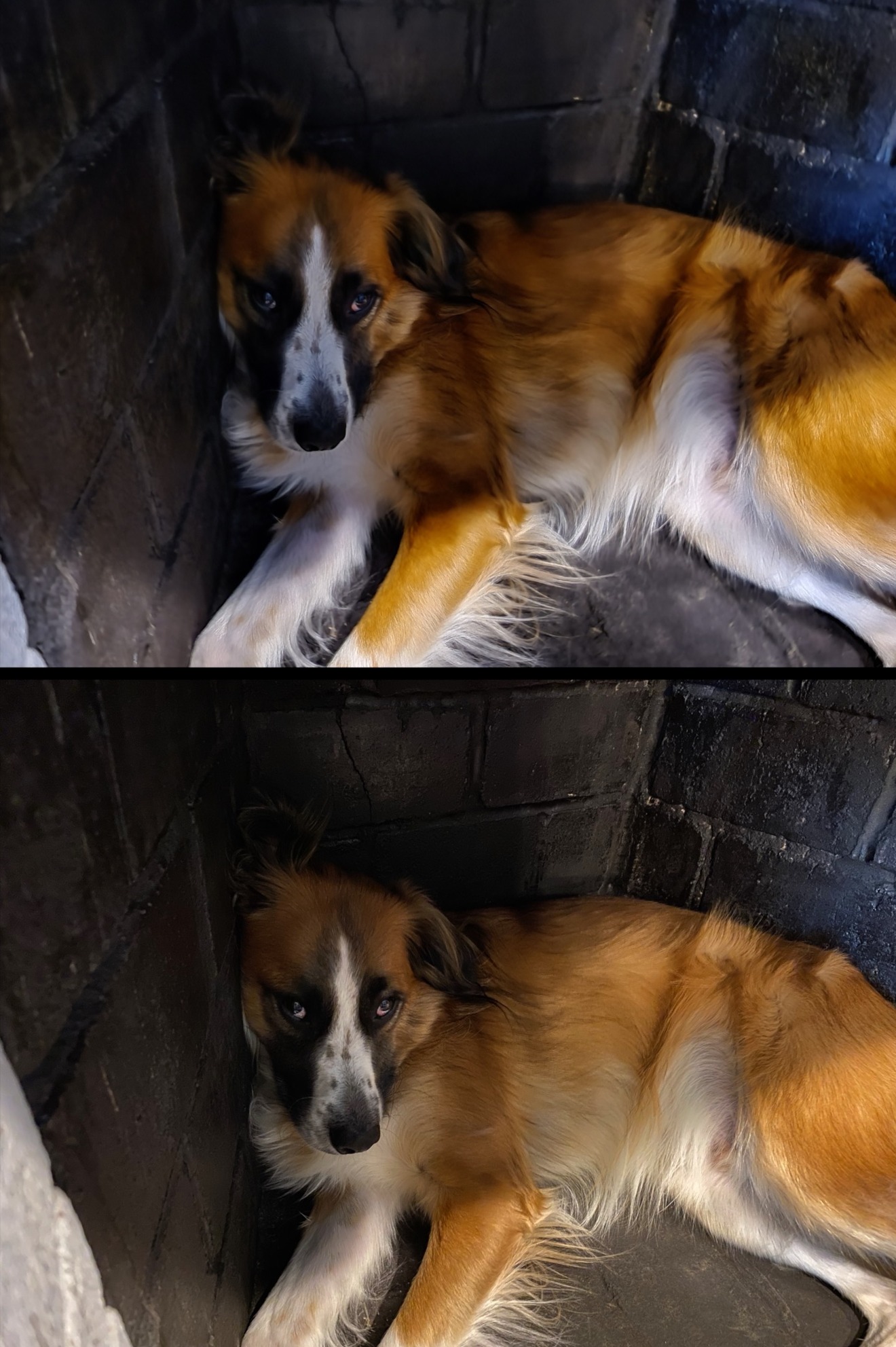 Samsung, as it tends to do, produces a more vibrant image, boosting Mosby's hair color. But there is also more grain in the image. Apple leaned towards a warmer white balance in this shot as well.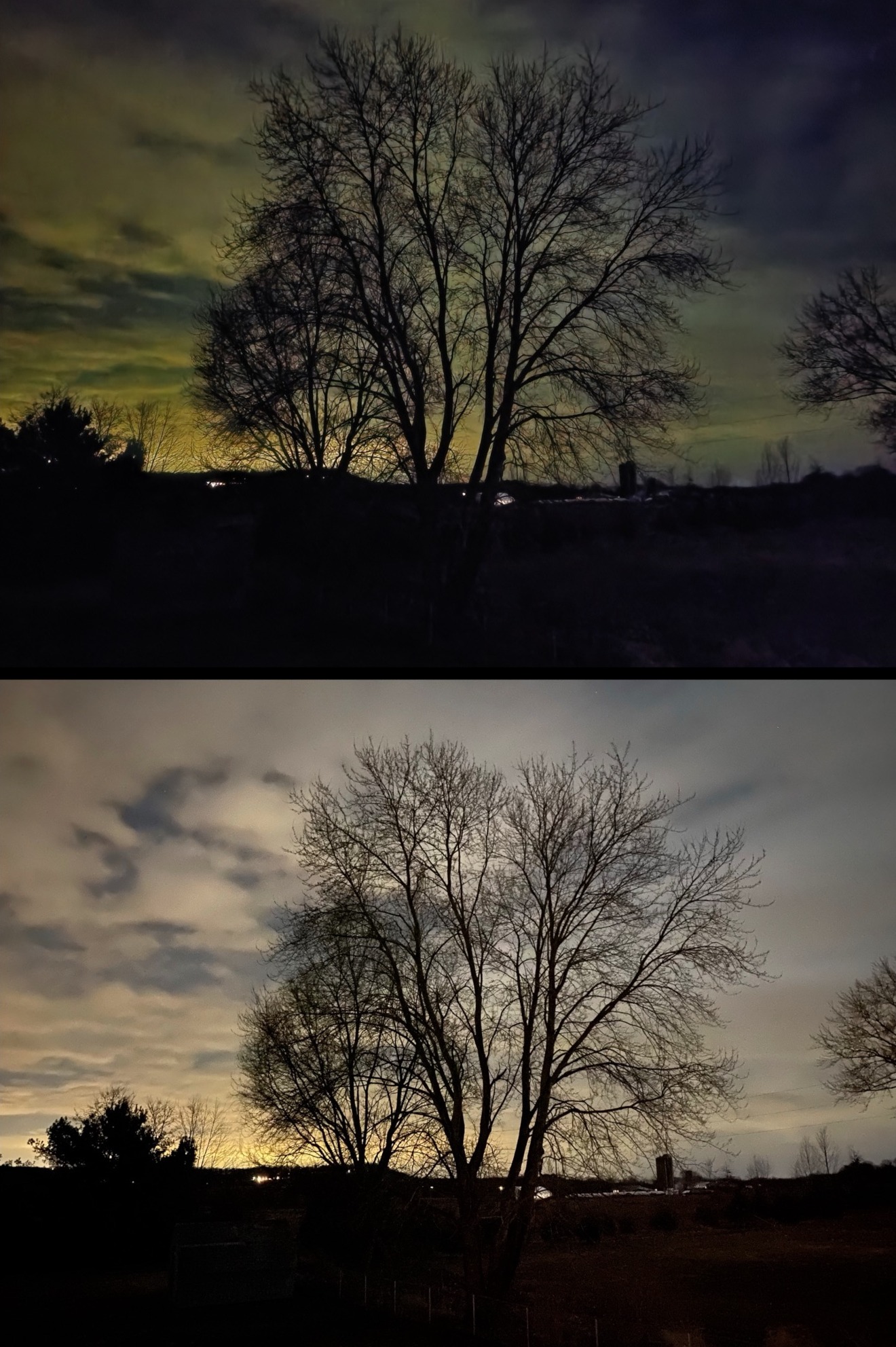 We took to the night sky for our next low light shot, shooting handheld. Our iPhone chose a three-second shutter speed while the S20 Ultra went with a seven-second. In this scenario, iPhone blew the S20 out of the water. The colors may be more dynamic with the blues and greens but was nothing like real life. The S20 image also is darker, grainier, and muddier than what the iPhone produced.
Following that, we wanted to see what each phone could pull of when mounted on a tripod. With a tripod, each phone is able to expand the exposure. Samsung was upped to 27 seconds while the iPhone maxxed out at 30.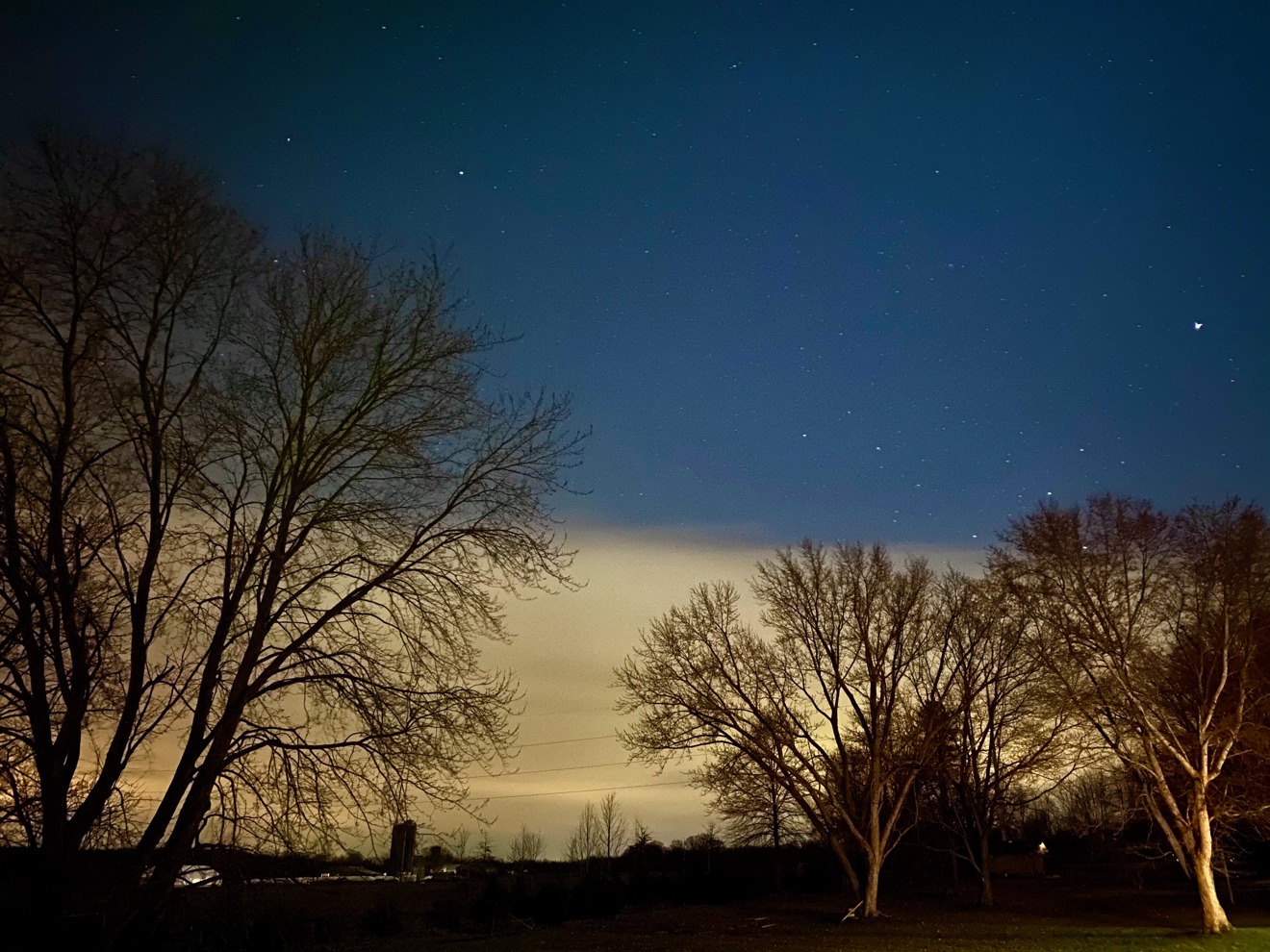 Samsung's image was only slightly different than its handheld shot but the iPhone was outstanding. The stars were clear, the sky a stunning blue, and the clouds slightly blurred from the extended exposure. A real step above the handheld pic.
Zoom on a whole new level
Finally — we get to the zoom lens attached to the new S20 Ultra. This is a 48MP sensor that can reach up to 100X between its massive megapixel count and software tricks.
The S20 Ultra can go all the way to 100X zoom and the iPhone is limited to a mere 10X.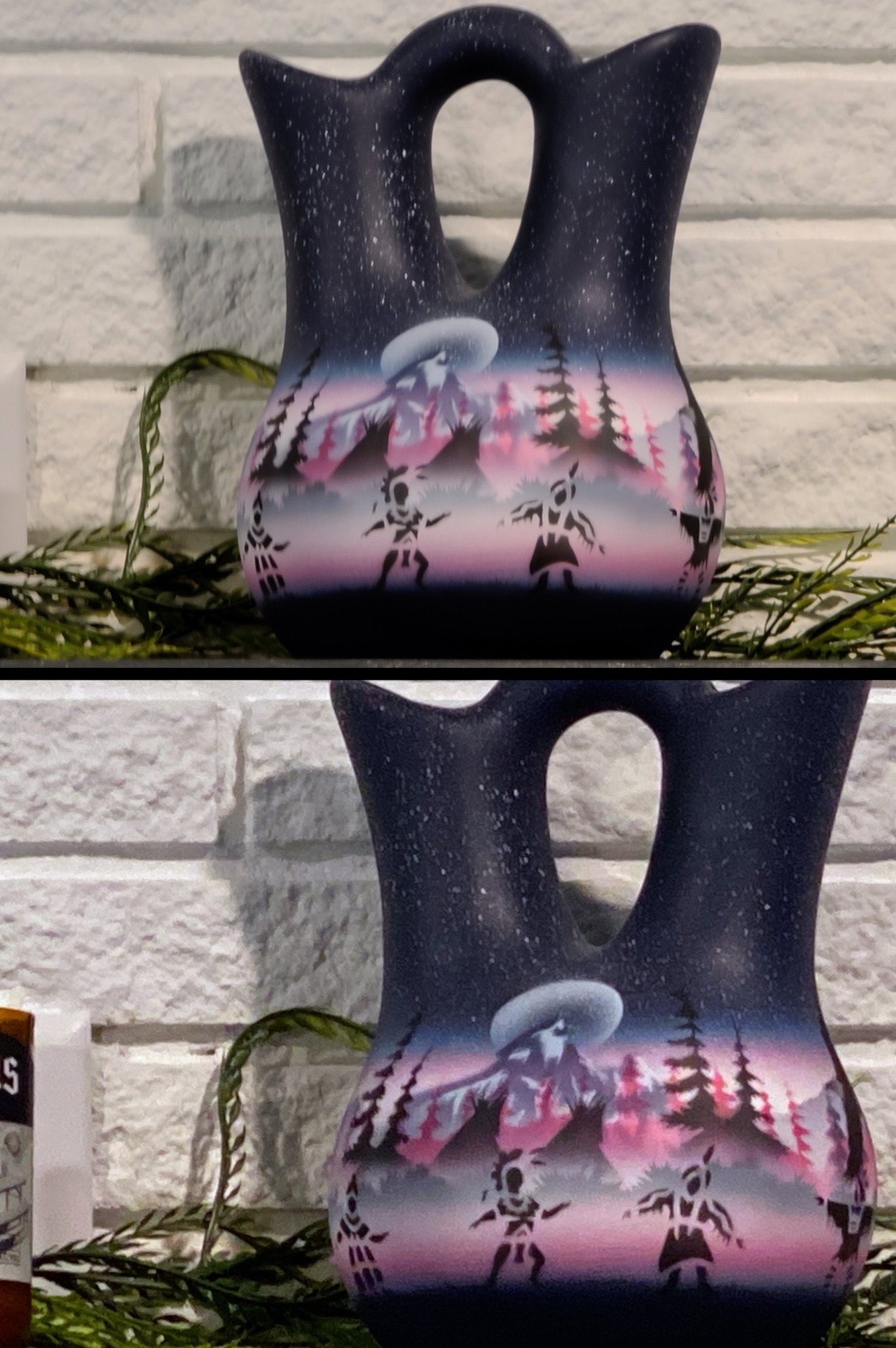 Above, we have a 10X image on both phones. Both produce usable images but when you crop into those images you see how much grain and sharpening Apple is starting to apply.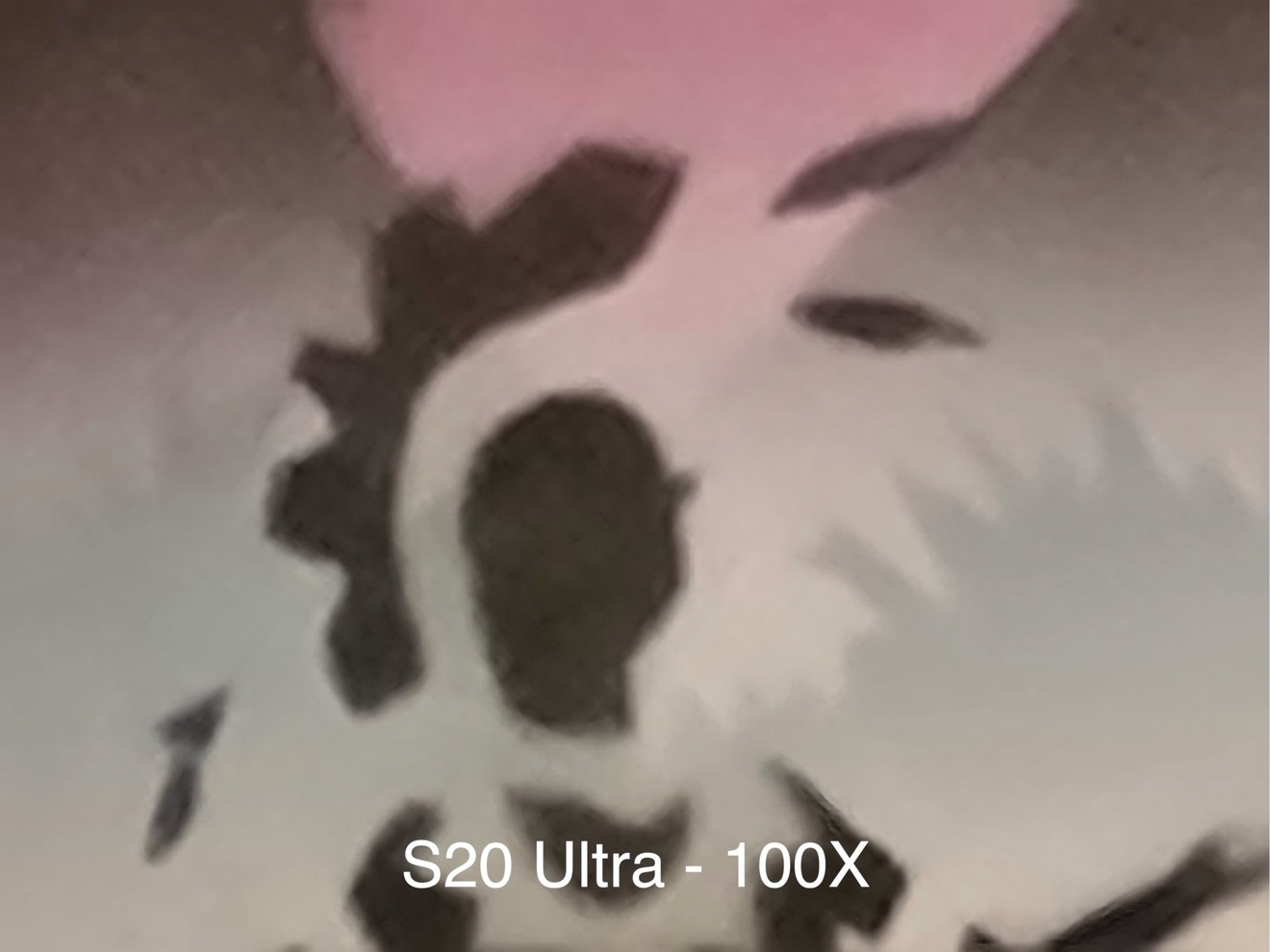 When we max out at 100X on the Galaxy S20 Ultra, the image quality starts to fall off. We start seeing most of the degradation around the 30X mark. The images produced past that start to look more like rough watercolor paintings than photographs.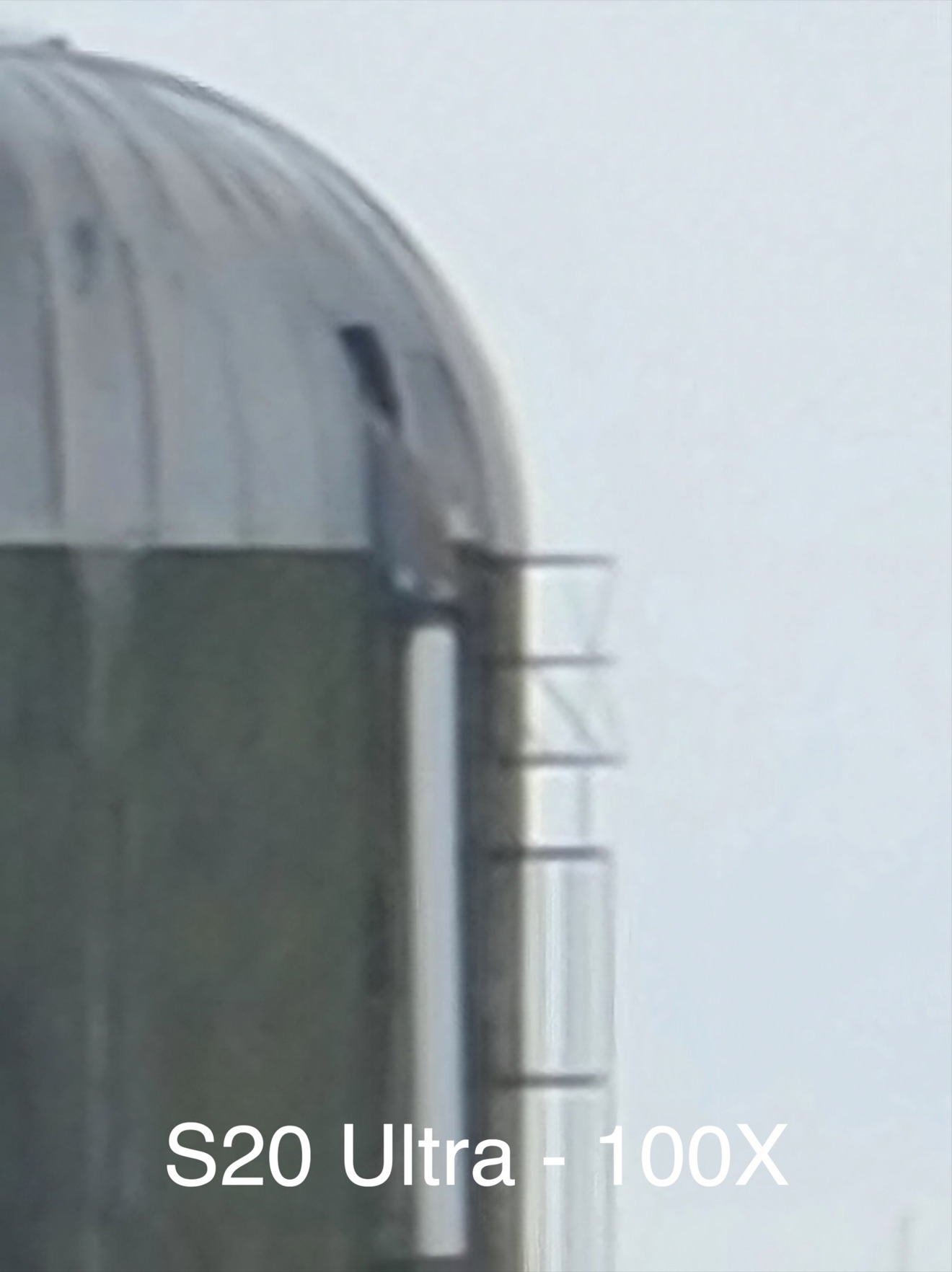 These images are in no way usable and come off more as a party trick than something practical. We could maybe see it justified as a telescope to look closer at something, but not to take photos.
Samsung could have stopped at 30X zoom and user would be happy. Prior to the 30X mark, the images look great. We easily see those photos besting the iPhone.
Summary
Each of these two phones takes some amazing photos. Many of the small details can be adjusted post-shoot such as the white balance or saturation.
Other issues are more difficult. Apple can't better its zoom without new hardware that can capture more light with a bigger sensor or a modest boost in megapixels that can be cropped in. Samsung has vastly improved the zoom capabilities on the S20 Ultra, even if the majority of the zoom is purely a gimmick.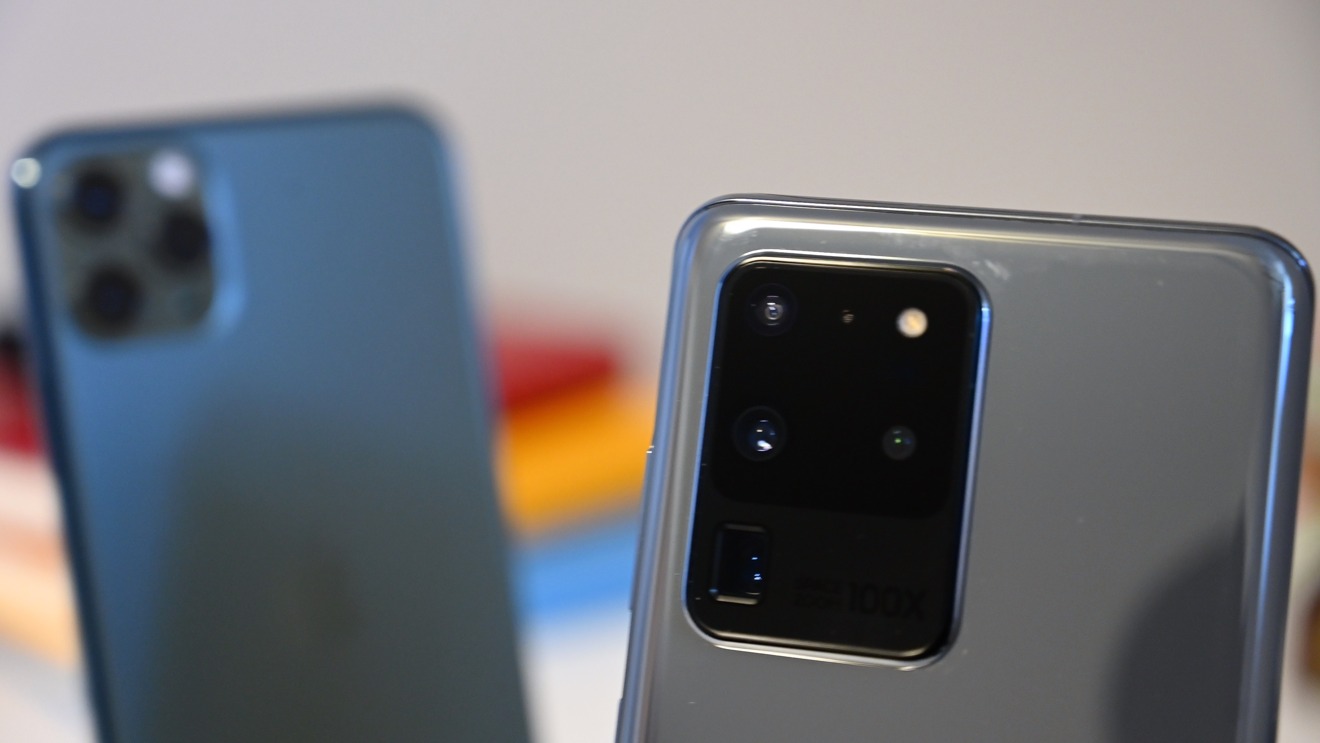 Apple's iPhone 11 Pro Max — and iPhone 11 Pro that has the same cameras — shine in much more practical areas. Medium to low light, night shots, portrait shots, and more came out better on our iPhone than they did on the S20 Ultra.
During our shooting, we also had some software issues with the S20 Ultra. It would lag at times and the phone would occasionally hunt for focus. This killed crucial moments when trying to capture an image and we missed shots while the focus was dialed in. Just as we saw with previous phones the S20 Ultra also liked to excessively smooth faces, causing them to look unnatural. Samsung has already promised software updates to fix camera issues, but how that actually plays out remains to be seen.
It is near impossible to defiantly say which camera is universally the better one, especially depending on what images you are shooting most often. You likely won't be disappointed with either but we find Apple's approach more well-rounded with more practical benefits over Samsung's latest attempt.
Deals on the Samsung S20 Ultra 5G & iPhone 11 Pro
There are plenty of deals available on both the Samsung Galaxy S20 Ultra 5G and the iPhone 11 Pro and iPhone 11 Pro Max.
Samsung itself is offering shoppers a $200 Samsung credit with S20 Ultra 5G pre-orders (ends March 5), along with aggressive trade-in values for Apple iPhone XS, XS Max and 11 models.
Shoppers can also order the new S20 Ultra from B&H with the $200 Samsung credit (via rebate, ends March 5), or grab free Galaxy Buds and a Duo Pad at Amazon.