OWC ThunderBay 8 offers up to 128TB of storage on Thunderbolt 3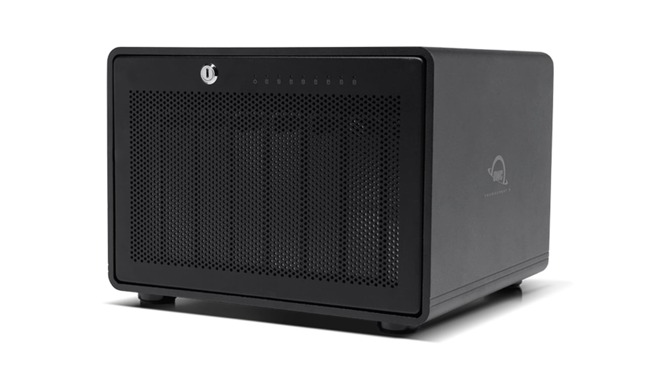 AppleInsider may earn an affiliate commission on purchases made through links on our site.
Mac upgrade specialist OWC has made its ThunderBay 8 Thunderbolt 3-equipped storage appliance available to purchase, giving those with high storage capacity needs a desk-based and compact solution to the problem.
First announced at CES in January, the ThunderBay 8 is a local storage device that can offer vast amounts of capacity. Aimed at video editors and those with high storage requirements, the device is capable of storing up to 128 terabytes of data across eight 2.5-inch or 3.5-inch drives, more than earlier versions like the ThunderBay 6.
Connecting over its two Thunderbolt 3 ports, the ThunderBay 8 can be daisy-chained alongside five other units for even higher storage needs. A DisplayPort 1.2 connection is also possible through the device, which can power a 4K display.
Taking advantage of the connection, "real-world" transfer speeds of up to 2,586MB/s for writing data are possible on the unit, and up to 2,551MB/s for reading from onboard volumes. SoftRAID is included to provide flexible RAID 0 and 1 volumes, with other RAID configurations possible including RAID 4, 5, 1+0, 6, and 6+.
OWC claims the ThunderBay 8 is deployment-ready, with preconfigured solutions that have undergone multiple hours of burn-in available. It is also plug-and-play without a need for additional drivers, with thumbscrew-equipped release trays for rapid drive swaps.
The storage is packed into a compact enclosure measuring 10.2 inches by 9.4 inches by 7.1 inches, and weighing 16.1 pounds unladen. For security, the front panel is locked with a key, while the back has a security slot for tethering the enclosure in place.
OWC is selling the ThunderBay 8 from $699.99 for the enclosure alone, with drive-equipped versions ranging from $1,219.99 for 16 terabytes, rising to $5,299.99 for the 128-terabyte option. Alternates are also available including enterprise hard drives and with upgraded versions of SoftRAID.