Preliminary iPad Pro teardown reveals smaller battery, LiDAR Scanner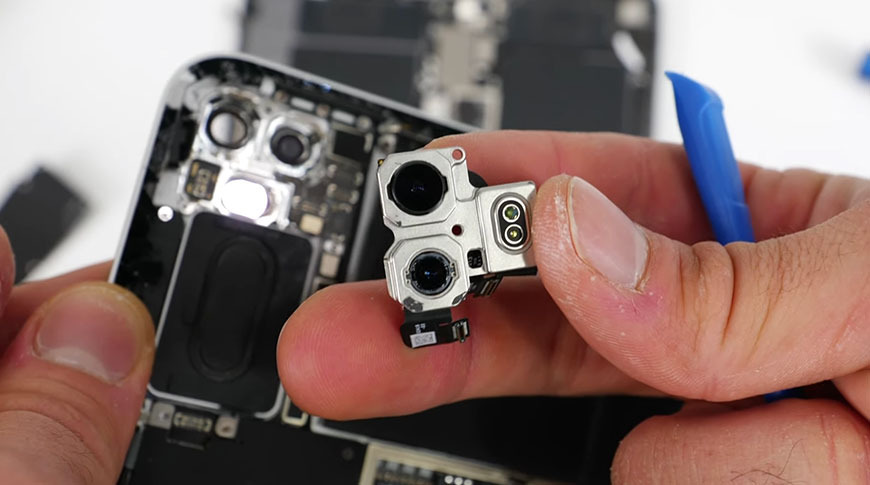 A teardown of Apple's 2020 iPad Pro posted to YouTube on Wednesday offers an initial, albeit cursory, look at the new tablet's internal design and component loadout, which is nearly identical to 2018's model.
Conducted by YouTube channel EverythingApplePro, the disassembly reveals little in the way of new information.
The new 2020 11-inch iPad Pro is fed by a 7,540 watt-hour battery split into two cells, a slight decrease from the 7,812 watt-hour unit provided in the 2018 version. While the video fails to take precise measurements, one cell appears to be slightly shorter than the other, likely a design decision to accommodate the new iPad Pro's enlarged camera array.
Moving to said camera, the 2020 variant sports a dual-camera setup with one 10-megapixel module serviced by an ultra-wide lens and a 12-megapixel module topped with Apple's standard wide lens.
New for iPad, and indeed any Apple product, is the LiDAR Scanner, which consists of two lens-capped modules, one stacked atop the other. The system has not been detailed in full, but the parts in view are likely a a VSCEL transmitter and receiving sensor. The pair work together to create depth maps by measuring the time it takes pulses of light to travel to and from a target surface.
Interestingly, the entire package — dual-cameras and LiDAR Scanner — is more compact than the triple-lens unit deployed in iPhone 11 Pro. Current rumors suggest Apple will build its ToF technology into a next-generation "iPhone 12" this year, potentially resulting in a a triple- or quad-module arrangement, depending on handset model.
The front side of the logic board, which was not removed from during the teardown, appears almost identical to the circuit board found in 2018's tablet, save for a swap to Apple's A12Z processor. There are a few minor changes, like redesigned power and data connectors, and what could be the replacement of a chip identified in 2018 as "343S00248-A0 1835NHGY."
As illustrated by a now obligatory bend test, iPad Pro unsurprisingly buckles when enough force is exerted on the thin aluminum chassis. The perfunctory overview shows no structural enhancements were added to the tablet.
Whether this year's iPad Pro suffers from the same out-of-the-box bend as its predecessor is unknown. Apple last year said "some" units shipped out with a slight curvature at or near the dielectric antenna "lines" that trace their way around cellular-capable versions of the device. Following customer complaints, the company issued a statement on the matter, saying its engineering tolerances allow for a deviation of no more than 400 microns across any one side.
AppleInsider is currently evaluating the 2020 iPad Pro and will have much more on the tablet this week.