Lawsuit bemoans iPhone XR's 'inferior,' 'defective' 2x2 MIMO antennas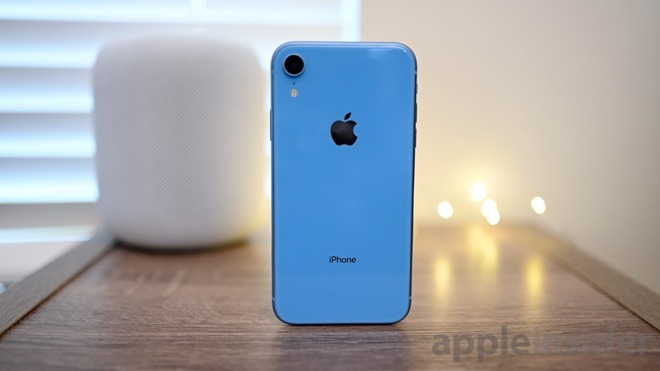 A class action lawsuit filed on Monday suggests Apple intentionally misled customers by failing to disclose design and performance differences between the "inferior" 2x2 MIMO antenna array in iPhone XR and the 4x4 MIMO setup in iPhone XS and XS Max.
Lodged with the U.S. District Court for the Northern District of California, the complaint alleges iPhone XR's antenna solution is inferior to the 4x4 MIMO array in iPhone XS. Further, Apple failed to inform consumers that the design "causes the iPhone XR to have half the signal connectivity and 4G speed of the iPhone XS and iPhone XS Max and renders the XR far less capable of obtaining a reliable connection in the same areas where the XS and Max can reliable connect."
Previous tests conducted by various media outlets seem to back up those claims, at least in part. Whether Apple concealed the fact is questionable, as the company plainly states iPhone XR's antenna arrangement on a technical specifications webpage that notes "802.11ac WiFi with 2x2 MIMO" under a description of "Cellular and Wireless" capabilities. The page has been active in some capacity since 2018. Another webpage offering an iPhone model comparison, however, merely mentions "MIMO" capabilities for the handset.
The suit goes on to label the 2x2 MIMO antenna array as a "defect," citing customer complaints regarding connectivity issues in the UK and other regions including the U.S.
Plaintiffs' iPhone XRs supposedly began to show signs of network connection degradation shortly after purchase. Along with voice communication troubles, the handset had problems sending and receiving text messages and suffered from intermittent or inoperable data connections. The suit reports nearly identical issues from plaintiffs living in Alabama, California, Florida, Georgia, Nevada, New York, Pennsylvania, South Carolina, Texas and Wisconsin.
When contacted about the connectivity problems, Apple presented users a range of options, from performing a factory reset to contacting their respective network operators. Forum posts, including those from Apple's own Support Pages, are also cited as background evidence of a nefarious cover-up.
All named plaintiffs claim they only recently learned about Apple's decision to incorporate a 2x2 MIMO antenna array in iPhone XR, and some would not have purchased the device at its selling price had they known about the design.
Apple's iPhone XR launched in 2018 as the company's sub-flagship iPhone offering, sitting just below iPhone XS and XS Max. With an assortment of advanced technology, like Face ID, Liquid Retina display and high-quality rear-facing camera, and a relatively inexpensive price tag, the handset was an immediate hit. According to a report in February, iPhone XR dominated the smartphone market in 2019 with an estimated 46.3 million units shipped.
The lawsuit claims breach of express warranty, breach of implied warranty, violations of the California Consumer Legal Remedies Act, violations of California's Unfair Competition Law and fraud by concealment. Plaintiffs seek certification of class status, unspecified damages of more than $5 million and legal fees.