A12Z chip in 2020 iPad Pro confirmed to be recycled A12X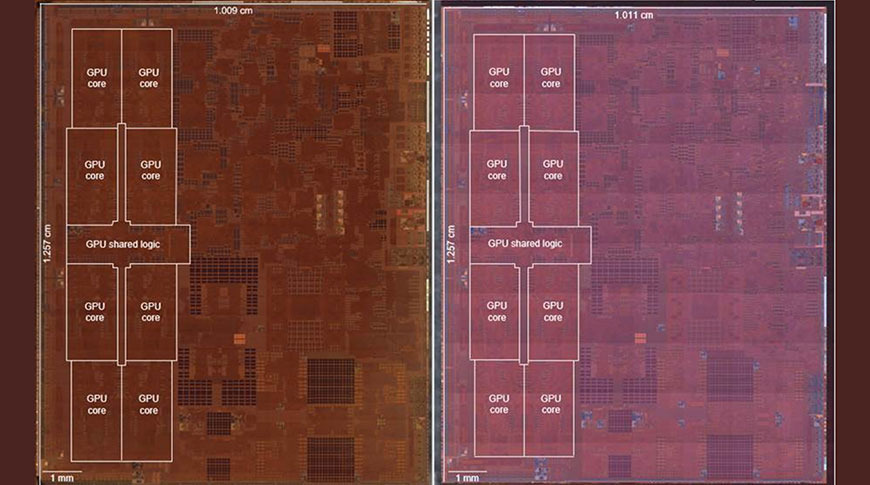 A closer look into Apple's A12Z system-on-chip processor, introduced with the latest iPad Pro series in March, confirms the silicon is indeed a re-binned A12X from 2018.
Chip analysis specialist TechInsights in a tweet on Monday detailed new findings that confirms the GPU architecture in Apple's A12Z SoC is identical to that of the A12X used in the third-generation iPad Pro. An enhanced photo of the chip's die was examined to discern potential differences.
"Our analysis confirms #Apple #A12Z GPU chip found inside #iPadPro (model A2068) is the same as A12X predecessor," the firm said.
The discovery means Apple is reusing, or more specifically re-binning, 2018's A12X. Both chips are built on the same 7nm process and boast identical CPU and memory configurations.
As previously reported, the "new" A12Z integrates an 8-core GPU core, while the original A12X had a 7-core GPU. TechInsights in March found the A12X has eight physical cores, suggesting Apple simply activated the latent core as part of a binning process with A12Z.
As noted by AnandTech, the A12X was one of the largest 7nm chips being fabricated by Apple partner TSMC in 2018. More than 18 months after the chip debuted, Apple is likely seeing better yields, which should mean the company no longer needs to bin to lower specifications to save chip output.
Apple's decision to recycle a nearly two-year-old chip is unprecedented. With iPad Pro, the company typically integrates an "X-series" chip that delivers architectural upgrades to the current base A-series SoC introduced with iPhone.
There are a number of reasons Apple skipped an "X" update for 2020. For one, the company potentially felt its A12 series was powerful enough to handle the computational demands of 2020 iPad Pro. The tablet does bring a few hardware upgrades in a dual-camera array and the LiDAR Scanner, but is for the most part an iterative update over the third-generation variant. Re-binning the A12X also grants engineers more time to develop an "A14X" chip capable of chewing through processor-intensive operations associated with future AR tasks and other graphics-heavy applications.