Adobe improves remote collaboration with 'Productions' and 'Team Projects'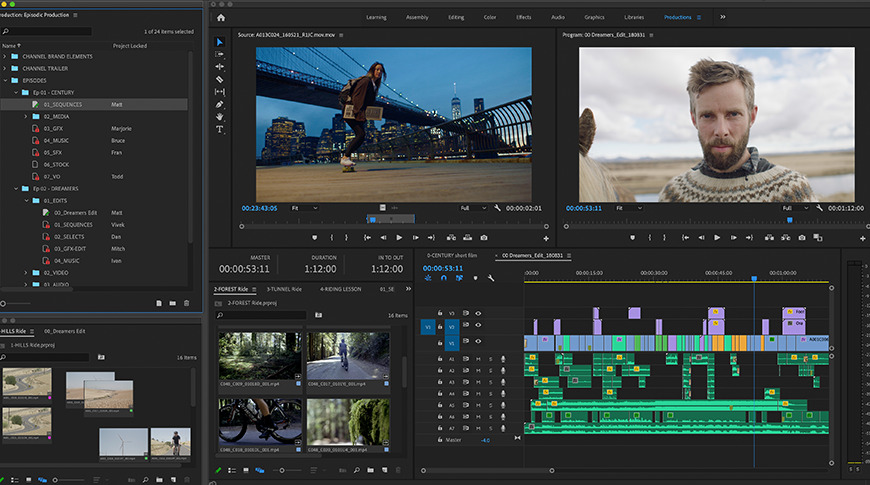 In an effort to make collaborative efforts easier across teams, Adobe has launched "Productions," a new feature in Premiere Pro, and opened access to "Team Projects" for all Creative Cloud subscribers.
Productions are designed to help address common concerns related to collaboration, efficiency, and scalability in the post-production phase of projects. Adobe created Productions to improve workflows for both solo users and team efforts.
The new feature allows users to organize and cross-reference assets, collaborate with multiple editors, secure media, and improves performance with smaller project sizes.
The main goal of Productions is to give collaborative teams the ability to divide up tasks for working in parallel. Users can lock files, set read/write permissions.
Additionally, it allows team members to see who is online, shows who is currently working on a project, and shows a history of changes to each project.
Adobe expands access to Team Projects
From April 14 until August 17, Premiere Pro and After Effects users on Creative Cloud, individual Creative Cloud plans will have free access to Team Projects, Adobe's cloud-hosted collaboration service in Premiere Pro and After Effects.
Team Project files are stored and saved in Creative Cloud, giving all users access to the files, regardless of location. Files are also auto-saved, preventing costly mishaps, and multiple versions are saved to allow users to revert changes.
While Adobe designed Team Projects to help users work collaboratively, the feature does not allow for multiple editors working on a single project in real-time. Instead, it will enable each user to create a copy of a project, which is added to a mutually shared folder that users can view.
During a press conference, Adobe told attendees that they chose to avoid real-time collaboration to prevent users from overwriting someone else's efforts.
If you already have access to Premiere Pro and After Effects, you'll be able to access Productions starting on April 14. Team Projects will be available to all Creative Cloud users until August 17, and will require team members to upgrade to a Creative Cloud Teams plan if they wish to continue to utilize its features.