Eve for HomeKit app updated with iCloud syncing and improved camera support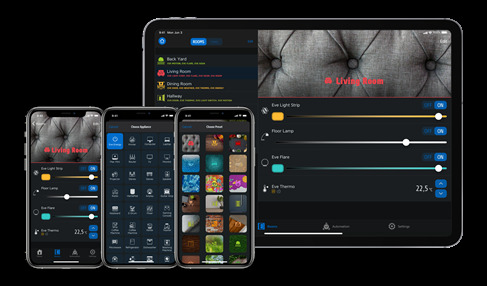 Eve Systems on Tuesday released a substantial update to its full-featured HomeKit app, delivering several new features including iCloud preference syncing and improvements to HomeKit-enabled cameras.
With the new update, version 4.2, user preferences will be shared across all iOS devices signed into the same account. Previously, the Eve app allowed customization of your home with specific icons and layouts, but they were tied to individual devices. Version 4.2 syncs all of those changes via iCloud, so when you make changes to the app on your iPhone they also appear on your iPad.
HomeKit cameras also get a major overhaul in the Eve app. Previously, you were able to view the cameras in the Eve app, but functionality was limited. Cameras are now included in the overview "At a Glance" screen alongside all other HomeKit accessories. In the Accessory Details view, users can see details such as camera status, control streaming, and additional cameras. The type menu can be used to pull up all HomeKit cameras at once and Eve also implements a new fullscreen view.
Other minor changes include a revamped room editor to choose icons, layout, colors, and images for each room which, of course, now sync across other devices.
Today's app update lands as Eve is preparing to launch the world's first and only HomeKit Secure Video-dedicated camera this May. There are other cameras that support HomeKit Secure Video, but the Eve Cam is the only one that exclusively supports HomeKit Secure Video and nothing else.