Compared: iPhone SE (2020) versus iPhone SE (2016)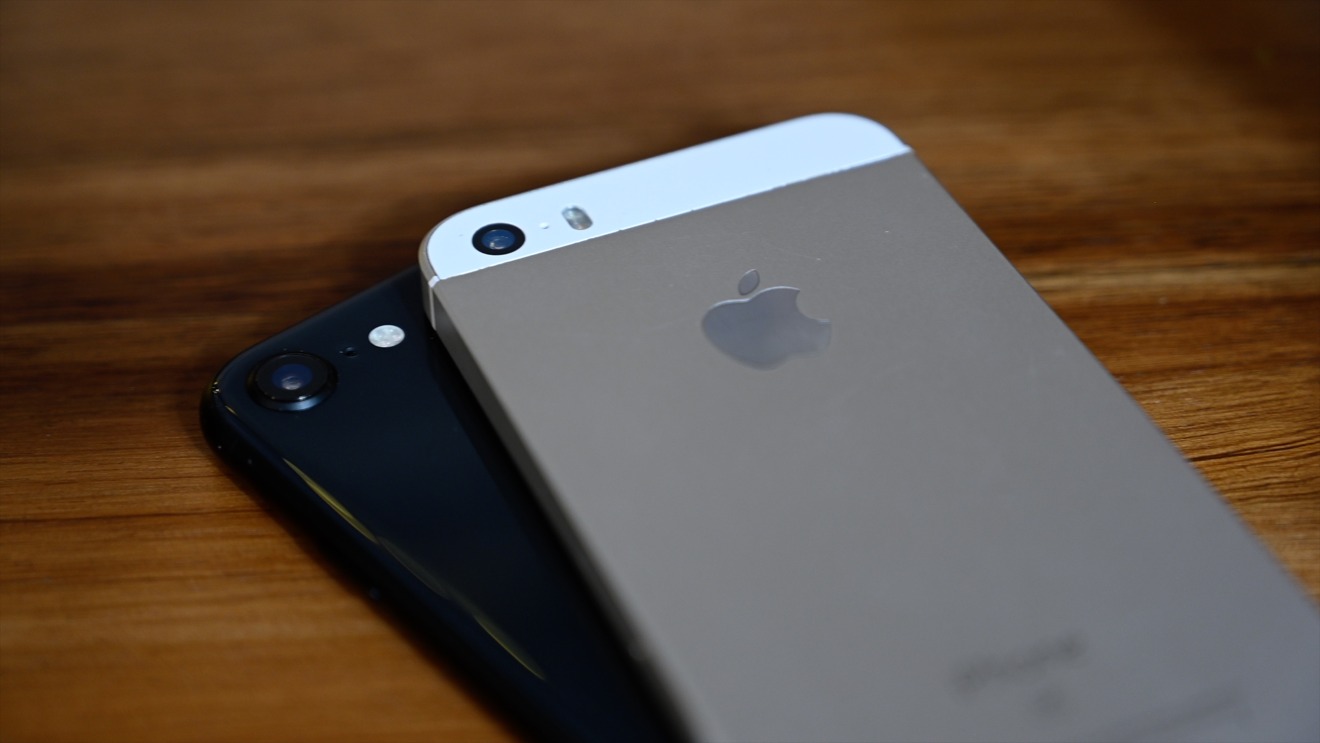 With a new iPhone 8-inspired design, the 2020 iPhone SE boasts many improvements over the 2016 original. For anyone on the old model who is considering upgrading, here is everything Apple packed into its new budget handset.
When Apple dropped the iPhone SE in 2016 it featured a design very similar to the other iPhone 5-era devices. Metal body, chamfered flat edges, and a four-inch display. Now, the iPhone SE has grown up. It featuers an iPhone 8-inspired design with aluminum rounded edges and an upgraded 4.7-inch display.
The new iPhone SE display versus the original
The new display isn't just larger. Apple upgraded it in several other aspects as well, making it a big step forward in quality from the previous design.
This new Retina display still retains the same 326PPI, but otherwise is all new. It has a 1400:1 contrast ratio up from 800:1 on the older model, and 625 nits of brightness up from 500 nits.
The 2020 iPhone SE has support for True Tone and the P3 wide color gamut, and the original (obviously) does not. Haptic Touch is here this time around as well which allows you to preview links, open contextual menus, and more.
A huge step forward in cameras
There are massive differences in image quality between the two cameras, as you may suspect.
The updated iPhone SE is using a new imaging sensor with better six-element lenses up from five, and a wider f/1.8 aperture up from f/2.2. It features Smart HDR that can enable or disable automatically, shoot stereo audio for video and has integrated video stabilization.
The 2016 iPhone SE could record slo-mo video at 1080p at 120 fps and at 720 at 240 fps. The updated model can now shoot slo-mo at 240 fps at 1080p as well.
Another big difference is support for portrait mode, even though iPhone SE only has one rear lens. The camera also has enhanced dynamic range when shooting video up to 30 frames per second and it can record 4K at 60 frames per second.
The front-facing camera was upgraded as well. It has gone from a 1.2MP camera to a 7MP camera. It can record 1080p video (up from 720p), has a wider f/2.2 aperture, wide color capture, image and video stabilization, and portrait mode with depth control.
A new iPhone SE
Other changes for the iPhone SE (2020) include IP67 water resistance, Qi wireless charging thanks to the new glass back, higher storage capacities, Wi-Fi 6, Bluetooth 5, and Dual-SIM support.
Both devices do still have the Home button with Touch ID. The 2016 version has a physical button whereas the 2020 model went to the solid-state with Haptic feedback providing the clicking sensation. This is notable because the physical button mechanism is much more prone to failure than the solid-state one. Apple-designed this phone to last and changes like that are important.
Part of that long lifespan is the processor inside. It is the new A13 Bionic processor which runs circles around the A9 found in the 2016. This is the same chip Apple uses in the iPhone 11 Pro line which makes it all the more likely to be support for many years.
| | iPhone SE | iPhone SE(2020) |
| --- | --- | --- |
| Display | 4-inch,326 PPI,500 nits,800:1 contrast ratio | 4.7-inch,326 PPI.625 nits,1400:1 contrast ratio,True Tone,P3 wide color gamut support |
| Processor | A9 | A13 Bionic |
| Authentication | Touch ID | Touch ID |
| Storage | 16GB,64GB,128GB | 64GB,128GB,256GB |
| Headphone Jack | Yes | No |
| Water Resistance | No | IP67 |
| Wi-Fi | 802.11ac | 802.11ax Wi-Fi 6 |
| Bluetooth | 4.2 | 5 |
| Dual SIM | No | Yes |
| Haptic Touch | No | Yes |
| Front-Facing Camera | 1.2MP,720P video | 7MP,1080P video |
| Rear-Facing Camera | 12MP,five-element lens,f/2.2,5X digital zoom,True Tone Flash,HDR,4K @30FPS,Slo-mo @240FPS at 720P | 12MP,new imaging sensor,six-element lens,f/1.8,5X digital zoom,True Tone Flash with Slow Sync,Smart HDR,4K @60FPS,Slo-mo @240 at 1080P,Portrait mode |
| Qi wireless charging | No | Yes |
Deals on the iPhone SE
Apple's latest iPhone SE is already on sale with special incentives from leading retailers.
Those looking to free up cash for a new phone (or to put money away for upcoming expenses) can secure a 10% trade-in bonus on all phones at Decluttr with exclusive coupon code INSIDER10. Trades outside of the smartphone category also qualify for a 6% bonus with promo code INSIDER6.