Chrome to limit resource hog ads by August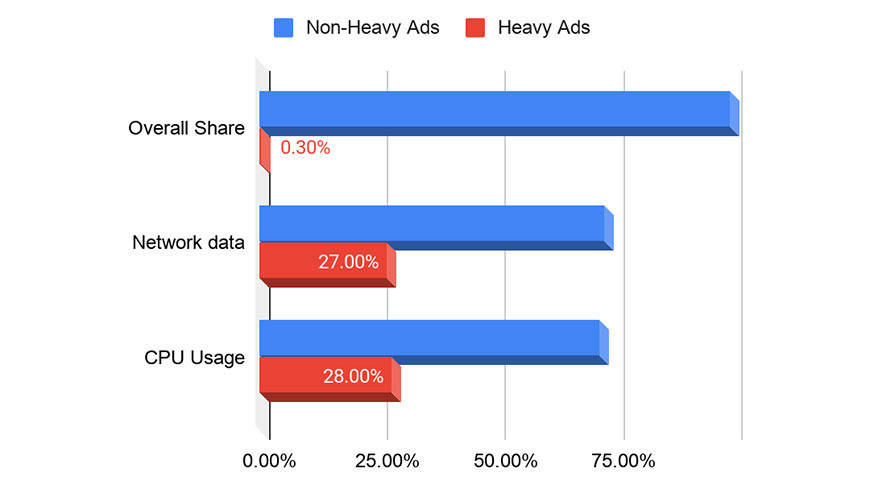 Google plans to implement new limitations in its Chrome web browser after discovering certain ads overuse CPU and data resources, costing users device battery life and money.
Announced in a post to the Chromium blog on Thursday, Google's restrictions target ads that "consume a disproportionate share of device resources" without user knowledge.
Chrome Product Manager Marshall Vale says a future update to Chrome will limit the resources poorly coded ads like cryptocurrency miners have access to before user interaction. Initially, Chrome is setting restriction thresholds to 4MB of network data or 14 seconds of CPU usage in a 30-second period. Alternatively, ads will be limited after 60 seconds of total CPU usage.
An ad frame will be redirected to an error page if it reaches one of the above thresholds, with the page informing users that said ad used too many resources and was therefore removed from active display.
According to in-house measurements, only 0.3% of current ads exceed the stipulated thresholds. Still, those ads account for 27% of network data used and 28% of all ad CPU usage on Chrome. The figures underscore the need for intervention.
Ad creators can view Chrome's access reports to see which ads were unloaded due to the new restrictions and make necessary adjustments.
Google intends to test the proposed ad limitation system over the coming months and is targeting wide integration at the end of August. The extended timeline gives ad creators and tool providers time to prepare for the coming exodus.