Compared: Dell XPS 15 and XPS 17 versus Apple's 16-inch MacBook Pro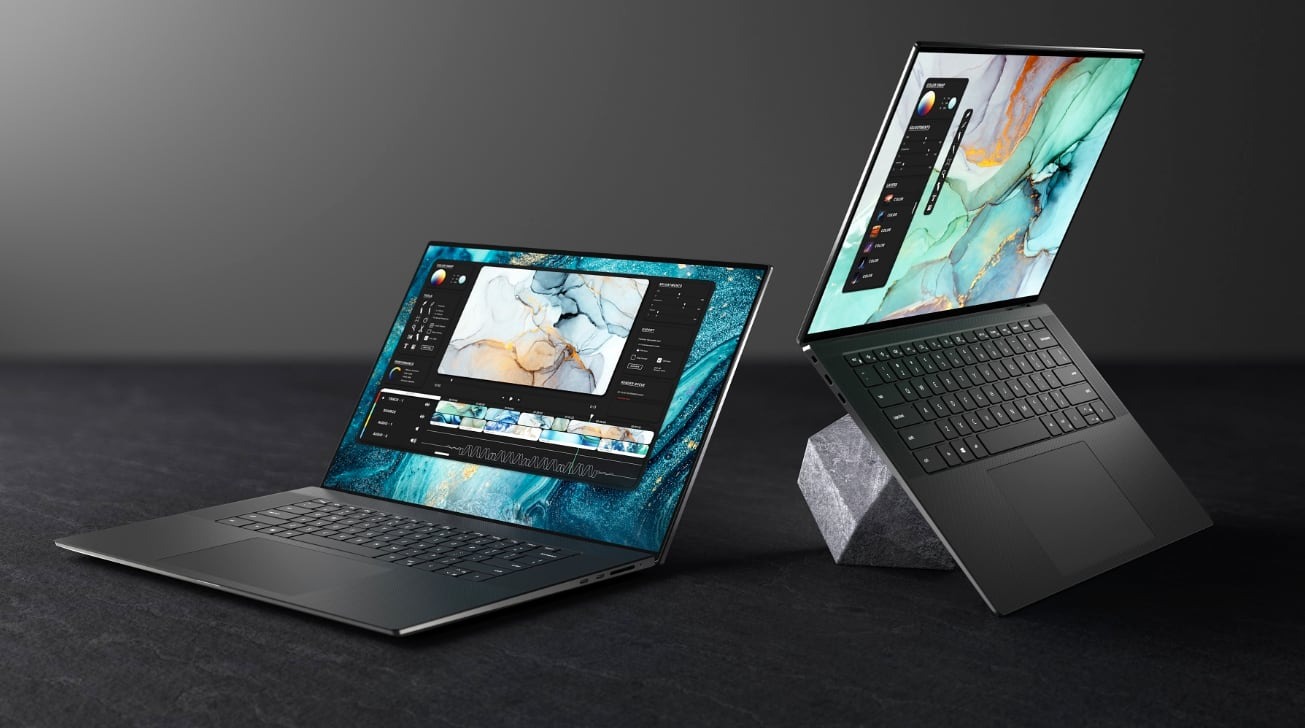 Dell's new XPS 15 and XPS 17 lines are a direct competitor to Apple's 16-inch MacBook Pro, but are the rival notebooks any match for Apple's top-of-the-range model? On paper, it could be too close to call.
As one of the biggest PC vendors in the world, Dell is considered competition to Apple in the notebook market, with its XPS line being the nearest mainstream notebook Dell produces that is close to what Apple offers in its MacBook Pro lineup.
In May, Dell started to sell updated versions of the XPS range for 2020, with the high-performance notebook lineup including a redesigned XPS 15 alongside the larger XPS 17. The super-sized model is a revival of the variant after an almost ten-year hiatus, with the bigger screen making it a serious contender to the 16-inch MacBook Pro for mobile professionals and those with considerable processing requirements.
This comparison is based on data provided by Dell itself, and it has its limitations. While full details are available for the XPS 15, due to it being currently available to order, the same cannot be said for the XPS 17, as Dell has yet to offer a complete specification list ahead of its mid-June release.
Specifications
16-inch MacBook Pro



Dell XPS 15
Dell XPS 17

Display Size (inches)

16
15.6
17.3

Max Resolution

3,072 x 1,920

1,920 x 1,200 non-touch,


3,840 x 2,400 touch



1,920 x 1,200 non-touch,
3,840 x 2,400 touch

Brightness

500 nits
500 nits
500 nits

Display Technology

Wide Color (P3), True Tone
InfinityEdge Anti-Glare

InfinityEdge Anti-Glare

Processors

4.5Ghz 6-core i7,




4.8Ghz 8-core i9,




5.0Ghz 8-core i9

4.5GHz 4-core i5,
5GHz 6-core i7,
5.1Ghz 8-core i7
4.5Ghz 4-core i5,
5.3GHz 8-core i9

Memory

16GB 2,666MHz DDR4,

up to 64GB
8GB DDR4 2,933MHz DDR4, up to 64GB
Up to 64GB DDR4 2,933MHz

Graphics (integrated)

Intel UHD Graphics 630

Intel UHD Graphics
Intel UHD Graphics

Graphics (discrete)

Radeon Pro 5300M 4GB,




Radeon Pro 5500M 4GB,




Radeon Pro 5500M 8GB

GeForce GTX 1650Ti 4GB,
None
Geforce GTX 1650Ti 4GB,
GeForce RTX 2060 6GB

Storage

512GB, 1TB, 2TB, 4TB, 8TB

256GB, 512GB, 1TB, 2TB
256GB, 512GB, 1TB, 2TB

Trackpad

Force Touch
Yes
Yes

Keyboard

Backlit with ambient light sensor,
Touch Bar with Touch ID
Yes
Yes
Dimensions (inches)

14.1 x 9.7 x 0.6

13.6 x 9.1 x 0.7
14.7 x 9.8 x 0.8

Weight (pounds)

4.3
4 for non-touch display,
4.5 with touch display
4.7 for non-touch display,
5.5 with touch display

Battery

100-watt-hour, 11 hours of usage
56-watt-hour, 86-watt-hour
56-watt-hour, 97 watt-hour
Ports
4x Thunderbolt 3, Headphone Jack
2 x Thunderbolt 3, USB-C,
SD card reader, Headphone Jack

4 x Thunderbolt 3, USB-C,




SD card reader, Headphone Jack

Wireless Connectivity
Wi-Fi 802.11ac, Bluetooth 5.0
Wi-Fi 6, Bluetooth 5.0
Wi-Fi 6, Bluetooth 5.0
Audio

6 speakers with force-cancelling woofers, Dolby Atmos,




3 microphones with directional beamforming.

4 speakers with Waves MaxxAudio Pro tuning,
2 microphone array
Waves MaxxAudio Pro tuning
Price (Base Configurations)
From $2,399 to $2,799
Lowest 16-inch MacBook Pro prices
From $1,299.99 to $2,449.99
Dell Preferred Accounts: Save 5% with code DPA5
From $1,499.99
Coming soon
XPS 15 and XPS 17 vs 16-inch MacBook Pro - Size
Dell is pitching the XPS 15 as being redesigned, making it the "smallest 15.6-inch performance class laptop." The design changes include making the chassis from two pieces of machined aluminum and a new hinge design for the InfinityEdge display to be used.
Obviously, most of the design elements are carried over to the XPS 17, and in both cases result in a relatively appealing package.
The XPS 15 measures 13.6 inches by 9.1 inches for its footprint, while the XPS 17 is bigger at 14.7 inches by 9.8 inches. The 16-inch MacBook Pro, by its nature, slots in between the two at 14.1 inches by 9.7 inches, making it almost as wide as the XPS 17, but in the middle of the two in terms of length.
The same cannot be said about the thickness of the models. Even with Dell's design refresh, the XPS 15 is 0.7 inches thick while the XPS 17 is 0.8 inches, with both handily beaten by the MacBook's 0.6-inch thickness.
Given we are dealing with larger notebooks with differing footprints, you would at least expect the mid-sized MacBook Pro to be the middle for thickness, but Dell failed to make the XPS 15 slim enough.
XPS 15 and XPS 17 vs 16-inch MacBook Pro - Displays and weight
The 16-inch MacBook Pro has, as the name suggests, a 16-inch Retina display, equipped with Wide Color (P3) support and True Tone. It also sports a resolution of 3,072 by 1,920 and can output a maximum of 500 nits of brightness.
For the XPS models, Dell offers a choice of two different displays. The standard display, offered on the lower-cost models, is a 1,920 by 1,200 InfinityEdge Anti-Glare screen, with a 1,650:1 contrast ratio and 500 nits of brightness.
While the base screen is lacking, the alternative on the higher-up configurations is a 4K version, offering a resolution of 3,740 by 2,400 and the same contrast ratio and 500 nits of brightness as the lower-resolution version. Furthermore, the 4K variant offers a feature that the MacBook Pro doesn't have, in the form of touch sensitivity.
This higher-resolution display and touch controls make Dell's screens a more compelling avenue for users, but the option is also a factor in another part of the comparison that would usually be discussed alongside its size: weight.
In both sizes, the higher-resolution displays of the XPS models result in making the notebook heavier, increasing the non-touch 4-pound XPS 15 to 4.5 pounds, and the 4.7-pound XPS 17 without touch sensitivity to 5.5 pounds.
On Apple's side, there's only one weight to consider, and that's 4.3 pounds. That puts the 16-inch MacBook Pro between the non-touch and touch-enabled versions of the XPS 15, and far below the XPS 17's heft.
These are large notebooks, and while size matters, weight is equally important, since these are items designed to be carried around.
Apple plainly wins on this front. The MacBook Pro's display outshines the lower-resolution XPS screens while being quite close to the upper displays, without the extra heft.
XPS 15 and XPS 17 vs 16-inch MacBook Pro - Processors and memory
Apple's 16-inch MacBook Pro is offered with a choice of three processors: A 2.6GHz six-core Core i7 that clocks at 4.5GHz under Turbo Boost, a 2.3GHz eight-core Core i9 that boosts to 4.8Ghz, or a 2.4GHz eight-core Core i9 boostable to 5GHz.
On Dell's side, the XPS 15 starts with a quad-core Core i5 that has a maximum clock speed of 4.5GHz, with options to go for a six-core Core i7 with a 5GHz maximum clock, or an eight-core Core i7 that can be pushed to run at 5.1GHz.
At the time of writing, Dell hasn't released the full processor list for the XPS 17, but it will range from the same quad-core Core i5 as in the XPS 15 to an 8-core Core i9, with a higher maximum clock speed of 5.3 GHz.
Arguably, just looking at the core counts and clock speeds would put Dell as being in the lead here at the higher end, though not by that much. However, you also have to take into account that Apple uses ninth-generation processors, while Dell is using tenth-generation.
The generational difference will infer some more performance benefits to Dell's models for the time being, but it may not be for too long. Apple already uses tenth-generation processors in the upper-tier 13-inch MacBook Pro, and it wouldn't be outside the realm of possibility for Apple to upgrade the 16-inch line's processors at some point.
Memory is a factor in Apple's favor, as it equips the 16-inch MacBook Pro with 16 gigabytes of DDR4 as standard, with a maximum capacity of 64 gigabytes. Dell's XPS 15 starts at a lower 8 gigabytes, though it can be increased up to a matching 64 gigabytes.
Dell does have a slight advantage for memory, as it uses the faster 2,933MHz DDR4 instead of 2,666MHz memory that Apple includes in its notebooks.
So far, Dell has confirmed the XPS 17 will use DDR4 2,933MHz memory, with a maximum capacity of 64 gigabytes, but not how much will be offered in base configurations.
XPS 15 and XPS 17 vs 16-inch MacBook Pro - Graphical power
The integrated graphics consist of Intel UHD Graphics 630 in the MacBook Pro, and Intel UHD Graphics for the two Dells. Despite the somewhat confusing name convention, the XPS' version is newer, though given this is integrated graphics and discrete graphical options will be available in the majority of cases, it's relatively moot.
Apple offers the Radeon Pro 5300M 4GB, 5500M 4GB, or 5500M 8GB.
The XPS 15 is offered with the choice of either no discrete graphics or the inclusion of a GeForce GTX 1650Ti 4GB with Max-Q. On the XPS 17, the GTX 1650Ti 4GB is the default option, but can be exchanged for a GeForce RTX 2060 6GB GPU.
Results for Passmark G3D Mark benchmark tests puts the Radeon Pro 5300M at a score of 6,007, with the 5500M doing a fair bit better at 6,945 points. The GTX 1650 Ti with Max-Q isn't as good as the Radeon GPUs, achieving just 5,335 under the same benchmark.
The upgrade to the RTX 2060 on the XPS 17 will be a considerable performance boost, at least according to the benchmark, with the mobile GPU hitting 11,359 points.
While Dell does well with the processors, the GPU choice ranges from being sub-par against the MacBook Pro, or in the event of someone opting for the RTX on the XPS 17, far outperforming its rivals.
To someone with a need for high graphical performance while on the move, the MacBook Pro may seem like the better option on this front. Of course, this ignores the possibility of acquiring an external GPU enclosure and buying a more powerful desktop-class graphics card, or buying a desktop PC or Mac like the Mac Pro, which offer more flexible and higher performance graphical options.
XPS 15 and XPS 17 vs 16-inch MacBook Pro - Wi-Fi, ports, and connectivity
The port situation normally is a close-run thing, with the PC-based notebook offering a plethora of connection options while the MacBook Pro uses a more limited palette. This time around, things are actually quite close.
Apple uses the usual four Thunderbolt 3 ports and headphone jack combination on the MacBook Pro. It's a long-standing setup that Apple is unlikely to change anytime soon.
For the XPS models, Dell has somehow gone down a different route to usual. Instead of the long list of ports, the XPS 15 instead has two Thunderbolt 3 ports with power delivery and DisplayPort support, one USB-C 3.1 with similar support, a full-size SD card reader, and a headphone jack.
Somehow, Dell's design decision has led to a situation where the MacBook Pro offers the ability to connect more devices than the XPS 15. Instead of giving users the option of plugging in their own fourth peripheral, Dell makes the choice for them with the card reader.
Dell could have evened things out by submitting to the dongle lifestyle fully instead of partially, replacing the USB-C and card reader with more Thunderbolt 3 ports, but it didn't do that.
On the XPS 17, Dell offers an extra two Thunderbolt 3 ports on top of the XPS 15's collection, bringing it up to four Thunderbolt 3 ports, the card reader, and a headphone jack. This does make the XPS 17 the best for connectivity, though not really by much.
On wireless connectivity, you're looking at Bluetooth 5.0 support on all devices, while Dell edges the win on Wi-Fi by supporting Wi-Fi 6, with Apple using Wi-Fi 802.11ac.
Other Specifications
The MacBook Pro offers a theoretically better audio experience, packing 6 speakers with force-canceling woofers and Dolby Atmos support, while the XPS 15 uses four speakers with Waves MaxxAudio Pro tuning. While Waves MaxxAudio is confirmed for the XPS 17, it is unknown how many speakers it will have.
Apple also does better on the microphone front, using three with directional beamforming, while Dell employs just two mics. For video conferences, all use a 720p webcam.
The MacBook Pro uses Touch ID for biometric security, embedded into the Touch Bar on the keyboard. Dell matches this with its fingerprint reader built into the power button, as part of Windows Hello.
On battery life, Apple in theory should take the lead as it uses a 100-watt-hour battery that boasts up to 11 hours of usage time. However, while Dell uses 56-watt-hour and 86-watt-hour battery packs in the XPS 15, or 56- and 97-watt-hours in the XPS 17, it also claims to be able to have a battery life of up to 25 hours on a single charge.
XPS 15 and XPS 17 vs 16-inch MacBook Pro - Pricing
Apple's 16-inch MacBook Pro range ships in two base versions. The lower tier using the 2.6GHz 6-core Core i9 with 16GB of memory, 512GB of storage, and the Radeon Pro 5300M costs $2,399, while the upper-tier version with the 2.3GHz 8-core Core i9, 1TB of storage, a Radeon Pro 5500M 4GB GPU, and the same amount of memory is $2,799.
For the XPS 15, Dell has five starting configuration options. On the low end is the $1,299.99, which sports 8GB of memory, 256GB of storage, the Core i5 processor option, the non-touch display, the 56WHr battery, and no discrete graphics option.
Moving up one stage adds in the GeForce GTX 1650 Ti 4GB, the upper-size 86WHr battery, and switches the processor to the six-core Core i7 at $1,749.99. The $2,199.99 model brings the RAM up to 16GB, the storage up to 512GB, and introduces the touch-enabled display.
The second most expensive model of the range is priced at $2,299.99, with the extra $100 increasing the storage to 1 terabyte. At the highest is the $2,449.99 model, which adds more memory to the equation, bringing it up to 32 gigabytes.
Pricing for all tiers of the XPS 17 has yet to be detailed, but the range is expected to start from $1,499.99.
The XPS 15 seems like the better deal looking at the lower end of things, albeit without comparable specifications to the lowest Apple offers. The equivalent would be the middle option of the five XPS 15 starting points, but even the $2,199.99 price is still practically $100 cheaper than the MacBook Pro.
Moving to the heavier end of the ranges, the MacBook Pro using the highest processor option 64GB of memory, the Radeon Pro 5500M with 8GB of GDDR6 memory, and 2 terabytes of storage works out to be $4,299, with further room to go to 8 terabytes for $6,099.
Maxing out the Dell XPS 15 configurator with the best processor, 64GB of memory, the highest 2TB capacity option, the higher-resolution touch-enabled display, and the bigger battery brings the price up to $3,049.
For comparable high-specification models, this seems like Dell is the better deal, even taking into account the XPS 17 will cost a few hundred more to account for the larger display.
XPS 15 and XPS 17 vs 16-inch MacBook Pro - Upgradability
As a notebook ages, or the user's workload increases, there's usually a need to upgrade some of its components. More RAM may help increase performance, while replacing the storage could help give it a higher capacity.
After-market upgrades also allow users to get around the potentially high cost of selecting better components at the time of purchase, by putting their own separately-sourced and cheaper version in place of the cheapest version offered by the manufacturer.
Plainly speaking, Apple doesn't let users perform after-market upgrades. Neither the memory nor the storage are user-accessible after purchase, so they cannot be replaced or added to at all.
While the storage could be supplemented by an external Thunderbolt drive or network storage, there isn't such a workaround for the memory. You're stuck with whatever RAM value you agreed to at the time of purchase.
This also means that, if you wanted to have a MacBook Pro with a higher storage capacity and more memory down the line, you're going to be shelling out for those upgrades from the outset, and at Apple's pricing. Or alternately buying a brand new model.
Unlike Apple, Dell makes its notebooks user-serviceable, with upgrade options available post-purchase for both memory and storage. There are a pair of memory slots, two M.2 spaces, and even the battery can be replaced once it grows old, without needing to send it off for servicing.
This does mean that a user with the right knowhow can change the memory and RAM straight away after receiving the notebook. Down the road, upgrades are still going to be possible, and could be made in line with the user's actual needs at that time.
A close battle that could change with a refresh
It's plain to see that Dell is keeping up with the MacBook Pro hardware with its own notebooks. It's also fairly obvious that Dell is providing considerable value for money with its XPS 15 when directly compared against the 16-inch MacBook Pro.
The XPS 15 is smaller but thicker than the MacBook Pro, but while the low-end models are underwhelming performance and specifications-wise, it's a fair bit cheaper to go for Dell's equivalent on a roughly comparable configuration. Dell's 4K-resolution screen and touch capabilities are also attractive elements that the MacBook Pro simply cannot match at this time.
You're also afforded the ability to actually upgrade and replace some components of the XPS range, which you simply cannot with the MacBook Pro.
Apple does pull away with several wins, such as its audio capabilities, larger battery, generally better graphics with the exception of the RTX GPU, and starts users off with 16 gigabytes of memory instead of 8 gigabytes. You also have the unexpected benefit on the 16-inch MacBook Pro of having more ports to use than the XPS 15, though the position is reversed for the XPS 17.
Also bear in mind that the MacBook Pro also has macOS, a secure operating system that many creatives and power users will be familiar with. Sure, you could use Windows on the Dell or move onto a Linux distribution if you need to, but if you want Windows and macOS, the only way to do that in a notebook officially is to get the MacBook Pro.
The 16-inch MacBook Pro's chips are a full generation behind the XPS 15's tenth-generation processors, and even with similar core counts and clock speeds, the newer generation processors are simply better chips.
A simple solution for Apple to overtake Dell in this front is to simply use newer processors and GPUs, potentially as part of an annual refresh that has so far not taken place for the 16-inch model. It would be expected that Apple would follow what it did with the 13-inch MacBook Pro in May with similar tenth-generation processor and GPU upgrades.
If Apple does such a product line refresh, it would once more give the 16-inch MacBook Pro the upper hand over its Dell rivals. All it needs is for Apple to actually make the upgrade.