New Adobe Photoshop Camera brings AI to image filters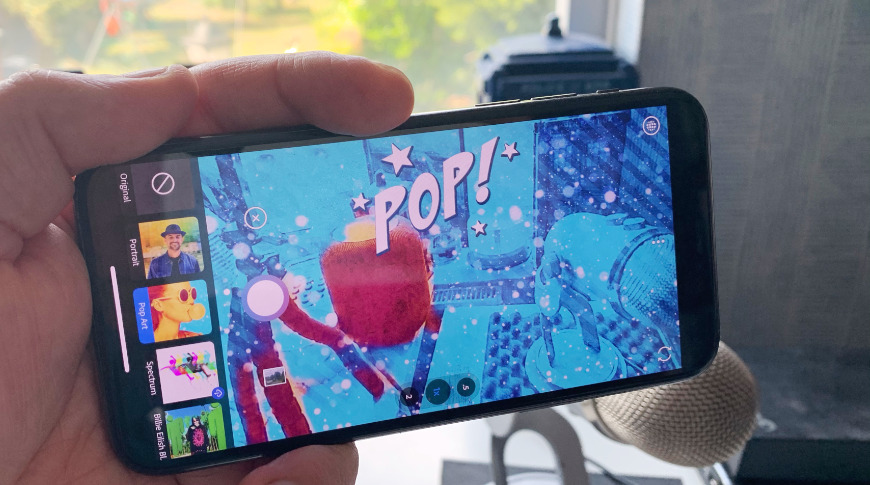 AppleInsider is supported by its audience and may earn commission as an Amazon Associate and affiliate partner on qualifying purchases. These affiliate partnerships do not influence our editorial content.
Alongside a plethora of image filters, Adobe's new Photoshop Camera app for iOS examines objects and recommends options before users take their shot.
Announced alongside both updates to its Lightroom software, and new AR features, the Adobe Max conference in November 2019 included the promise of an entirely new camera app. Now Adobe Photoshop Camera has launched with the aim of bringing Adobe-designed filters and AI to taking images.
"Imagine if the magic of Photoshop was inside your camera," says Adobe in its announcement. "With Photoshop Camera, it really is. It's a new, intelligent camera app that understands the best lenses and filters for your photos — before you even take the shot."
Adobe Photoshop Camera is a camera app that chiefly comes with filters — which Adobe calls lenses — to alter how images look when you take them. Rather than applying effects later in Photoshop, the idea is that you will instead choose the effects at the point of capture.
One thing that makes this different to other camera apps is that some of these lenses are either designed by artists, or inspired by their work. So far the only one named is musician Billie Eilish.
However, the other new feature is that Adobe says the app the company's existing Adobe Sensei AI technology to automatically recommend the best filter to use.
"Leveraging Adobe Sensei intelligence," says Adobe, "the app can instantly recognize the subject in your photo and provide recommendations, and automatically apply sophisticated, unique features at the moment of capture (i.e. portraits, landscapes, selfies, food shots), while always preserving an original shot."
"It also understands the technical content (i.e. dynamic range, tonality, scene-type, face regions) of the photo and automatically applies complex adjustments," continues the company.
In practice, this means that when using the app, if the AI feature recognizes a type of object, it will put a small blue icon next to certain filters. That icon appears on all recommended filters, whether or not users have to swipe to find them. And that icon can either be of a person, meaning the user has already got the filter, or an iCloud-like icon, meaning it's available to download.
If you select a lens that the app believes isn't appropriate, it may prompt you. For instance, attempting to use the Eilish filter on a human face gets you an on-screen notice that you should point the camera at the sky, instead.
These recommendations could be more specific — in AppleInsider testing, a image of a person made the app recommend six different filters — or more obvious. However, the recommendations appear instantaneously.
One oddity is that the app's controls all assume the iPhone will only be used in portrait rather than landscape, meaning if a user does hold the camera horizontally, it's fiddly to see which options are wanted.. Then if the iPhone has the actual physical lenses to support zooming and ultra-wide shots, Adobe Photoshop Camera is oddly limited. It only lets the user step between 0.5x, 1x, and 2x, instead of the Apple Camera's finer control.
Adobe Photoshop Camera is a free download on the App Store. It requires the use or creation of an Adobe ID, and comes with one in-app purchase option of 20GB of Creative Cloud storage.