Adobe unveils new design apps, 'Sensei' service, updates & more at MAX conference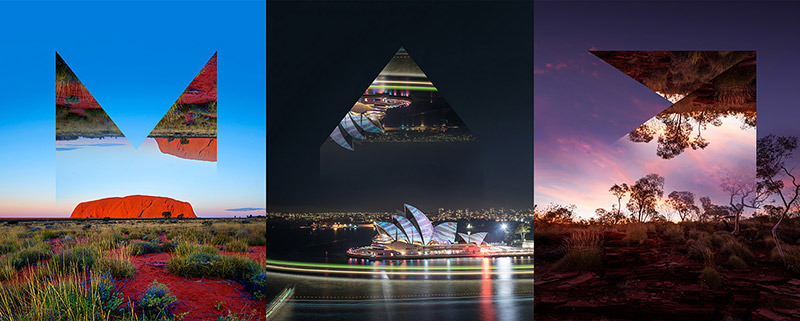 AppleInsider is supported by its audience and may earn commission as an Amazon Associate and affiliate partner on qualifying purchases. These affiliate partnerships do not influence our editorial content.
Adobe at its MAX 2016 industry conference on Wednesday announced a slew of new software products and app updates for imaging professionals, including an automated service called Sensei, as well as a stock photography and video partnership with Reuters.
First up is Project Felix, a powerful tool that enables graphic designers to create photorealistic images by incorporating 2D and 3D assets in a cohesive workspace. In-app 3D models and easy-to-use image modifiers let novices use 3D imaging techniques in their workflow.
In a demonstration of Project Felix seen by AppleInsider, an artist composed a product shot featuring a bottle of juice sitting on a hot beach. To start, a preloaded model of a 3D model was dragged and dropped onto the workspace, then customized with color and text. From there, the presenter applied a variety of colors and surface textures to the object to mimic different materials like plastic, glass and metal. Lighting layers enhance the illusion by creating natural reflections.
Project Felix supports multiple 3D assets, and in our demo models of liquid splashes, sprays and droplets were added for effect. Each object can be manipulated individually or as part of a complete composition. To cap off the scene, a 2D photo of a sunny beach was laid in under the 3D objects.
Completed products can be sent to other apps like Photoshop for final touches and tweaks.
Adobe says Project Felix will be available later this year as a beta on both Mac and PC.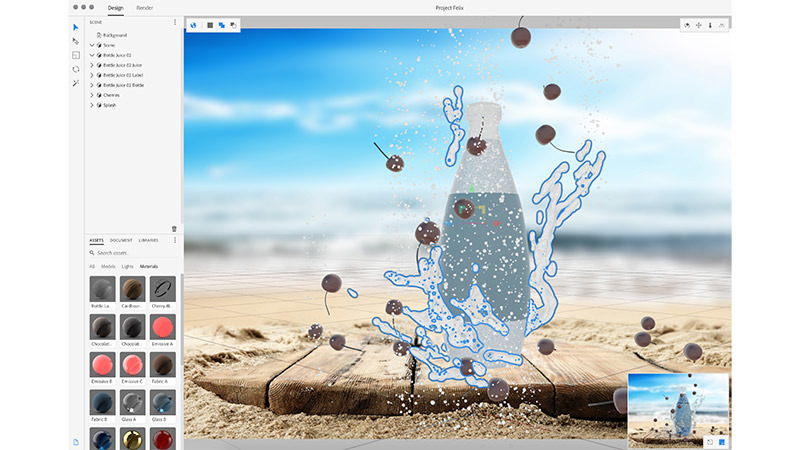 Moving on to another new release, Adobe introduced a next-generation version of Adobe Experience Design CC, also known as Adobe XD, for designing, prototyping and sharing websites and mobile apps. In particular, the new version now supports layers and symbols, tools borrowed from popular programs like Photoshop and Illustrator.
Since Adobe XD often handles multiple art boards for a single project, the layers pane is persistent, meaning it presents only those imaging assets that apply to an active page. The new feature frees projects from unnecessary clutter.
Further streamlining the prototyping environment, Adobe XD allows users to create symbols from text elements, vector graphics or raster images for later use anywhere in the workspace. Unlike individual image elements, modifying one symbol applies the change to all other instances of that asset, a handy shortcut for UX designers who often use common artwork across multiple art boards.
At MAX, Adobe demonstrated upcoming real-time collaboration functions, visual versioning and Creative Cloud Libraries enhancements.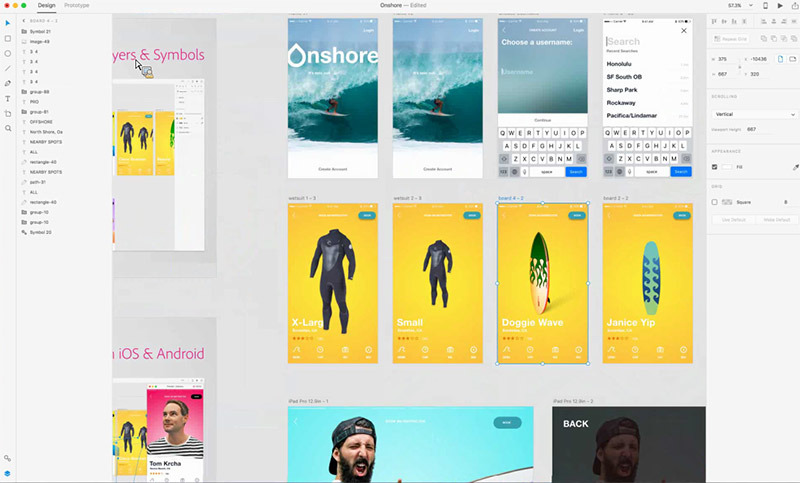 Separately, the company announced visual storytelling tool Adobe Spark will be made available to Creative Cloud members as a free service. Similar to the Adobe Spark Post iOS app, the service allows users to create social media posts, web assets and video clips from a variety of built-in templates.
With today's launch, paying Creative Cloud subscribers are able to remove all Adobe branding from their Spark creations.
Adobe Sensei was introduced as a framework and set of services that tap into Adobe's machine learning and AI technologies to automate certain tasks throughout the Adobe Cloud Platform. On Creative Cloud, for example, Adobe Sensei integrates with Stock Visual Search and Match Font, while helping users with Face-Aware Liquify operations in Photoshop.
Existing Creative Cloud apps were also updated. Flagship image editor Photoshop receives a universal search bar, stock templates, an enhanced Properties Panel and support for SVG color fonts. Illustrator also gets stock templates, as well as font, style and glyph enhancements.
Adobe's video tool Premiere Pro CC also received an upgrade with character animation and 3D capabilities. The forthcoming release features auto-aware virtual reality technology that detects and applies appropriate settings for stereoscopic and monoscopic content.
Adobe adds that updates to Premiere Pro, After Effects CC and Prelude CC will include a beta version of Team Projects for co-editing and collaboration via Creative Cloud.
On the mobile app front, Photoshop brushes and layer blend modes have been added to the Photoshop Sketch app, while Adobe Comp CC gets auto mockups and copy/paste operations within and across documents.
Finally, Adobe Marketplace announcements included a new Typekit Marketplace for fonts and a Stock Contributor portal through which artists can sell their work.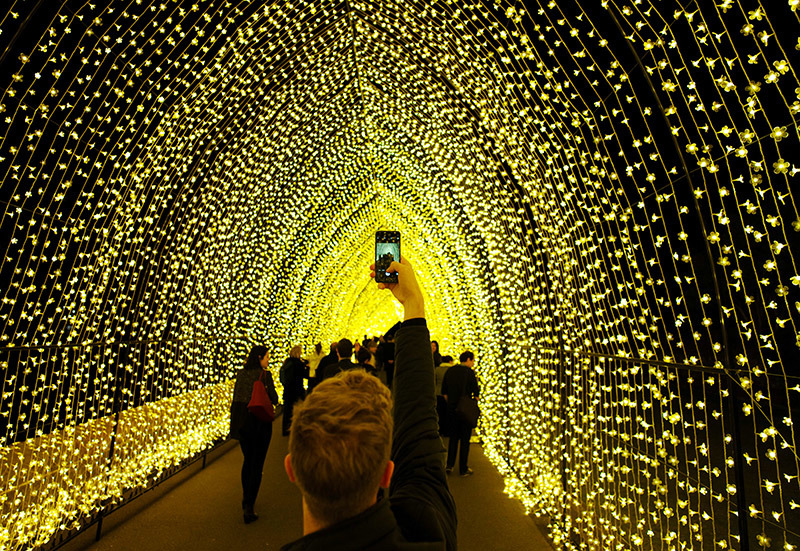 Related to Adobe Stock, the company announced a new partnership with Reuters that grants Adobe Creative Cloud users access to select editorial content. Available content includes a growing archive of 12 million photos covering news, sports and entertainment, as well as current and historical video footage.
Like other Adobe Marketplace items, users can search for and license Reuters assets directly from Creative Cloud apps. Reuters stock asset integration is expected to debut in the first half of 2017.