Auto-adjusting 'Apple Glass' may not need prescription lenses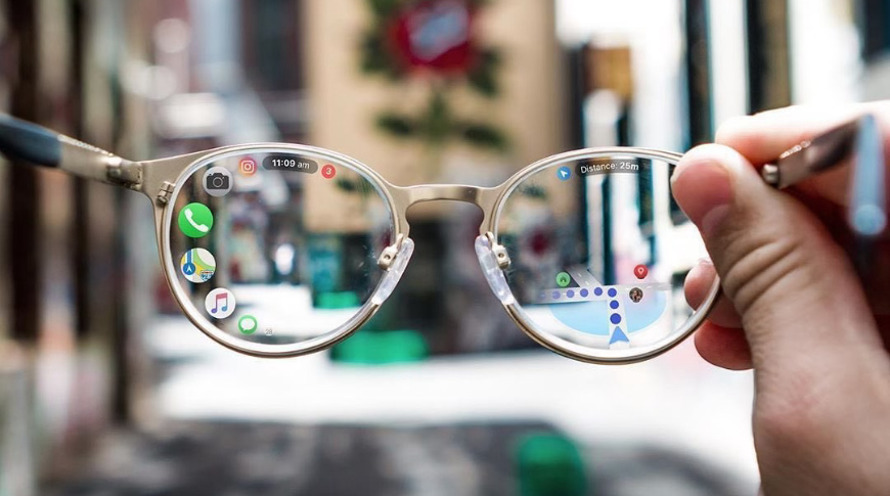 A future version of the "Apple Glass" smart glasses peripheral could compensate for less than perfect vision with automatically adjusting lenses for users that need prescription glasses or contact lenses.
A problem that many virtual reality and augmented reality headsets have to deal with is the fact that not everyone has perfect vision. Many people wear glasses or contact lenses to correct their vision, with each offering their own challenges to headset makers.
For contact lenses, a headset may have to account for optical distortions they may produce in viewing an image normally seen by someone with near-perfect vision. Glasses wearers typically remove them to have a more comfortable experience wearing a headset, but this can reduce their vision in the VR experience itself.
Current-generation headsets do employ their own lens assemblies, to allow a display to be positioned within inches of a user's eyes. It is somewhat feasible for these same lens assemblies to be replaced by versions that provide the same corrections as prescriptive lenses, but it would mean the headset would have to be adjusted each time to remove and replace with standard versions for multiple users.
In a patent granted on Tuesday by the US Patent and Trademark Office titled "Head-mounted display apparatus for retaining a portable electronic device with display," Apple suggests a system that could perform a similar task in a rumored product like "Apple Glass."
Apple has reused the patent's title a number of times previously, with each iteration adding a number of changes to the design. Fundamentally speaking, the device consists of a glasses frame that an iPhone could slide into and connect with internal connectors, one that positions the iPhone directly in front of the user's eyes.
As usual, Apple proposes using the iPhone's display to show images, while at the same time including optical elements between the screen and the user's eyes to allow the user to focus on the image correctly, as if the display is larger and further away from the eyes than in reality. This is somewhat common for earlier iterations of the patent title.
In this particular version, Apple focuses its claims on prescription lens-related matters. Furthermore, the claim descriptions mention how it could be used for a general headset design as well as for one using a "cellular telephone having a display," suggesting it is a system that could be used on more than the iPhone-display version.
In Apple's concept, the optical assembly would use a coaxial arrangement of lenses for each eye, or the use of dynamic optical components that can be adjusted by a central system. These optical components can include a lens, a light guide, light source, mirror, and a diffuser.
The system would use prescription information for glasses or contact lenses to adjust the position and configuration of the optical components to correct the user's vision, effectively adding the benefits of the prescription lens to the assembly. In effect, this would let a user remove their glasses or contact lenses and don the headset, without losing their vision in the experience.
The language of the filing also suggests the system would have a processor to switch between different configurations depending on the user's particular prescription, though would feasibly return to a "standard" setting for new users with normal vision.
Aside from the lens assembly, the patent also mentions how the display could be adjusted to better serve the user's vision, including changing the position of images on the display in relation to their eyes, and resizing content for consistency.
The patent in this instance lists one single inventor, Quin C. Hoellwarth, who has been Apple's head of design patents and a patent portfolio manager for over 13 years. A search for related patents indicates Hoellwarth is linked to a large number of previous iterations using the same filing name.
Apple files numerous patent applications on a weekly basis, but while the existence of a filing does not guarantee a product is on the way bearing similar features, it does indicate areas of interest for Apple's research and development efforts.
Rumors and patents over the years indicate Apple has a healthy interest in creating its own form of headset, possibly in the form of "Apple Glass." Expected to launch in 2021, the glasses could provide an AR-style experience, with digital overlays on a real-world view.
In May, prolific leaker Jon Prosser claimed the "Apple Glass" would cost $499, and would be available with prescription lens options, so this technology does not seem likely to appear in the first version of the peripheral. The glasses would also include plastic frames, with metal options possibly introduced later, along with LiDAR but no cameras, a plastic stand for wireless charging, and an interface called "Starboard."
Apple's AR endeavors has also resulted in the creation of ARKit, the company's software platform for creating iPhone and iPad apps that use the technology. It is highly likely that any headset that Apple creates will take advantage of the systems used in ARKit.