Apple's Neural Engine tapped in new djay Pro to reinvent live mixing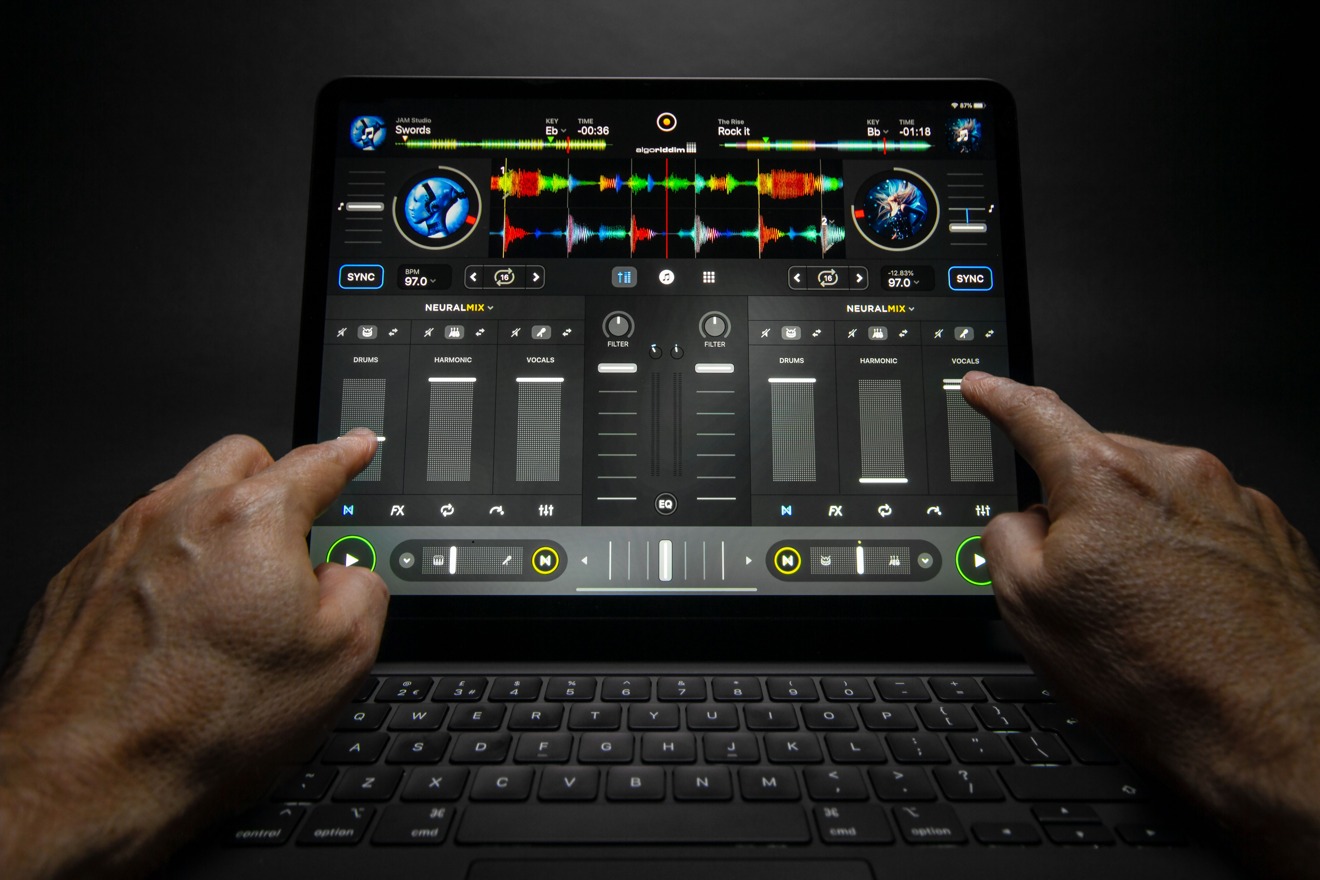 Algoriddim has launched a major update of its djay Pro live music mixing app incorporating new artificial intelligence processing that leverages the Neural Engine on Apple's "Bionic" branded mobile chips.
The new djay Pro AI enables live music separation of audio tracks into vocals, beats, and instruments, enabling real-time mixing of selected components of streamed or local tracks. The new feature is branded as Neural Mix, highlighting its use of Apple's Core ML frameworks to take advantage of dedicated Neural Engine hardware on modern mobile devices including the new A12Z Bionic powered iPad Pro.
Algoriddim bills its apps as the first music app to fully leverage Apple's "Bionic" custom silicon in real-time playback, with ultra-low latency and 'sample-accurate precision' in seeking, scratching and time-stretching in live performances.
The app processes millions on audio frames per second using deep convolutional networks accelerated on the Neural Engine hardware, enabling the live rendering of high resolution, multi-track waveforms and video effects all performed in real-time.
Karim Morsy, Alogoriddim's chief executive, demonstrated djay Pro AI's ability to isolate individual layers of standard music tracks, and then layer or swap components such as just the vocals, the beats, or the instrumental elements into a new mix. The dedicated hardware used to accelerate this music processing accelerates the tasks enough to also support adding contextual visual effects to music videos played back at the same time.
The new djay Pro AI can also independently crossfade music components of multiple tracks to allow for a "constant pace and energy" throughout a transition without vocals or harmonies clashing.
"From the analog to the digital age, transformations in DJ technology have had a profound impact on music styles and genres as a whole," Morsy stated. "Neural Mix is a major paradigm shift. Inspired by the auditory system of the human brain, it changes the way we conceive and mix music. It allows artists of all skill levels to experience and interact with music at an unprecedented depth. We're incredibly excited to introduce Neural Mix to the world and we can't wait to see what artists and music enthusiasts create with djay Pro AI."
Algoriddim's djay Pro has been a recipient of an Apple Design Award, and the developer has frequently worked to take full advantage of new features of Apple's operating systems and platforms. Last fall, the company added support for iPadOS 13 file browsing using USB devices and cloud services, and enhanced accessibility with support for the new Voice Control in iOS 13 as well as Core Haptics for inaudible feedback for performers using metronome timing during their mixing.
The djay app is a free download in the iOS App Store, and the features of djay Pro AI along with a library of sounds, loops, and visuals can be purchased as an In-App subscription for $4.99 per month, with a free Pro trial available to try out.