Apple's Teams for Feedback Assistant helps organizations collaboratively resolve issues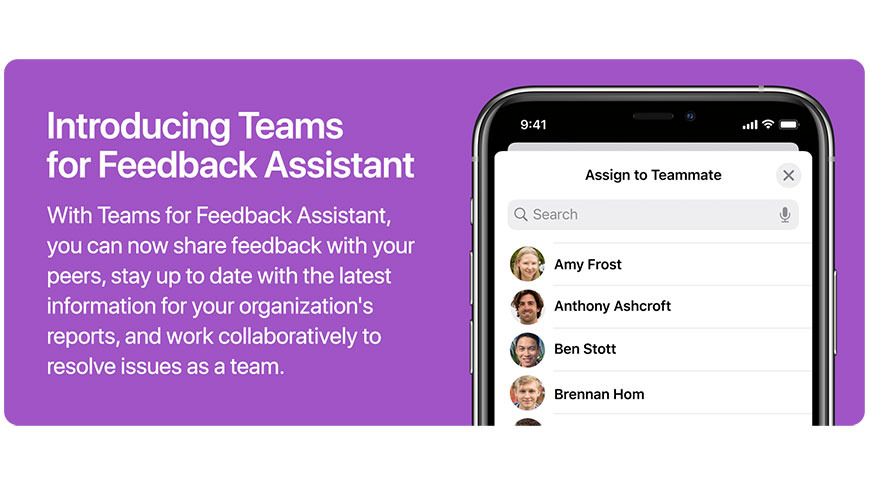 Alongside the release of iOS 14 and macOS 11 Big Sur, developers gain a new collaborative tool with which to share, submit and view bug reports.
Announced in a message posted to Apple's Feedback Assistant web portal, the new feature, called Teams for Feedback Assistant, is designed for collaborative bug reporting and resolution.
The service enables developers to send Apple feedback as an entity, rather than an individual. Filings, responses and other notes are automatically stored in a team inbox in Feedback Assistant on iOS 14, iPadOS 14, macOS Big Sur and feedbackassistant.apple.com.
To use the feature, developers can tap on the "New Feedback" button under the team inbox on iOS. The same can be done macOS after selecting the team inbox and clicking on the compose message icon. Feedback that was previously filed as a personal report can be moved to a team's inbox using the action menu.
Assignees of team feedback, which are designated as the original filer by default, can perform management actions like downloading attachments and closing a report. That person will also receive alerts if Apple requests more information.
Apple notes feedback in the team inbox belongs to the organization, not the person who submitted the report, meaning it does not follow an individual if they are later removed from the team.
Teams for Feedback Assistant is available to members of the Apple Developer Program, Apple Developer Enterprise Program, Apple Business Manager, and Apple School Manager.