Mac shipments up slightly in Q2 as PC market shows signs of recovery [u]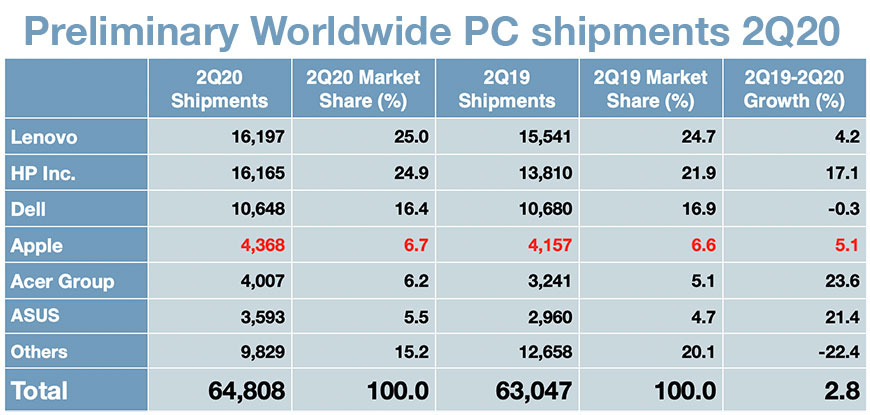 Shipments of Apple's Mac computers were up 5.1% year over year in the second quarter of 2020, ahead of wider growth experienced by the PC industry following coronavirus delays, according to research firm Gartner.
Apple is estimated to have shipped 4.4 million Macs during the three-month period ending in June, up from 4.2 million units in the year ago quarter. The performance garnered the Cupertino tech giant a fourth place spot with a 6.7% share of the PC market, Gartner says.
Lenovo was once again the top manufacturer with 16.2 million units shipped in the second quarter, up 4.2% year over year. The firm's take of the market grew from 24.7% in 2019 to an even 25% in 2020. HP was an estimated 32,000 units behind Lenovo, exhibiting solid growth of 17.1% on the year.
Dell, the only major vendor to show signs of contraction during the June quarter, shipped 10.7 million units to take a 16.4% slice of the pie. Shipments were down 0.3% from the same time last year.
Acer and Asus rounded out the pack with 4 million and 3.6 million shipments, respectively.
The overall PC market is showing signs of recovery after the coronavirus disrupted supply channels and suppressed demand around the globe. While the virus still rages in the U.S., most developed nations have managed to flatten the curve.
"The second quarter of 2020 represented a short-term recovery for the worldwide PC market, led by exceptionally strong growth in EMEA," said Mikako Kitagawa, research director at Gartner. "After the PC supply chain was severely disrupted in early 2020 due to the COVID-19 pandemic, some of the growth this quarter was due to distributors and retail channels restocking their supplies back to near-normal levels.
It should be noted that firms like Gartner do not have insight into Apple's supply or retail chains and provide estimates based on independent research. The methodology, and more importantly results, of market research firms have been brought into question in the past, with Apple executives dismissing the data as largely incorrect.
Update: IDC also released PC industry estimates for the second quarter, finding Apple up a whopping 36% on shipments of 5.6 million Macs. The firm's numbers are similar to those offered by Gartner, though IDC puts HP in the lead over Lenovo.