Over 2,500 games pulled from China's App Store one week after government crackdown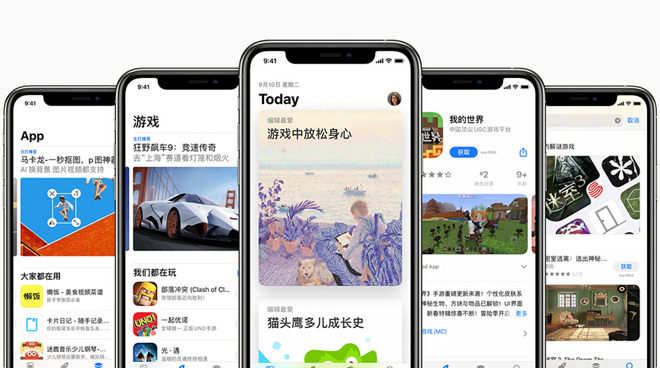 China's App Store is slimming down as Apple has spent July removing thousands of games that failed to show they have secured the proper licenses to comply with local regulations.
On July 1, Apple had begun freezing updates to games that failed to show that their games had been appropriately licensed. Shortly after, they started pulling games that didn't comply with the newly enforced rules.
Over 2,500 games were pulled by July 7, according Sensor Tower data. Roughly 80% of the games that had been removed had less than 10,000 downloads in the last eight years.
The games removed from the App Store had a lifetime gross revenue of $34.7 million. Of those 2,500 games, one had earned more than $10 million, while six others had earned over $1 million.
China demands that all games receive a license from the National Press and Publication Administration. While the rule was put forth in 2016, Apple was not required to make sure the law was heavily enforced. Now, many experts believe China is cracking down on foreign markets due to the U.S.-China trade war.
China's App Store hosts around 60,000 games that either require upfront payment or have optional in-app purchases. Only 43,000 licenses were granted in the last decade, and under 1,600 were issued in the previous year.
Despite the high number of unlicensed games on China's App Store, some analysts believe that Apple will not lose nearly as much revenue as others have predicted. Equity research firm 86Research estimates that Apple will only lose $340 million in lost sales. They note that 90% of the 200 most popular games on the App Store — which account for about 80% of App Store game revenue — are licensed.
China restricts content on a vast number of factors, ranging from anything considered too politically "taboo" to inappropriate character appearance. Game developers are expected to comply with the rules and show proof of license to make their games available for download.
In February, the ongoing coronavirus outbreak in China has led to popular game "Plague Inc" to be pulled from the country's App Store after China decided it was illegal — despite having been available for eight years.
In December, Apple was served and complied with Chinese authorities' request to remove all instances of the New York Times news app from its regional App Store for violating unspecified local laws. The app was later removed in January.