Lawsuit claims Apple 'perpetuates' iTunes gift card scams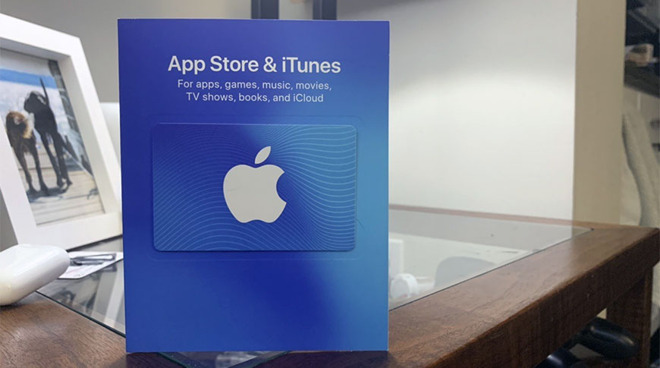 AppleInsider may earn an affiliate commission on purchases made through links on our site.
A class-action complaint lodged on Friday claims Apple not only enables iTunes gift card scams, which have become increasingly widespread over the past few years, but also profits from the activity.
Filed with the U.S. District Court for the Northern District of California, the suit alleges Apple is at fault for allowing iTunes gift card scams to continue despite their relatively straightforward and predictable nature.
Further, Apple's control of the App Store, iTunes and backend payments processing system supposedly affords transparency into, and veto power over, fraudulent transactions. The company is able to end scam transactions at multiple points in the process, but fails to act in the interest of its customers, the complaint argues.
In support documents, Apple notes scams typically follow a "formula" in which an attacker persuades a victim — sometimes under duress — to send them money in the form of an iTunes gift card. With a card number in hand, scammers can redeem the funds by making in-app purchases in apps they control. Alternatively, scammers can resell the card number on the black or gray markets.
Scammers net a diminished take of the gift card's value in the above scenarios, but Apple comes out ahead with its customary 30% share of App Store purchases. This money is not returned to victims, the lawsuit notes.
As purveyor of iTunes gift cards and the App Store, Apple has unique insight into fraudulent dealings and can monitor, halt and reverse such processes with minimal effort, according to plaintiffs.
As noted in the complaint, Apple knows where gift cards are purchased, the Apple IDs to which card values are applied and where the funds are spent. The company also holds iTunes gift card payments for approximately 45 days before transferring the money to third-party app makers, a window that could be used to investigate complaints and reverse fraudulent transactions.
The case further claims Apple misrepresents its ability to deal with iTunes gift card scams. The company in its support documentation says, "Once [card] numbers are provided to the scammers, the funds on the card will likely be spent before you are able to contact Apple or law enforcement." Terms and conditions outlined by the company attempt to limit its liability when cards are lost or stolen. Today's suit in part challenges those claims.
"Even if that limitation of liability applied by its terms - which it arguably does not - Apple cannot disclaim liability for loss or damage resulting from scams which it intentionally aids, abets, and perpetuates," the filing reads. "Any attempt by Apple to disclaim liability for loss or damage resulting from iTunes gift card scams would be unconscionable and unenforceable in light of its role in those scams and the profit that it makes and retains from such scams."
Losses from victims who reported iTunes gift card scams to the U.S. Federal Trade Commission exceeded an estimated $93.5 million between 2015 and 2019. While exact numbers are unknown, the suit asserts only a small percentage of affected consumers report incidents to the FTC. If the true value of collective scam operations hit $1 billion, for example, Apple would have retained some $300 million in commissions.
Plaintiffs claim violation of the California Consumers Legal Remedies Act, violation of the California Unfair Competition Law, violation of the California False Advertising Law, breach of contract, unjust enrichment, breach of the implied covenant of good faith and fair dealing, aiding and abetting intentional torts, violation of the California Elder Abuse Law, violation of the Elder Abuse Laws of Other States, and violation of the Oregon Elder Persons and Persons with Disability Abuse Prevention Act. They seek class certification, damages and court fees.