Anker's PowerCore Play 6700 is a portable battery bank for iPhone gamers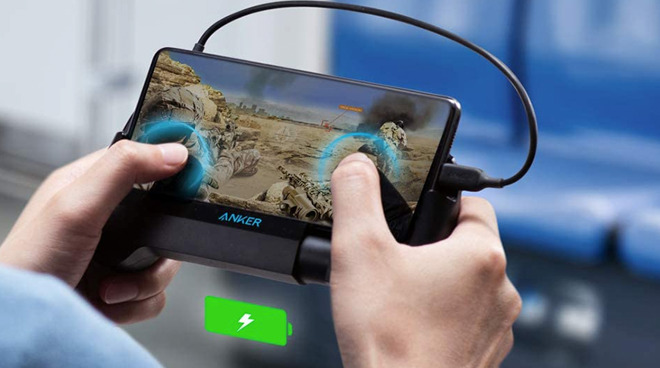 AppleInsider may earn an affiliate commission on purchases made through links on our site.
If you're tired of draining your iPhone's battery during long gaming sessions, Anker's new PowerCore Play 6700 portable battery combines a controller-like feel with hours of extra power.
The PowerCore Play 6700 is one part portable battery pack and one part ergonomic phone grip. The design borrows heavily from standard gamepads, giving your hands a comfortable place to grip while you're gaming.
The 6,700mAh battery provides plenty of power, able to charge an iPhone 11 roughly two times before needing to be recharged. To recharge the PowerCore Play, plug in the included USB-C to USB-A cable— charging to full takes around three hours.
The extendable size allows for a wide range of phones to fit in, including the iPhone 8 Plus, iPhone XR, iPhone XS Max, iPhone 11, and the iPhone 11 Pro Max.
A built-in fan helps keep your phone cool during extended play sessions. If you're the type who prefers to play with a third-party controller, the PowerCore Play 6700 has an integrated kickstand to keep your phone at the perfect viewing angle.
If you're interested in grabbing your own PowerCore Play 6700, you can head to Amazon and snag one for $35.99, with free Prime shipping.
It should be pointed out that iPhone owners will need to provide their own Lightning cable as the device ships with a USB-A to USB-C cable only. The PowerCore Play 6700 does not provide or receive wireless charging.