Microsoft aims to replace your iPad and iPhone with new Surface Duo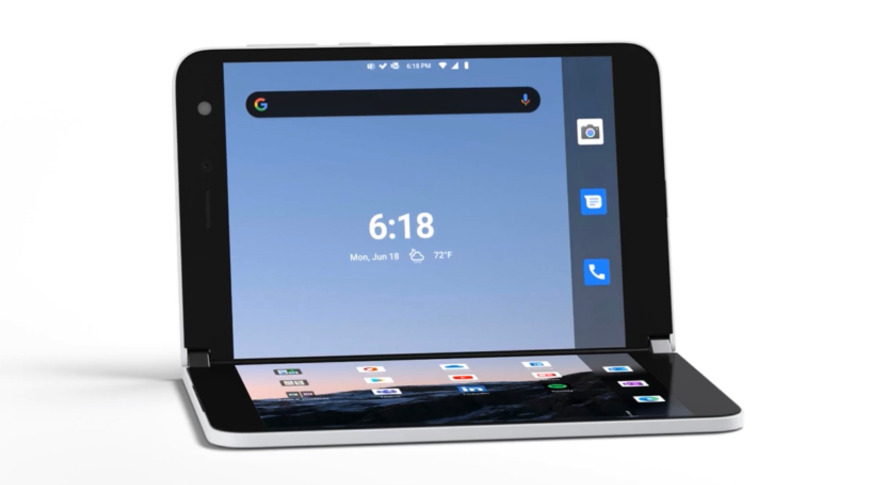 Microsoft won't call the Surface Duo a phone, but that doesn't stop it wanting customers to ditch both their iPhone and iPad for this one foldable tablet that makes calls.
The Surface Duo is a foldable 8.1-inch tablet with dual 5.6-inch displays, runs Android, and will fit in your pocket. Microsoft hopes to replace all your portable devices with a single LTE connected hybrid.
The custom software is limited to what has been adapted to the device. Any other app not optimized for the duo will run normally in the 5.6-inch vertical displays, and can run two apps simultaneously on its separate displays.
Microsoft has avoided phones since its failed Windows Phone line, and the fact that this device runs Android shows their hesitancy for entering the market. Microsoft's ARM platform for Windows won't be ready until 2021 or later, so this device seems a bit too early or a bit too late on either end.
The foldable comes at a time when Samsung has released its latest iteration of folding design to the market. While the Surface Duo might do well in a vacuum, the existence of the Samsung Galaxy Z Fold2 trumps the device before it even makes it to market.
Both devices run Android, have folding-clamshell designs, but are worlds apart in terms of software support and design. The Surface Duo is a premium $1,399 while the Galaxy Z Fold2 is expected to cost around $1900.
If a "budget" friendly foldable is what you want, then the Surface Duo may satisfy your curiosity, but for only about $500 more you would have a much better tablet experience. That is not to say the software is highly supported on either device, but the fact that the Galaxy Fold acts as a single tablet display and not spilt down the middle means software will be able to run normally without adaptation.
Apple has yet to announce anything for the foldable market with very few rumors at that. An iPad Pro of similar size can be configured with LTE and 512GB of internal storage for just $1,249, and the iPad App Store is vast in its tablet specific offerings.
Whatever you are in the market for, the Surface Duo has arrived to give yet another option in the tablet/hybrid market. Microsoft hopes it will become your "at-home indefinitely device" for productivity and leisure. With Samsung and Microsoft throwing their best tech in the foldable ring, expect Apple to answer with something in the future.