Foldable iPhone loses notch & resembles iPhone 11 says prolific leaker [u]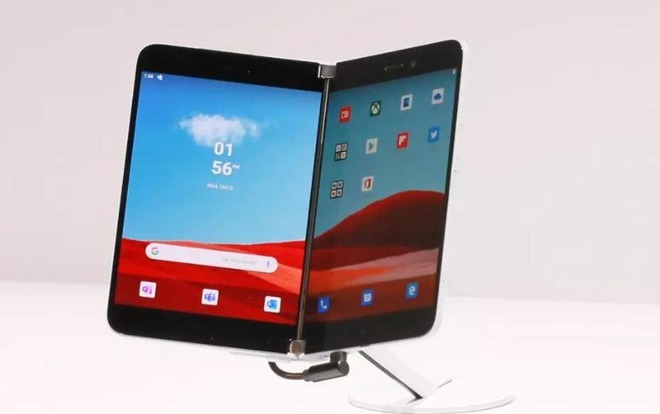 AppleInsider may earn an affiliate commission on purchases made through links on our site.
New speculation about a foldable iPhone suggests that Apple has taken a different route that the Samsung Galaxy Fold, and uses design cues from the iPhone 11.
A new Twitter post by Jon Prosser weighs in on Apple's "foldable" iPhone. Instead of a screen that covers a hinge, Apple's current prototype allegedly has two display panels, more like the announced but not shipping Microsoft Surface Duo.
Apple's "foldable" iPhone isn't really a foldable.

The current prototype has two separate display panels on a hinge.

Round, stainless steel edges like current iPhone 11 design.

No notch — tiny forehead on outter display that houses Face ID.

— Jon Prosser (@jon_prosser) June 15, 2020
Apple avoiding a screen over a hinge avoids design issues that plagued Samsung's initial launch of the Galaxy Fold. It also sidesteps the potential issue of repeated opening and closing the device inducing fatigue failure of the screen material over the screen.
In a follow-on response, Prosser says that it doesn't look like two connected iPhones. He also says that when the device is open, it "looks fairly continuous and seamless."
Additionally, also like the Microsoft Surface Duo, Apple is said to not be using a notch. Instead, Face ID and other sensors are contained in a "tiny forehead" above the displays.
It isn't clear where Apple is in the design process, as it has a great deal of research on foldable technologies, and even rollable ones. A foldable iPhone of any variety has been rumored for some time, but isn't expected to ship in 2020.
Apple does have a body of work detailing how two or more devices can work and communicate when in close proximity.
Prosser has been reporting leaks on Apple products for most of 2020, and has a long and established track record when it comes to other vendors. As of late, he has predicted not just codenames, but detailed specs and release dates for unannounced Apple products with complete accuracy.
Update: In an interview with Jon Rettinger posted later on Monday, Prosser elaborated on the idea of a foldable iPhone with two displays, saying that the device is in prototype form. He also claims Apple is conducting an internal investigation to ferret out and plug the source of his leaks. The company has used similar strategies to keep a tight ship in the past.