Microsoft teases dual-screen Surface Neo notebook, Surface Duo folding phone for 2020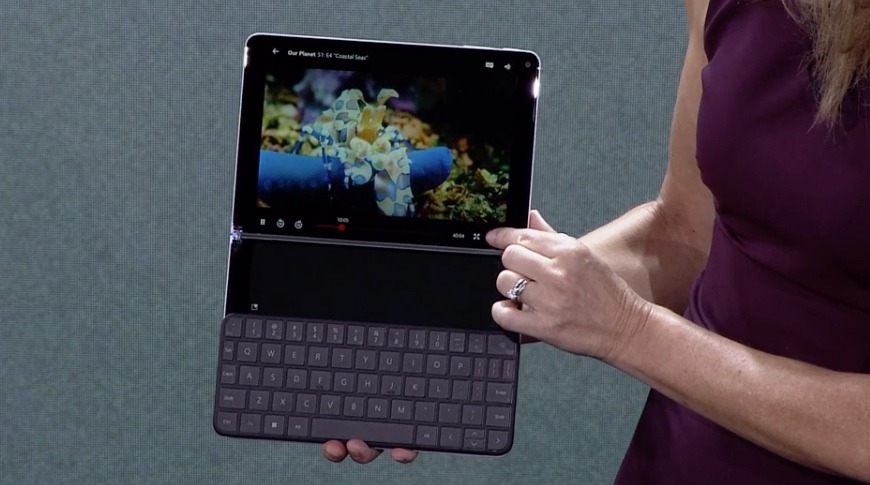 Microsoft has uncharacteristically revealed a future Surface product that it doesn't plan to ship until 2020, with the Surface Neo consisting of a dual-screen notebook with an extra keyboard and stylus support.
The decision to preview both of the new devices long ahead of their expected releases is said by Microsoft to be a way to tip developers on what's coming soon, and to help encourage the development of apps that can fully take advantage of two screens.
Surface Neo
Teased at the end of its Surface hardware event, Microsoft's Surface Pro consists of two nine-inch displays on a 360-degree hinge, allowing the device to fold in half both ways. The hinge mechanism uses a micro-gear system to make sure it aligns and closes properly, while staying close to each other.
Able to be used in landscape and portrait modes, including holding it like a book, the second screen can be folded around to the back to treat it as a tablet. Apps can be launched on the screen that it was opened, allowing for multiple apps to be used at the same time, but it is also possible to span a single app across both screens, changing the layout to fit the device's design.
A Bluetooth keyboard can be magnetically attached to the back, allowing it to recharge over time. It can also be flipped out to below the device's second screen, or on top of one screen, which triggers the "Wonder Bar" in the section of the display not covered by the accessory.
A stylus is also available, again magnetically attaching to the back of the Surface Neo.
Microsoft intends to ship the Surface Neo in time for the holidays in 2020, and has yet to offer a price for the device.
Surface Duo
Microsoft also introduced the Surface Duo, a similarly-designed smartphone that uses two 5.6-inch displays that are connected by a hinge. Just like the larger version, the smartphone can use multiple apps, switch apps between screens, and fill an app across both displays.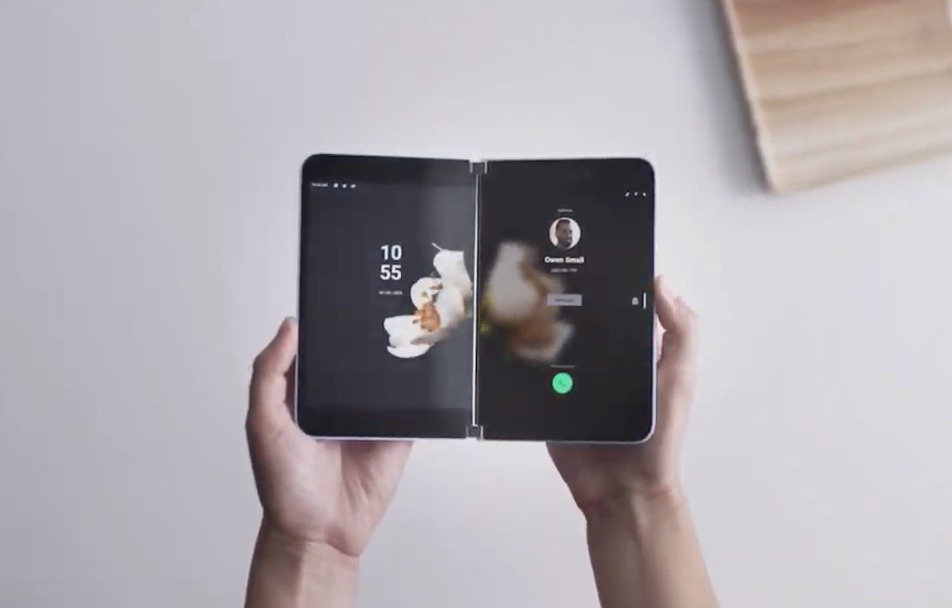 When used in landscape, the lower display can be used as a full-screen keyboard, which should help with text entry.
Google is working with Microsoft on the device to make it work with Android apps, which enables Microsoft to offer a vast app catalog without opening its own store, or reverting back to the days of Windows Phone. It isn't clear if the device is running a version of Windows or if it is actually running a skinned version of Android, nor if this will change closer to its release.
Microsoft didn't offer much in the way of specifications, such as expected cameras or its internals, but it is believed to be running a Qualcomm Snapdragon processor of some description.
Again, without a price, Microsoft intends to ship the Surface Duo for holidays 2020.
Return of the Courier
The teasing of the Surface Neo and Surface Duo may cause some to recall the Courier tablet, a device that was being floated around by Microsoft over a decade ago, though ultimately didn't make it into production. In 2010, Microsoft confirmed it had effectively given up on shipping the device in its form at that time.
The revival may throw up questions from observers about Microsoft's choice to persist with two displays, when other hardware producers are coming up with devices with flexible screens. For example, the Samsung Fold provides a vaguely similar experience to what Microsoft proposes, but in one continuous display.
However, as Samsung's own device demonstrated, the folding display is not yet robust enough for long-term consumer use, whereas a hinge between two displays may be more hard-wearing, albeit with a visible seam between the two sections.