Online Apple Store adds dedicated Apple Card payment option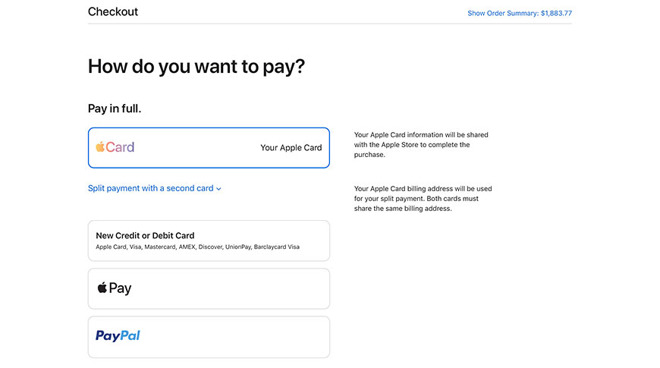 AppleInsider may earn an affiliate commission on purchases made through links on our site.
Shopping on the online Apple Store just got slightly easier for Apple Card holders, as the virtual marketplace now provides a direct option to pay with the branded company card at checkout.
While not a one-click solution, the addition of a dedicated Apple Card checkout button is still a welcome change for customers of Apple's credit card service.
The new option appears in the payments selection step of the checkout process. Apple Card is now the first choice users see when paying for items in their bag, listed above previously used credit and debit cards, Apple Pay, PayPal and financing alternatives.
Selecting Apple Card allows customers to split larger purchases with another credit card as long as the second card shares a common billing address. Once Apple Card is selected, customers can move on to the usual order review page to complete checkout.
Apple advertises Apple Card throughout its online store, including at the top and bottom of the bag review page. The company further offers a route to apply for the card and pay for certain big-ticket items like iPhone and Mac with "Apple Card Monthly Installments."
Prior to the addition of a dedicated Apple Card payment option, customers were able to select the branded credit card when purchasing with Apple Pay. That alternative remains available for users who sign in to the Apple Store with a valid Apple ID.
Apple, in partnership with backing bank Goldman Sachs, launched Apple Card in August 2019 as an iPhone-centric credit card with unique account management features and deep Apple Pay integration. Card holders are urged to conduct physical transactions through iPhone and Apple Watch NFC capabilities, though the company supplies a titanium card for use at point of sale terminals.
The Cupertino tech giant continues to drum up interest in its credit product through both online and physical Apple Stores. In June, Apple launched "Path to Apple Card," a four-month program designed to help card applicants improve financial indicators that prompted initial credit rejections.