Amazon Halo is a wearable health tracker that listens to your voice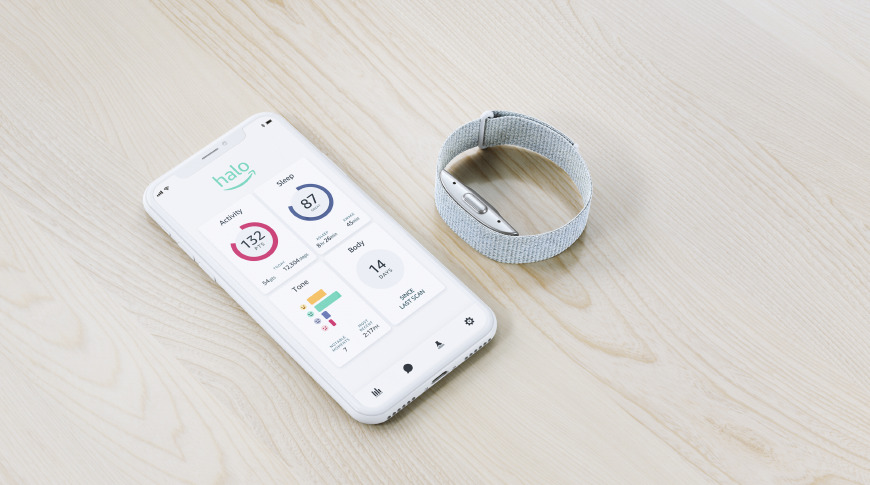 Amazon Halo Band is a new health and wellness tracker that monitors your activity, sleep, and even the tone of your voice.
Amazon has announced the debut of its own health tracker and premium health tracking service. The wearable — the Halo Band — is a screen-free device designed to seamlessly integrate with your life without adding any distractions. It includes an accelerometer, a temperature sensor, a heart rate monitor, and two microphones that can be toggled on or off via a button.
The Halo service is a "suite of five core features designed to give customers a comprehensive understanding of their health and wellness," according to Amazon. The five categories are activity, sleep, body, tone, and labs.
The activity category awards users points based on movement intensity and duration, rather than merely for steps taken. Running, for example, earns more points than walking. Points can also be deducted for extended periods without significant activity.
Sleep tracking is done by monitoring a user's movements, heart rate, and skin temperature to measure sleep quality. Users are awarded a score out of 100 and offered insight into their sleeping habits.
Amazon Halo also claims it can measure an individual's body fat percentage as accurately as a doctor. A user snaps a picture of themselves with their smartphone camera, and a neural network analyzes "hot spots" for distribution of fat. A 3D model is generated, and users are shown how their bodies could change as they gain or lose body fat.
Amazon is also throwing its hat into the mental health tracking ring, with tone tracking. The Halo Band listens to a user's voice and analyzes it for specific emotional resonances. Amazon claims that this may offer insight into how a user's daily interactions affect their overall mental health and coach them to improve their communications.
Amazon Halo Labs are challenges, experiments, and workouts that aim to help wearers build healthier habits. For example, a wearer may discover specific exercises that work better than others they've done in the past.
Amazon assures potential buyers that Halo is designed with multiple layers of privacy and security are built into the service to keep data safe. Health data is encrypted, and customers are able to delete data at any point. Body scan images are automatically deleted from the cloud after they are analyzed, and voice clips are analyzed locally on a user's phone.
Amazon also mentions rich third-party integration with health and wellness companies, including WW (formerly weight watchers.)
Those interested in the Amazon Halo Band can request entry into the early access program. The band costs $64.99 and comes with six months of Halo membership. After the six months expires, the subscription will automatically renew for $3.99 a month. If a customer cancels the subscription, they will still have access to basics, including steps, sleep time, and heart rate monitoring.
Customers can select three color combinations: a Black fabric band with an Onyx sensor capsule, a Blush fabric band with a Rose Gold sensor capsule, or a Winter fabric band with a Silver sensor capsule. Fabric accessory bands will be available for $19.99 each, and sport bands will be available for $15.99 each.