Review: SanDisk Extreme Pro CFExpress card reader is perfect for photographers with the latest cameras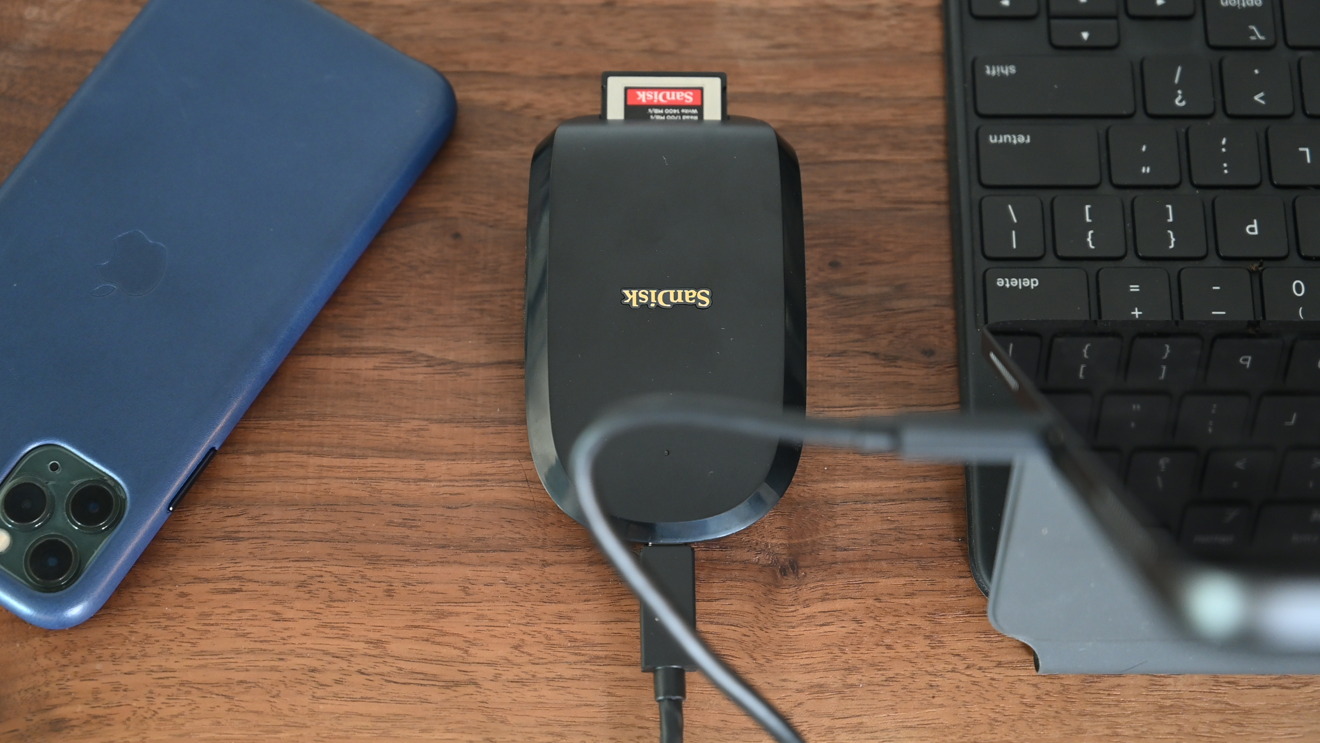 SanDisk Extreme Pro CFExpress
AppleInsider is supported by its audience and may earn commission as an Amazon Associate and affiliate partner on qualifying purchases. These affiliate partnerships do not influence our editorial content.
The new SanDisk Extreme Pro CFExpress card reader is a blazing fast USB-C accessory for your Mac or iPad Pro that pairs perfectly with your new CFExpress cards and new camera.
SanDisk Extreme Pro CFExpress card reader design
Your CFExpress card is inserted into the front a status light lights up when the card is being read or written to. Since the cable is replaceable, you can upgrade from the one and a half foot USB-C cable included to a longer one or shorter one to fit your workflow. Our standing desk with a Mac Pro below, a longer cable is necessary but when we travel with our iPad Pro, shorter is nice.
Compared to many SD card readers, the SanDisk Extreme Pro CFExpress Card Reader is quite large, but it is par for the course with these newer media types.
CFExpress versus XQD
There's some confusion in the market when it comes to CFExpress. Not only because of its replacement of CFast but its relationship to XQD.
XQD, as well as CFExpress, were designed with professionals in mind and have many benefits over SD cards. XQD was developed by Sony and showed up on the market in several Nikon shooters as well as some Sony camcorders.
With an XQD card, users can expect 1 gigabit per second to 4 gigabit per second in transfer speeds with sizes more than 2TB possible. These fast speeds allow pros to shoot in 4K at 30 frames per second with enough buffer as to not slow down their workflow.
Then came CFExpress. CXExpress is both a successor to CFast as well as XQD. It is the same physical side and pin-for-pin identical. This makes any device that supports XQD potentially compatible with CFExpress after a firmware update. While Sony licensed XQD, CFExpress isn't own by any one company and thus doesn't have any licensing fees associated.
That is why XQD cards were few and far between. But, we've already seen several companies introduce CFExpress cards to the market.
The Nikon Z6 and Nikon Z7 mirrorless cameras are prime examples. They launched with support for XQD but received a firmware update in late 2019 to bring support for CFExpress cards.
Other cameras have since launched with support for CFExpress out of the box. That includes Sony's latest A7S III and Canon's new EOS R5.
CFExpress is technically superior to XQD, despite its similar appearance. It uses two PCIe lanes which gives it twice the throughput as XQD. Our initial XQD cards we picked up from Sony were advertised with only 440MB/s read speeds and 400MB/s write speeds. The new SanDisk Extreme Pro cards are capable of up to 1700MB/s read speeds and 1400MB/s write speeds.
It is important to note that while cameras such as the Nikon Z6, Z7 were updated to support CFExpress, they don't necessarily have much faster read and write speeds. This isn't a big deal because when we shoot in 4K at 30 frames per second we had no wait times after even a 20 minute recording.
Where we do notice a difference in speed, is when we are trying to transfer that footage to our Mac for editing. Hence, the importance of a fast CFExpress card reader.
While XQD cards were technically capable of over 2TB in size, we only saw cards up to 240GB ever hit the market. CFExpress cards have already hit the market in capacities upwards of a TB.
So even if you already have a device that supported XQD and now CFExpress, you will benefit from the faster transfer times to your Mac as well as the larger capacities and many more options from several different manufacturers.
SanDisk Extreme Pro CFExpress card reader in use
While we shoot on a variety of cameras, the Nikon Z7 and Z6 are two of our most used tools. With our firmware upgraded, we took the plunge to upgrade our cards to the superior CFExpress.
Anecdotally, we saw huge increases in transfer speeds straight away before we had any time to perform formal read or write tests. It made a massive difference in our workflow as one our bottlenecks is waiting on footage to transfer after a shoot. It wasn't a huge delay, but enough that it could be improved.
In a more structured speed test, the Blackmagic Disk Speed test reported a more than four and half times the write speed going from our XQD card to the new SanDisk CFExpress, going from 170MB/s to 780MB/s. Read speed improved significantly as well, increasing from 374MB/s to 901MB/s.
These speeds are far below the max advertised speed on the SanDisk CFExpress card itself but they are in part limited by the 1200MB/s max transfer speed of USB 3.1.
Should you buy the SanDisk Extreme CFExperss Card Reader?
If you are rocking a shooter that relies on CFExpress cards then we'd absolutely recommend picking up the SanDisk reader. It is much faster than plugging the camera in directly and uses USB-C for a modern connection.
Our biggest criticisms are that it can be bottlenecked by USB rather than Thunderbolt and it only can handle CFExpress cards and not XQD cards. But, if it were to support those — as the Sonnet reader does — the price tag would be nearly four times as much.
This reader has become part of our daily video workflow on both our Mac Pro as well as our iPad Pro and an essential piece of kit.
USB-C 3.1 Gen 2 connectivity
Spring loaded card slot for secure hold
Blazing fast speeds
CFExpress is the new pro card format
No XQD support
Bulkier as a new format reader
Speed limited by USB protocol
Rating: 4 out of 5
Where to buy