Hue launches multi-color light strip for TVs, updates bulbs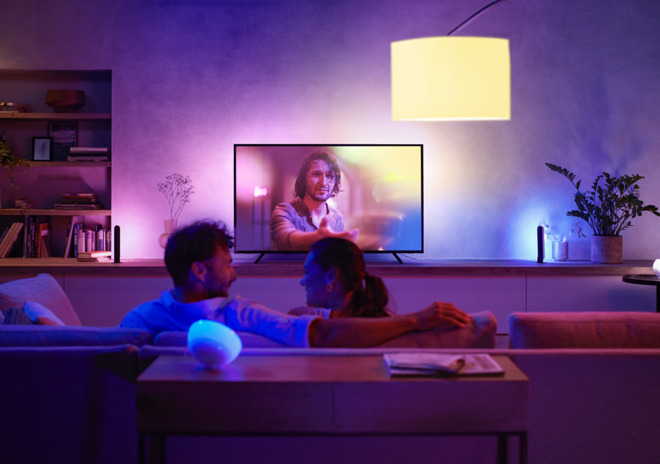 AppleInsider may earn an affiliate commission on purchases made through links on our site.
Signify on Thursday debuted a new TV-centric LED light strip that supports multiple colors at once, as well as a variety of updates to its expansive bulb portfolio.
Hue Play Gradient Light Strip
The standout of Signify's new announcements is the new Philips Hue Play Gradient Light Strip. Offering a peek at what Hue has in store for future products, the Play Gradient Light Strip uses an entirely new technology that boasts multiple addressable channels inside a single unit, allowing it to show multiple colors at once.
Unlike market competitors such as the LIFX light strip, the Hue Play Gradient Light Strip blends all the colors together in a gradient rather than a collection of sharp transitions.
There are many other applications of this technology that Signify will apply to new and existing products, but for now it is utilizing the feature specifically with TVs in mind.
This light strip cannot be trimmed like the standard Hue Light Strip, so it is launching in three sizes to fit a range of television sizes. It includes special mounts to fit on the back of a host TV to project light out at a 45-degree angle.
The new gradient technology found in the Hue Play Gradient Light Strip pairs perfectly with the Philips Hue Play Sync Box. As its name suggests, the Sync Box synchronizes the lights in your room with the content you are watching on screen. Now with the Gradient Light Strip, an explosion can begin on one side of your TV and move across to the other side as it blooms. It should create a much more immersive experience.
The new Philips Hue Play Gradient Light Strip will start shipping Oct. 16 but are currently up for preorder from Signify. It will run $199 for a model supporting 55-inch TVs, $219 for 65-inch TVs, and $239 for 75-inch TVs. They will work with additional TV sizes depending on where they are mounted.
Hue Iris
Hue's Iris light is another popular model and was the first Hue indirect accent light to be released. It is getting a much-needed update today with a new design, output that is more than twice as bright as the original at 570 lumens, and limited edition colors.
Iris is designed to cast light on a wall, painting your room in light instead of being direct functional light. This updated model can dim below one percent, which is perfect for "good morning" or "good night" scenes that don't need a lot of light.
The diffuser is now slightly translucent, so in the morning as the light wakes you up, the light itself will glow before casting any light onto the wall. This helps mimic that sunrise effect.
Aside from its normal white color, it is also available in four limited edition metallic colors: silver, gold, rose, and copper. These are all gorgeous statement pieces and even include a braided cable for a more complete look.
The updated Hue Iris is available for $99 and the limited edition colors will carry a $20 premium.
Other updates
Other updates to the Hue lineup include larger versions of the globe and Edison bulbs that have 50 percent more volume for a more impactful look.
The Hue Ensis pendant light is now being offered in a sleek matte black finish. And Hue's candelabra bulbs, both color and white ambiance, have been updated to support Bluetooth along with the Hue Bridge.