App Store nearly doubles Google's Play Store revenue in Q3 despite boom in Android app installs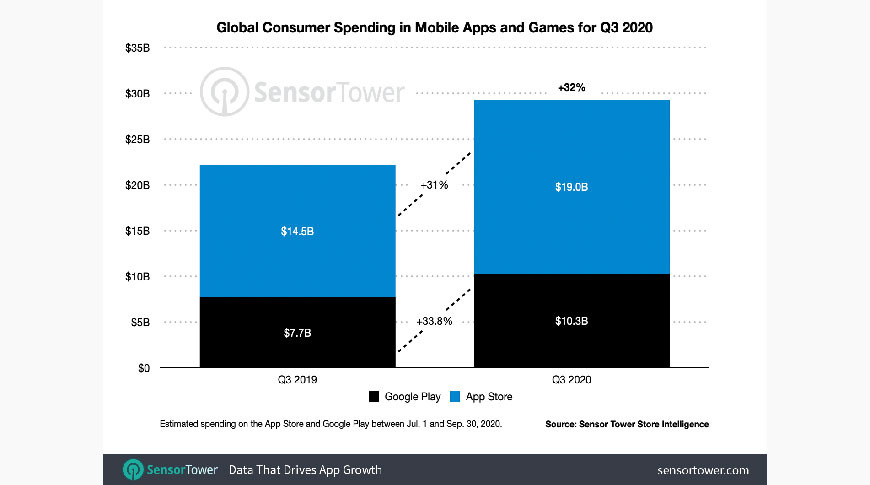 AppleInsider is supported by its audience and may earn commission as an Amazon Associate and affiliate partner on qualifying purchases. These affiliate partnerships do not influence our editorial content.
Revenues generated by Apple's App Store yet again nearly doubled those of Google's Play Store in the third quarter of 2020, according to new data from Sensor Tower.
Citing preliminary estimates from its own Store Intelligence solution, Sensor Tower reports consumer spending on in-app purchases, subscriptions and one-time app purchases rose to $19 billion globally on the App Store, up 31% year-over-year. By comparison, Google's Play Store grew 34% over the same period to net $10.3 billion.
On the whole, app buyers spent 32% more than the $22.2 billion generated by the two app stores in the third quarter of 2019, while installs grew 23.3% to hit 36.5 billion.
As usual, Apple's majority take of global revenue was achieved with much fewer installs. The App Store ticked up 2.5% with an estimated 8.2 billion installs, while Play Store growth boomed with 28.3 billion installs, up 31% on the year. Despite the huge jump in first-time installs, Android lags far behind iOS as a money-generating platform.
Sensor Tower found that the ongoing coronavirus pandemic continues to positively impact the app market, a phenomenon first witnessed at the end of the second quarter in July.
Social media upstart TikTok was the highest earning non-game app in the third quarter, followed by YouTube, Tinder, Tencent Video and Disney+. TikTok also led installs, with Facebook, Zoom, WhatsApp and Instagram following.
Game apps saw similar increases during the quarter, with combined spending increasing 26.7% to reach $20.9 billion. The App Store led this category and generated $12.4 billion from in-game spending, up 24% year-over-year. Google Play generated $8.5 billion in revenue, up 30.8% on the year.
Sensor Tower's report is merely an estimate of actual sales. Apple does not break out metrics from its App Store, but in June highlighted a study that found the ecosystem to have facilitated more than $500 billion in commerce during 2019. It should be noted that physical goods and services accounted for a large bulk — $413 billion — of that figure.