Review: Corsair TBT100 is a reliable Thunderbolt 3 dock in a competitive market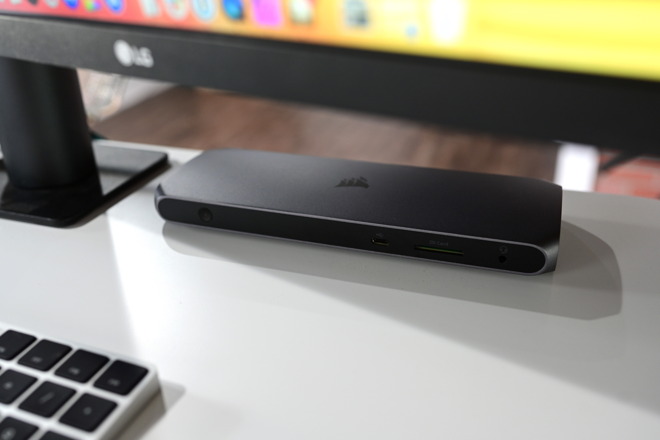 ---
AppleInsider may earn an affiliate commission on purchases made through links on our site.
Corsair's new TBT100 Thunderbolt 3 docking station for Mac and PC packs 11 ports onto a thin aluminum body along with 85W of power delivery.
We've seen some great Thunderbolt 3 docks hit the market, hitting various price points with a variety of ports. The new TBT100 is yet another option to consider that balances functionality with design.
Port selection
Corsair has made a quality selection of ports available on the new TBT100.
Ports
1 Thunderbolt 3 (input)
2 USB-C 3.1
2 USB-A 3.1
Gigabit Ethernet
2 HDMI 2.0
Kensington security slot
SD card reader
3.5mm Audio input/output port
There is a sole Thunderbolt 3 port on the TBT100, used as the input. It is capable of delivering up to 85W of power to your Mac which is almost top speed for a 15-inch MacBook Pro and just shy of the maximum 96W of the 16-inch MacBook Pro. That's basically the largest power output we've seen and this makes a big difference when using the dock with a portable Mac.
As for the USB ports, the USB 3.1 Type-C ports are capable of 15 watts of power delivery and 10 gigabits per second of data. The USB Type-A ports are limited to 5 gigabits per second and 7.5 watts of power to connected devices. These ports are also capable of supporting wake on USB and booting over USB.
Performance of the USB ports was on-par with what we expected, with UASP instructions properly passed through the dock. We connected our new SanDisk Extreme SSD and in our Blackmagic Disk Speed Test, it resulted in speeds, on average, of about 900 megabytes per second with the 10gbit/second USB 3.2 type C port. That is only about 30 megabytes per second below our recorded speed when connected directly to our Mac, and is an expected result.
The 3.5mm TRRS audio jack is a dual-purpose input/output port, and functions as expected with wired headphones.
Just as with nearly every dock, Corsair included a Gigabit Ethernet port, with expected networking speeds delivered during our testing.
For external displays, the TBT100 can handle two displays over HDMI at up to full 4096 x 2160 4K resolution at 60Hz and HDR. Unfortunately, that limit cuts off 5K display support — but that isn't a surprise with existing Thunderbolt 3 docks.
Corsair TBT100 Design
We're quite enamored with the design of the Corsair TBT100. It is very slim which makes it very easy to slide under basic monitor stands. It is both wider and thinner than the Elgato Thunderbolt 3 Pro dock. Corsair purchased the Elgato brand, splitting off the peripherals business from the Eve line of HomeKit accessories.
At the moment, Corsair still sells the Elgato Pro dock as well as this new TBT100. There are a few differences, but the biggest is that the Elgato dock as a second Thunderbolt 3 port to daisy chain additional devices, which is admittedly very much a pro feature.
This dock features an all-aluminum enclosure with black plastic on the front and back. The corners have a very cool taper to them that rounds them and gives it more of a unique appearance. It is one of the better-looking Thunderbolt 3 docks we've tested.
On the front of the dock is that SD card reader, the audio jack, and a USB-C port. These are exactly the ports that we are looking for. We rarely use USB-A any longer so we appreciate that those ports were relegated to the back of the device. With USB-C, we can quickly plug in external media such as a video scratch disk or a flash drive.
We — for a second — had hoped to see a microSD card reader as that is what fits into our action cams and portable recorders but we started keeping a microSD to SD adapter in there and we were good. That's one less port we need and we can read both SD or microSD cards. As we mentioned, it is a UHS-II card reader which is rare in docks.
Our biggest gripe on the design, and nearly every Thunderbolt 3 dock design, is the massive power brick that we need to use. By offloading the power supply, Corsair does get to keep the TBT100 smaller and the heat down, but the brick is quick substantial and just adds to the pile of power adapters sitting below our desk.
Should you buy the Corsair TBT100?
For many out there, the Corsair TBT100 is just the right dock they're looking for. It has the common ports and speeds that make sense for the average use. That's the speedy UHS-II SD card reader in the front, dual USB-C ports as well as two USB-A ports, and two HDMI outputs.
Some docks go a bit more obscure with Display Port outputs, or lean into too many USB-A ports, or cheap out with slower card readers.
Corsair focused on what is important and delivered that.
Perhaps the biggest downside is the solo Thunderbolt 3 port. With only one port, you can't daisy chain additional Thunderbolt 3 devices after the dock. But the way around that is to make the TBT100 the last device on the chain. Connect a RAID Thunderbolt RAID storage device or two, then put the TBT100 last.
The manual power button is also unique, something we've only seen once or twice in the past. Some may not care whatsoever about this ability but it does allow the quick power toggle for any connected accessories and can slightly drop the amount of vampire power draw when your machine isn't docked.
As the more mass-market choice between this and its Elgato Thunderbolt 3 Pro Dock, Corsair hit the nail squarely on the head. Not only is it cheaper, but it has the ports people will need while trimming the features typically only required of the pros.
For a similar price, users could consider the popular CalDigit TS3 Plus, which does benefit by having additional USB ports, a second Thunderbolt 3 port, and can support 5K displays, but it also lacks any HDMI ports, opting for a sole DisplayPort port. It wouldn't be surprising if people preferred the dual HDMI ports of the Corsair instead.
At its full price, the Corsair TBT100 may be a bit high compared to its competition, but if discounted at all, it could be a very popular option.
Sleek aluminum body
Very thin build
Fast UHS-II card reader
Front-facing USB-C port
Dual HDMI outputs
No second Thunderbolt 3 port
No microSD card reader
Large external power supply
Rating: 3.5 out of 5
Where to buy the Corsair TBT100