The best Thunderbolt 3 docks for your Mac in 2020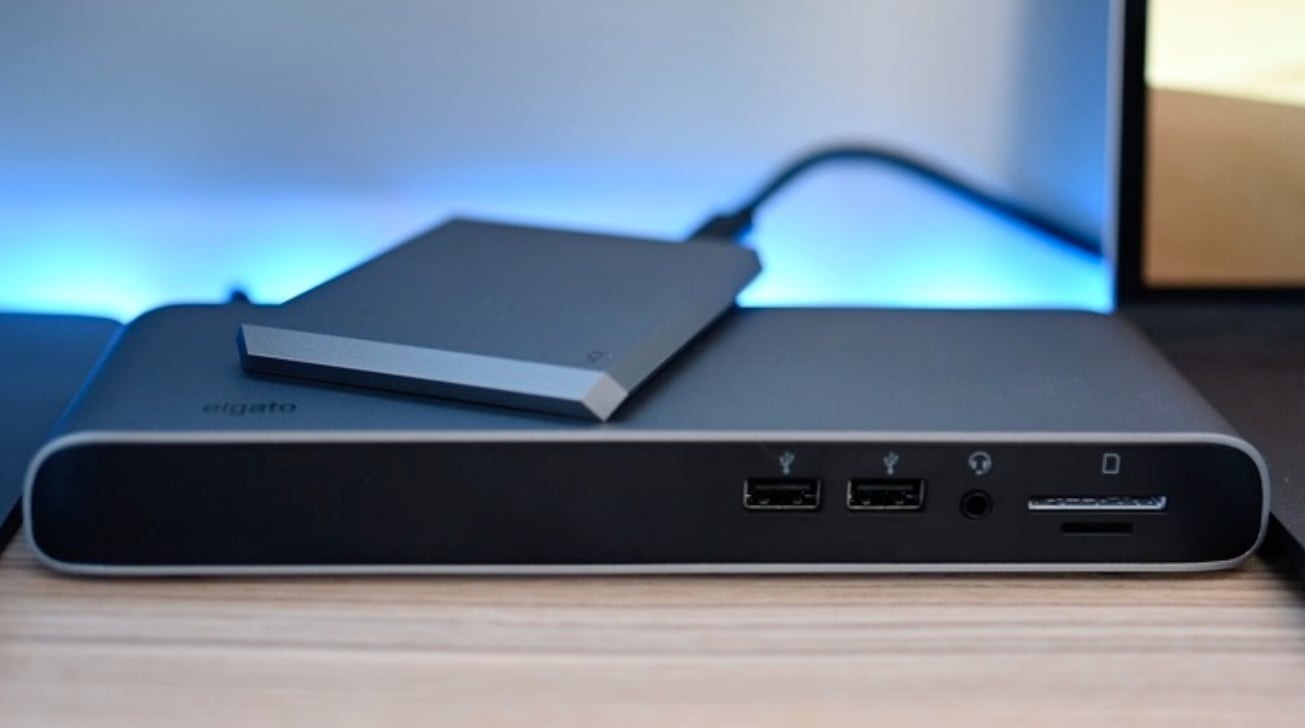 If you need to add more ports to your MacBook Pro or iMac, one of the best ways to do that is to get a Thunderbolt 3 dock. Here's AppleInsider's guide to picking the best Thunderbolt 3 dock for your Mac.
Docks have been a concept in computing for a considerable period of time, with many options offered to connect a notebook computer to a variety of peripherals or other systems. The advent of Thunderbolt 3, a high-bandwidth 40Gbps connection and power delivery over a single small cable, led to an explosion of user-friendly plug-and-play docks that consumers can easily install and use with relative ease.
Its inclusions across the entire Mac line make Thunderbolt 3 docks usable in many instances, but arguably its main audience is for buyers of the MacBook Pro range, to expand the selection of ports available to them from the standard two or four Thunderbolt 3 ports.
While there is a considerable number of docks on the market, there is almost certainly one that will work for you, despite the bewildering array of choice. This guide aims to demystify the peripheral and to help you narrow down the selection to one or a few that will best suit the job.
What does a Thunderbolt 3 dock do?
Simply put, a Thunderbolt 3 dock plugs into a Thunderbolt 3 port, and in exchange provides a multitude of other connections. Think of it as a USB hub, but instead of simply providing more of the same port, the dock usually includes a selection of commonly-used connections, alongside more Thunderbolt 3 ports.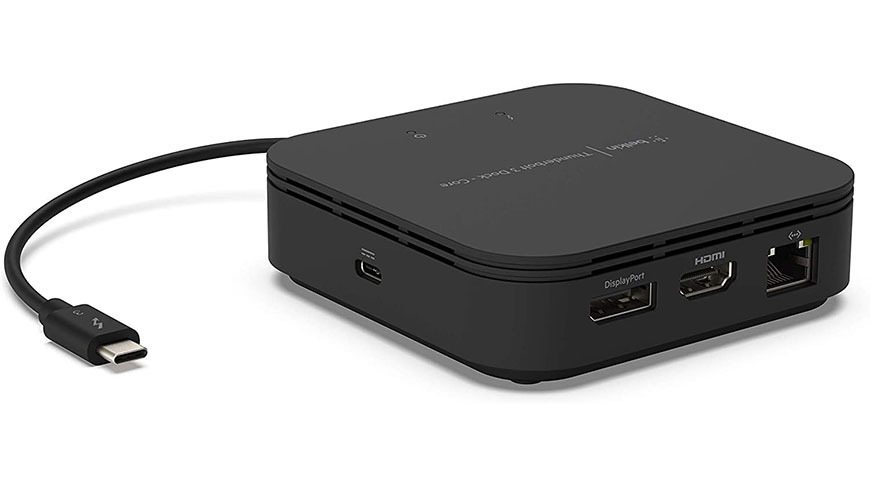 This selection typically includes USB Type-A ports, USB-C, Thunderbolt 3, video outputs like DisplayPort or HDMI, Gigabit Ethernet, and memory card slots. Some models also offer legacy connections, including eSATA, VGA, and occasionally FireWire, which may have limited utility for most users, but could be essential for people with older hardware that simply doesn't support newer variants.
Docks also offer an opportunity to provide power to peripherals, or sometimes the host MacBook itself. Depending on the model of dock and MacBook, a dock can provide enough power to recharge the MacBook's battery, without relying on using one of the main Thunderbolt 3 ports with a separate charger.
By doing this via a dock, the port that would have been used for power is instead freed up for use for both power and for data transfer, enabling it to be fully usable.
Why do I need one?
The simplest answer is to have more connection options. The maximum of four Thunderbolt 3 ports on a MacBook Pro is relatively limiting, even if you take into account Thunderbolt 3 daisy-chaining, so having more ports that use up just one on the host device is an attractive proposition.
The ability to take advantage of power delivery to pass power to the host device without sacrificing a port's data connection is also highly useful, especially on the 13-inch MacBook Pro with just two Thunderbolt 3 ports. Since power is also provided to peripherals as well, this means that connected devices won't be a drain on the host MacBook's battery at all.
For those who have owned a MacBook Pro for some time, a dock provides a way out from the dongle lifestyle. Instead of relying on having multiple adapters to connect your devices to a MacBook via the few Thunderbolt 3 ports, you instead have one unit that you connect everything through.
There's also something to be said about using it as a central docking point for a home setup. If the display, network, external drives, speakers, and peripherals are all connected up to the dock, the user could simply connect all of them at once to the MacBook Pro using a single Thunderbolt 3 cable.
This fast connection is also accompanied by a quick disconnection routine, as users could simply unplug the dock and take their MacBook Pro with them, while still leaving a fully-usable desktop setup at home or in the office, ready and waiting for their return.
What should I look for?
The first consideration is what ports are required. This will largely be determined by the user's present hardware needs, though they will also have to take into account any future items they may need ports for. It's typically better to go over the top with ports than to stick with just what you need.
If you already have Thunderbolt 3 adapters, you can also connect them to a dock's Thunderbolt 3 ports, if it has them. This could open up the choice of docks further, to include docks that lack features that are already serviced by your adapter.
In the same vein, remember to take into account the data needs of the devices that you are plugging into the dock. Thunderbolt 3 offers 40Gbps of bandwidth, which is a considerable amount to use, but while it is more than enough for a Gigabit Ethernet connection, a display, and a smattering of slower connections, it can still be overwhelmed in some situations.
Though you could connect a Thunderbolt external storage array to a dock, there is the rare need to have that directly connected to the host if every byte of bandwidth is required. This is unlikely, but possible in some industries, such as in video editing involving multiple clients and high resolution and bitrate files.
Not all docks that connect to a Thunderbolt 3 port are alike, as some work over the USB-C standard instead. While it is possible to connect a Thunderbolt 3 dock to a computer's USB-C port, or a USB-C dock to a Thunderbolt 3 port, the maximum possible bandwidth will be 10Gbps instead of 40Gbps, as well as potential limitations on power delivery.
Speaking of power delivery, it is worth investing in a dock that offers enough to provide power to your MacBook for use and for recharging. In effect, you need a dock with at least 30W power delivery to fully power a MacBook Air, a 60W version for a 13-inch MacBook Pro, 87W for the 15-inch MacBook Pro, and 96W for the 16-inch MacBook Pro.
Generally, docks include some form of networking connectivity, typically in the form of Gigabit Ethernet. This would be a step up from Wi-Fi for those with a physical network to connect to, but it's not essential unless you have high bandwidth needs.
Suggested docks
The following list was produced on July 29, 2020, and includes currently-available docks currently on the market.
AppleInsider's recommendation
AppleInsider would highly suggest the CalDigit Thunderbolt Station 3 Plus (TS3 Plus) as an excellent example of a dock that should work for most people. While AppleInsider first looked at it at the start of 2018, the dock is still actively in use by one writer after all of this time.
On the front is an SD card slot, audio in and out, a USB 3.1 Type-C gen 1 port, and USB 3.0 type-A port. Around the back are two more USB-A ports, a USB 3.1 Type-C Gen.1, an upstream Thunderbolt 3 with support for 87W power delivery, a downstream Thunderbolt 3 port, Gigabit Ethernet, DisplayPort 1.2 digital optical out, and a power connection.
Its power delivery can recharge the vast majority of MacBook models, its ports cover the majority of typical use cases, and it is all packed into a relatively small package. It is very hard not to recommend the CalDigit Thunderbolt Station 3 Plus to anyone looking for a dock.
Alternatives
Considering the whole point of a Thunderbolt 3 dock is to be able to connect more stuff to your Mac or MacBook, one option that isn't a dock would be external enclosures, specifically those for eGPU.
Functionally, they work similarly to a dock, in that they connect over Thunderbolt 3, can potentially provide power delivery, and performs a function. In the case of eGPU enclosures, they hold an external graphics card to augment the video processing capabilities of the Mac, as the name suggests.
Though this largely is useful for people who need to add an extra GPU to their Mac setup, it's an alternative to a dock in a few ways. For a start, the enclosures don't have to be equipped with an eGPU, as they offer a PCIe expansion slot. This means it is feasible for a different compatible expansion card to be used with the Mac.
Many eGPU enclosures also include some form of extra ports, such as network or a few USB 3.0 Type-A connections. In rare situations, there is the opportunity to add a hard drive to an eGPU enclosure, turning it into an external storage device.