How to watch Apple's 'iPhone 12' release event at 1:00 PM ET today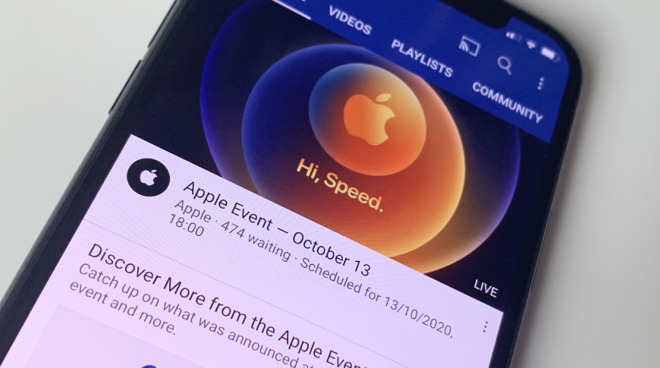 AppleInsider may earn an affiliate commission on purchases made through links on our site.
Apple's "iPhone 12" release event will be streamed live and available to watch online at 1:00 P.M. Eastern Time on October 13. Here's how to tune in.
As with its September 15 "Time Flies" event, though, Apple is limiting exactly where you can watch its "iPhone 12" launch online. Although it has increasingly embraced YouTube, the company has also scaled back streaming across its own worldwide sites. One again, only Apple's US site will show the presentation live.
Watch on YouTube
Apple is using YouTube's feature of marking a forthcoming streaming video as a premiere, meaning that there is already a placeholder there with a countdown to the event. There's nothing to watch yet, but you can set a reminder, and some few hundred people already have.
YouTube may be the most convenient way to watch as it's available to all, without any issues over international viewing. Plus you have the option of watching via the iOS YouTube app — or on the YouTube app for Apple TV.
Watch on Apple TV
Watching the event via the YouTube app on your Apple TV is as convenient as it is in the iOS one, but oddly more so than using Apple's own app. The event will be streamed via the Apple TV app on your Apple TV, but finding it is absurdly tricky.
That's because, at least at time of writing, there is no placeholder for it the way there is online or on YouTube. There also isn't a dedicated section for these kind of events. Instead, you have to search — and when you do, you only find past events.
If you tune in as the October 13 event is underway, a search ought to find it for you. And it's possible that Apple will promote it on the Apple TV app.
Currently the least convenient way to watch is via Apple TV. Where previously there was a dedicated Apple TV app for Apple Events, now you're expected to use the regular Apple TV app for everything.
One benefit of watching via the Apple TV app, though, is sign language. While it's not clear whether Apple provides this service anywhere during the original broadcast, the September 15 event video is now available with an ASL interpreter in-vision.
Watch in a browser
It's a shame that there isn't a web browser on Apple TV. However, there is just about everywhere else, so you can go directly to Apple's site and watch there.
During the event, it's likely that you'll be able to watch it streamed directly on the front page. For a time afterwards, it will probably be available there, but you may have to scroll down more as Apple hands over the top spot to its latest launches.
You can instead, though, just go straight to where it will be available from the launch until some months from now. That's the official Apple Events page online.
Or rather, there is if you're on the US site. Currently that events page is still showing the September 15 keynote if you're viewing from any other country.
Keep track of what's announced
AppleInsider already has a guide to the event, which is being continually updated. From the 10am PT, 1pm ET start of the event, though, AppleInsider will also have indepth coverage of all that's happening.