Infinacore Pandora Portable Power review: a compact battery pack fit for your everyday carry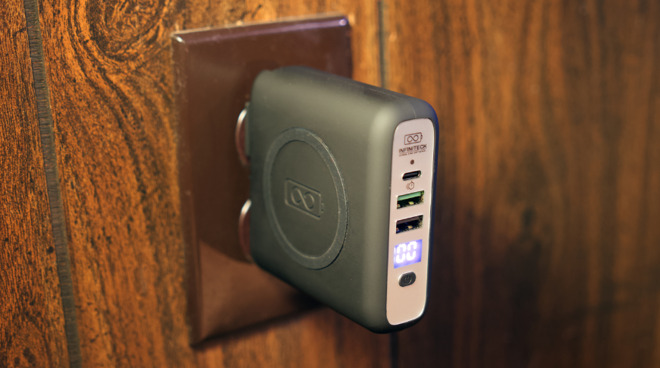 Infinacore Pandora Portable Power
AppleInsider may earn an affiliate commission on purchases made through links on our site.
The Infinacore Pandora Portable Power (P3) battery pack is a portable power source, wireless charging puck, and multi-port wall adapter rolled into one.
This single device does everything in threes just as its name suggests. It has three ports, three methods of charging, and takes on the role of three usually-separate devices.
When plugged into the wall, it's a great power adapter with three available ports, while on the go, it's an 8,000 mAh battery pack. It also has a convenient wireless charging pad for when cables are a hassle.
Though sometimes awkward, this battery pack provides a good experience for the price.
Key Specifications
8,000mAh capacity
18W wired, 10W wireless charging
LCD display
1 USB-C port
2 USB-A ports, one with fast charging
Features and design
The P3 offers 18W PD fast charging on its USB-C port, and wireless charging up to 10W. The size is perfect for a pocket or bag, though it is only 18W which seems a bit low for its size. There are two USB-A ports, with one offering fast charging and one at a more standard charging rate.
There is an LCD which shows the percentage remaining when in use. This is better than most battery packs which only show battery levels using dots or bars at 25% increments.
All the ports and the wireless charging pad can be used in tandem, which means four devices can charge at once. In practice an iPhone, game controller, AirPods, and an iPad are all able to charge at a reasonable rate, but it does quickly drain the 8,000 mAh capacity.
Two of the ports are 18W fast chargers, which when used on an iPhone can achieve 50% battery in thirty minutes. The iPhone is 4,000 mAh or below in capacity, depending on the model, so this battery pack can fully charge your iPhone at least two times.
The overall design is fine, though a bit rough around the edges. The matte material collects fingerprints easily and the LED is overly bright in more dim environments.
The rubber material used on the wireless charger is a lint magnet, and can get a little gross depending on where it is stored. It collects grime, dust, and lint, which makes it noticeably dirty.
There is a QR code a bit bigger than a quarter on the back of the device, an addition that makes the overall package look cheaper.
QR codes do not have to be big to work, so its prominent placement on the back is strange when it could have been easily placed below the two-prong plug on the rear. It takes you to a welcome page with Q&A and review links, which most users may never visit.
Despite the materials and design choices, it is obvious the size and shape are optimized for the technology offered. It is still a battery pack and performs the charging functions without issues, regardless of design complaints.
Using the battery pack
Charging a device works just as you would expect, with a cable or using the charging pad. It uses a lithium-ion rechargeable battery which does heat up noticeably when in use.
The wireless charging pad is a great addition to the small device, as it has a rubbery base which keeps your phone from sliding off easily. The iPhone cannot charge faster than 7.5W when using Qi charging, so expect an extremely pedestrian charge time when using this pad.
Since the two-prong plug is built-in, users do not need to worry about bringing additional charging adapters or cables, as it's just plug-and-play. Other battery packs tend to utilize one of the charging ports to re-charge the battery, which limits its usefulness as a charging hub.
When plugging it into the wall it can be a bit heavy, especially with cables attached. Some outlets may not be able to grip it, and it can easily fall out of the outlet if jostled or tugged.
The wireless charging pad cannot be used while connected to a vertical power outlet, which is obvious in its design, but removes that option when connected to power.
Should you buy the Pandora Portable Power battery pack?
The Pandora Portable Power battery pack is a great travel companion with a not so great design. The battery's size is a bit limiting if you want it for more than a day's use.
That being said, for the price, you can't go wrong with this battery pack. It performs well as a battery pack even the design feels a little cheap.
Charge up to four devices at once
Wireless charging pad
18W fast charging from two ports
Small design will fit into most bags or even a pocket
Affordable price
8,000 mAh, 18W is low for its size class
Material easily smudged and has giant QR code on back
Can easily drop from outlet when plugged in
Rating: 3.5 out of 5
Where to Buy
You can buy the Infiniacore Pandora Portable Power battery pack on Amazon for $49.99.