Zens Modular and extendable wireless chargers can power up to six devices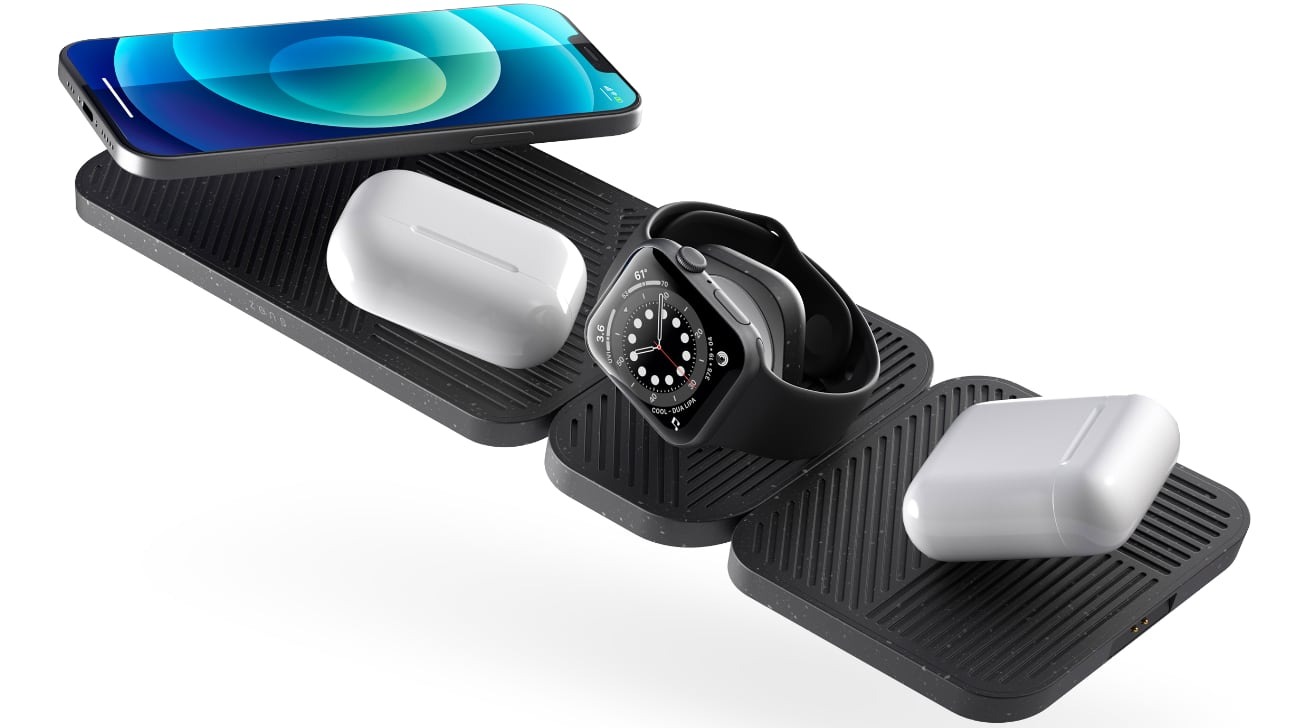 AppleInsider is supported by its audience and may earn commission as an Amazon Associate and affiliate partner on qualifying purchases. These affiliate partnerships do not influence our editorial content.
Smartphone accessory producer Zens has introduced its Modular line of charging accessories, a wireless charging system that can extend to accommodate multiple devices in one station.
The Zens Modular system's main selling point is that it actually consists of multiple elements that can be hooked up together in a line. Rather than buying a multi-device wireless charger when not all components are needed, the system allows users to build up the charging system to match their particular needs over time.
This means a person could set up a wireless charging station for their iPhone and AirPods charging case, then add an extension to recharge their Apple Watch down the line.
The core component is the Dual Main Station, which offers the ability to recharge up to two devices at up to 15 watts apiece. Compatible with Apple's fast-charging system and all Qi-certified devices, the unit also includes the ability to extend the entire arrangement by up to four extension units.
Made from recycled plastics, the main station measures 1.18cm (0.46 inches) thick, and has a footprint of 18.86cm by 9.28 cm (7.4 inches by 3.65 inches). It also includes a 65-watt power adapter.
A Single Main Station is also available, which can recharge one device at up to 15 watts, works with up to 4 modular extensions, and has the same 65-watt power adapter. It measures 9.9cm by 9.28cm (3.89 inches by 3.65 inches), and is the same thickness as the dual version.
The third variant of the core component is the Stand Main Station, which props the iPhone up at a viewable angle instead of allowing it to lay flat. Again, it offers support for four extension units, 15W charging of one device, and has a 65W power adapter.
The extensions are offered in two variations. The Modular Single Wireless Charger extension offers 10W wireless charging for one device, while also sharing the same dimensions as the Single Main Station.
The Apple Watch Charger Extension gives a place to stow and recharge an Apple Watch, visible in Night Stand mode with its vertical charging puck.
Available now, the Modular Dual Wireless Charger Main Station costs 99.99 euro ($119.79), while the Single Main Station is 59.99 euro ($71.87) and the Stand Main Station is 69.99 ($83.85). The Single Extension is an extra 39.99 euro ($47.91), and the Apple Watch Charger Extension is 49.99 euro ($59.87).